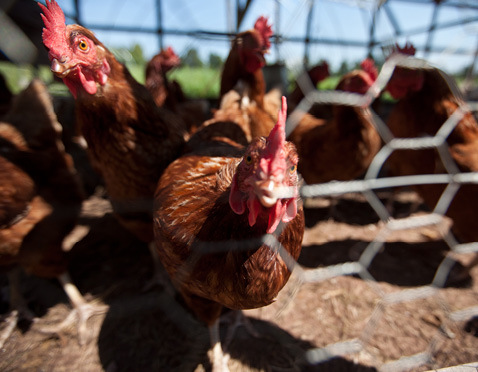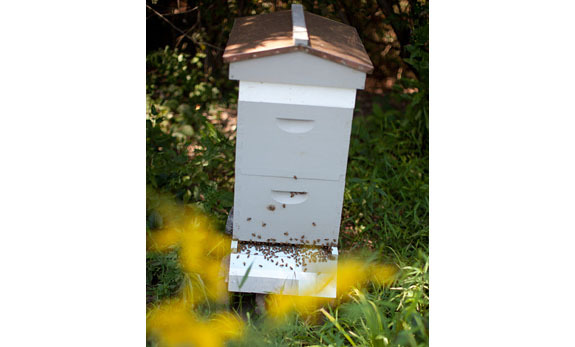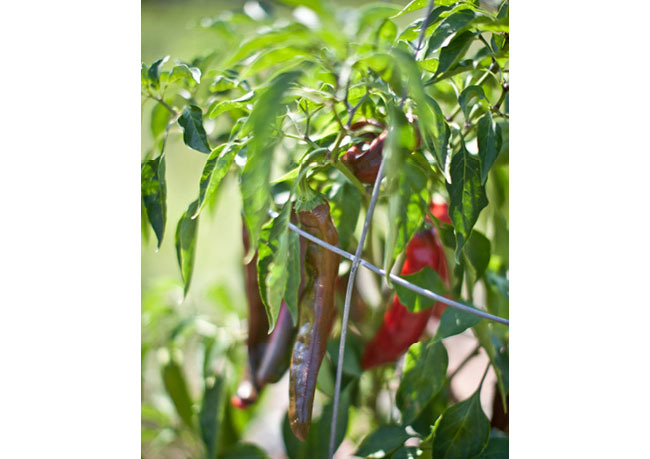 story by Liz Pacheco | photos by Neal Santos
Chef Jose Garces is in his outdoor kitchen making salmorejo—a cold Spanish soup similar to gazpacho. He adds bright yellow tomatoes to the food processor along with garlic, vinegar and baguette pieces. "A few years ago," he says, "I would've made this with tomatoes from Mexico." This afternoon, the tomatoes are from a very local source—Garces' backyard, which doubles as a farm. This is the first full season for the 40-acre Luna Farm in Ottsville, which is named in honor of the Garces family dog as well as the brilliant nightscapes the property offers. The nearly 100 varieties of herbs and vegetables are organically grown for the Garces company restaurants—most specifically Philadelphia's JG Domestic, which focuses on using local ingredients. But Garces isn't the only, or first, Philadelphia chef to delve into farming. Mitch Prensky, owner and chef of Supper, is in his third year working with Blue Elephant Farm in Newtown Square, which grows solely for his restaurant and catering company. Last February, Andrea Rossi began cultivating in Orwigsburg on his farm, Grateful Acres. This spring, Rossi launched a Community Supported Agriculture (CSA) program through his restaurant C19. For these three chefs, the farms are creative challenges—they require money, planning, and of course, physical labor. At their restaurants, these chefs are no longer just cooking, they're developing innovative models for combining the farm and the table.
JOSE GARCES, GARCES GROUP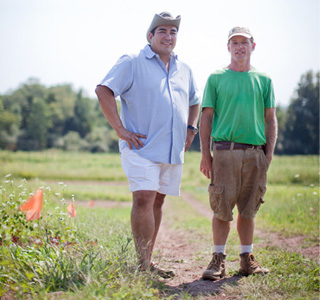 Jose Garces and farmer Alex McCracken at Luna Farm.FOR GARCES, the decision to start a farm happened almost by accident. While looking for a family home outside the city, he discovered that many properties included farmland. "We just started thinking, 'Wow, it would be great if we could ship in our own stuff,'" says Garces. In 2010, he purchased the property, and by summer 2011 he was working with Alex McCracken to develop the land.
While McCracken had never farmed on this scale before, he has extensive experience gardening. He and his wife live on a nearby 16-acre property and own the Turnip Truck, a business that designs, installs and maintains organic gardens for homeowners. When McCracken heard that Garces was looking for a farmer, he sent in his résumé. That, plus a recommendation from another local grower, landed him the position. In this first year, McCracken and Garces are experimenting—looking to see what flourishes both at the farm and in the restaurants.
"Next year, the plan is to reduce the wide variety of crops that we grow to the things that are doing the best here," says McCracken. "The things that the restaurants use the most of, like peppers—we'll always grow peppers here. They're easy to grow. All of Jose's restaurants use a lot of them."
In addition to vegetables, the organic farm is growing mushrooms and raising chickens and bees. Garces is also considering goats, either for meat or milk. The farm's tractor runs on biodiesel fuel from the restaurants' fryer oil, which is picked up and processed by Bucks County Freedom Fuel. And there's talk of adding solar panels to the movable chicken coop to provide energy for the greenhouse and the barn. This winter, the greenhouse will be supplemented by hoop houses, which in August already had tomatoes, peppers and eggplant.
"I'm growing things here I've never grown before," says McCracken, referring to some of the more unusual varieties of tomatoes and greens. "I'm growing things some of the chefs have never seen before. Everybody's expanding their horizons and learning a lot from the process."
The chefs from Garces' seven Philadelphia restaurants and the three in Atlantic City have all visited Luna. "They didn't realize the scale we're growing on or the quality that was going to be coming out here," says Garces. The restaurants receive produce Tuesday and Thursday nights, some of which easily work on the menu and some that require more creativity. "We're treating them like CSAs, basically," explains Garces. "Initially [the chefs] were placing orders and I interceded and said no, you guys are getting everything." Some menus pose greater challenges since they're concept-based, but the hope is that in future seasons the farm will cater to those needs. The JG Domestic restaurant benefits most directly from the farm, offering dishes with "Luna Farm Egg," "Luna Farm Herb Pesto" and "Luna Farm Tomatillos."
But for Garces, the motivation to start Luna Farm comes from his passion for food, not marketing potential. "I think as long as [the farm] remains true to that it'll keep going." But he's also admits that there's significant financial risk as well. "It's a pretty costly endeavor for sure. We're still trying to make sure it all balances out."
MITCH PRENSKY, SUPPER
Mitch Prensky, owner and chef at Supper, with a recent harvest from Blue Elephant Farm.
Mitch Prensky has been working with Blue Elephant Farm since 2010, but his commitment to local, fresh food is decades old. "I've been cooking this way for 26 years," he says, citing previous trips to the Union Square Greenmarket in New York City to visit farm stands. In 2007, he opened Supper, which he describes as "seasonal farm-direct American cuisine." Yet it wasn't until three years ago that Prensky learned of the term "farm to table."
"Somebody said to me, 'Oh you're a farm-to-table restaurant,'" recalls Prensky. "It's the first time I've ever heard that expression. So, if you're going to call me something, at least I should know what it is." Eventually, Prensky connected with the owners of Blue Elephant Farm, a privately owned, 75-acre property in Newton Square. At the time, the owners were growing for themselves and family members. Prensky started working with the estate manager Mary Butler, a horticulturist, to grow vegetables for Supper.
"[The] first season, I pulled every vegetable out of the ground myself," says Prensky, who works alongside Butler. "There is a lot of sweat and toil involved, and not a lot of [financial] return." Today, the farm provides 100 percent of the produce at Supper and at the Global Dish—Prensky's catering company. Blue Elephant raises chickens, sheep, goats, llamas, horses and donkeys, and there are plans to have a grass-fed beef program next year. A local beekeeper has hives on the property. Their greenhouse grows greens, lettuces and herbs year-round, and thanks to cold storage, diners will see plenty of root vegetables on the winter menu. This fall, Prensky and Blue Elephant even canned their first line of products and preserves to be sold at Supper.
With any farm, there are no guarantees. Prensky talks about the season when a blight kept tomatoes off the menu for a while, and the creativity needed to handle an abundance of okra one week, but none the next. "You start pickling and preserving, and then you make dishes out of it," he says. "That's another challenge, but that's a fun challenge here of writing dishes on the menu."
Deliveries from the farm come to Supper three times a week, and Prensky makes an effort to be out in the fields at least once a week as well. "I always say I'm the luckiest chef in the world," he says, explaining that having a dedicated farm for his restaurant has been a career goal. "[I thought] it would be great if someone could grow this stuff for us and I would know exactly what that property is doing and how they're handling the vegetables and what goes into this. And that's what I've been fortunate to be blessed with here with Blue Elephant."
ANDREA ROSSI, C19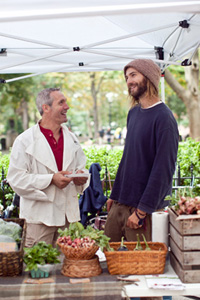 Andrea Rossi, owner and chef at C19, sells produce from Grateful Acres with farmer Alex Archambault at the Saturday Rittenhouse farmers market.Two years ago, C19 (then Cichetteria 19), was already sourcing locally from Green Meadow Farm. "I wasn't even searching for a farmer at the time," admits Andrea Rossi, chef and owner at C19. Then, he met Alex Archambault, who was delivering for Red Earth Farm to the Metropolitan Bakery across the street from the restaurant. "He brought me some tomatoes, some potatoes he was growing on his own, some heirloom tomatoes," says Rossi. "They were amazing."
So, Rossi expressed interest in finding space to start his own farm, and Archambault mentioned there were a few acres adjacent to his backyard in Orwigsburg. In 2011, Rossi officially hired Archambault to be the farmer. This summer, C19 offered a CSA for the farm and had four restaurants and six individuals participate. "We just wanted to start very small because the first year there's a lot of difficulties," says Rossi. The season has so far been successful, and produce from Grateful Acres can be found on the restaurant menu as well as at the Rittenhouse Farmers Market each Saturday.
The decision to start a farm springs from Rossi's desire to provide the best quality food locally. "We are what we eat," he says, explaining that he wants to both support the local economy and make sure people are eating nutrient-rich produce. His dedication to this mission has been recognized locally. In November 2011, the restaurant received a "Snail of Approval" from Slow Food Philadelphia—a distinction given to eateries that contribute to the quality, authenticity and sustainability of the food supply in the area. Rossi is already considering expansion. He wants to lease a few more acres next season, and is talking with another restaurant about potentially buying an organic farm in New Jersey. Restaurateurs owning farms is an emerging trend, but for Rossi his works stems from familial tradition. "The idea comes from my mother," he says, "it's how we grew up."