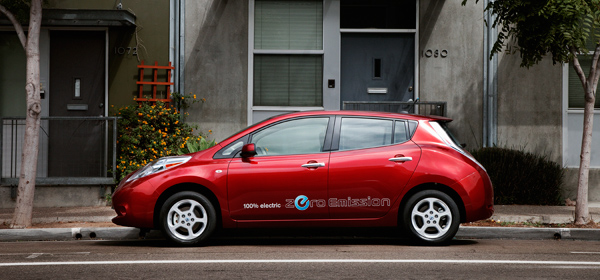 story by Samantha WittchenFor years, the electric vehicle has been mentioned in hushed tones, believed to be the second coming of sorts for our car-dependent society, a clean-running innovation that would allow us to keep up our driving habit without that messy foreign-oil guilt. Yet electric cars have seemed as mythical as Sasquatch—often spoken of, but rarely, if ever, seen in the wild. That's about to change for Philadelphians. In October, 16 of these lean, green driving machines will be hitting Philadelphia streets thanks to PhillyCarShare (PCS), the Mayor's Office of Sustainability and the Pennsylvania Department of Environmental Protection (PADEP).
The initiative to bring electric cars to Philadelphia began last August when a consortium of organizations, including the Chamber of Commerce, PECO, Comcast, the Mayor's Office of Sustainability and many major Philadelphia universities came together with PCS to develop a plan for installing infrastructure for plug-in electric vehicles throughout the city. The Mayor's Office of Sustainability was awarded a grant from the PADEP to install 16 chargers for PCS cars, and two more for general use by private owners of electric cars.
The infrastructure installation is expected to be complete in early October. Once it is, the electric vehicles will be ready to go, says Jerry Furgione, PCS executive director. Since this installation is the first of its kind in the region, there may be a few bumps in the process, which could delay the launch until later in October. Regardless, it's safe to say that Philadelphians can look for the cars this fall.
So, about those cars. Furgione says there are currently two vehicles on the market that would fit their needs—the Chevy Volt and the Nissan Leaf. For now, they're leaning toward the Volt, which is technically a plug-in hybrid electric vehicle. This kind of car operates solely on electricity until the battery needs to be recharged, at which point the gasoline engine generates the electricity required to power the electric motor. The Volt's battery range is about 35 miles, making it an ideal option for PCS drivers, who average 30 miles per trip. The backup fuel tank provides a safety net for drivers who find themselves running that extra unexpected errand that puts them over the 35-mile range.
However, the fuel tank also means these cars aren't quite as environmentally friendly as a purely electric vehicle, since they still require gas and generate emissions once the battery range is exhausted. The Nissan Leaf—like the forthcoming Ford Focus Electric (due out in California and New York this fall)—is a purely electric vehicle, with no gas engine or fuel tank. The Leaf has an average 100-mile range, but once that range is exhausted, there's no backup.
The electric motors in these cars are much more energy efficient than a traditional vehicle. An electric motor can convert 75 percent of the chemical energy from batteries to power, whereas an internal combustion engine in a traditional car can only convert 20 percent of the energy in gasoline. Electric vehicles produce no tailpipe emissions, and if the cars are charged with electricity generated from renewable sources, they're completely emissions-free.
The main barrier electric vehicles currently face is lack of infrastructure. Because of their limited range, charging stations need to be available to long-distance drivers, and for the most part, those charging stations just don't exist yet. In the meantime, most early adopters have to rely on plugging in these cars at home, which can be difficult for city-dwellers who don't have easy access to an outside plug. Recharge time can also be substantial with a typical 120-volt house plug, with the Nissan Leaf topping out at 20 hours.
With 13,000 members, the addition of electric vehicles to PCS's fleet presents a tremendous opportunity for PCS to become an ambassador for electric vehicles. Members will be able to try them out and Philadelphians will see them on the street and at the charging stations. Additionally, PECO will be able to study the effects these stations have on the electric grid.
With the recent acquisition of PCS by Enterprise Holdings (of note for Enterprise Rent-A-Car), Furgione says the company now has the financial support to purchase more electric vehicles more quickly, with an eye toward the vehicles comprising one-third of their fleet. This would be one of the largest fleets of electric vehicles on the East Coast. For this initial 16, cars will be placed at the University of Pennsylvania, Drexel and Temple Universities, and the Philadelphia Horticultural Society, with the remaining eight scattered throughout Center City parking lots and garages. So, look out, everyone! This fall, Sasquatch is coming to Philly.
Samantha Wittchen is partner and co-founder of iSpring (ispringassociates.com), a sustainability consulting firm serving companies and organizations in the Delaware and Lehigh valleys.