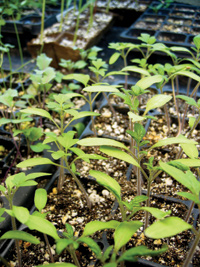 by Char Vandermeer
When it comes to seeds, Kim Massare does the work for you
A few years ago, frustrated by the lack of heirloom varieties available at local garden centers, South Philly gardener Kim Massare went on a seed catalogue shopping spree. She lit up her rowhouse's basement with grow lights and brought down all those non-recyclable plastic containers she'd been collecting—Startin' Yer Garten was born.
As any gardener can tell you, it's easy to plant too many seeds—especially when your garden is, at best, a postage stamp with limited sun. Over-planting has an upsetting side effect: having to discard those carefully nurtured seedlings. Looking to offset the cost of her investment and rescue her extra plants from the trash bin, Massare posted an ad for them on Craigslist. The response was immediate and enthusiastic.
Until a recent "sad scooter accident," Massare delivered the sets herself. Now, fledgling gardeners (who receive regular updates on their adopted children) pick up their seedlings once they're ready for the outside world.
"Over the weeks I'd send emails to people with pictures of their plants," says Massare, who dispenses free gardening advice along with her seedlings. "It was really fun to finally meet these people. A lot of them were just getting started gardening and we chatted, with them saying, 'I have this kind of space. What do you think would be best for that?'"
Massare features varieties that are hardy and grow well in Philly's climate. In fact, many of her seeds are saved from the previous year's harvest, ensuring that the healthiest plants and most vigorous producers become future candidates for Startin' Yer Garten. She carefully hardens off her seedlings—a labor-intensive process that, over the course of several weeks, involves trudging the plants from the basement to her yard to gradually expose them to sun, wind and variable temperatures. This delicate procedure makes for stronger, more disease-resistant plants and isn't something novice gardeners are generally eager to undertake.
Tomatoes are her bestsellers and favorites include the famous San Marzano canning tomato, meaty Pruden's Purples, zesty Green Zebras, and an assortment of pear and cherry tomatoes. Her special "gravy pack" features basil, parsley and tomatoes. Massare offers a variety of other seedlings as well, including peppers, kohlrabi and several different herbs.
Her personal favorite? Definitely the kohlrabi. "It's a great early spring vegetable," she explains. "It really does look like it's from another planet."
Startin' Yer Garten, startin.yer.garten@gmail.com; Massare's seedlings cost between $2 and $6.