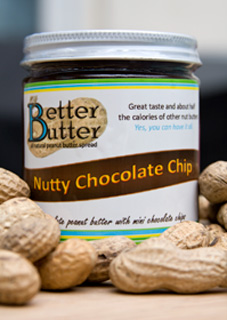 story by Lee StabertAfter graduating from NYU's Stern School of Business, Marina Levtov took a job with IBM. Her first client was a tobacco company. "My first day of work, I walked onto the site and people are smoking, in the office," she recalls. "Their IDs worked in vending machines—you were allotted one pack a day." For Levtov, a healthy living advocate who was already experimenting with producing all-natural foods, the atmosphere was not a great fit, but it did serve as strong motivation to launch her own business.
The result is Better Butter, a line of rich, healthy spreads. "At home, I was diluting my peanut butter with bananas and pumpkin," says Levtov. "My boyfriend joked that I should sell it."
Levtov produces Better Butter at Greensgrow Farms' new community kitchen in Kensington, using local ingredients whenever possible. Peanuts come from Philadelphia's Nuts to You and honey from Two Gander Farm in Oley. Her jars are made in Lancaster County.
There are currently two Better Butter flavors: Honey Nut Banana, made with dry-roasted peanuts, banana, honey and sea salt, and Nutty Chocolate Chip, comprised of peanuts, pumpkin, agave nectar, cocoa and chocolate chips. The spreads have half the calories of other nut-based spreads, and taste delicious whether baked into cookies, stirred into yogurt or simply smeared onto crusty bread.
Better Butter, mybetterbutter.com, available at Almanac Market, Green Aisle Grocery, Milk & Honey Market, Pumpkin Market, Swarthmore Co-op, Healthy Balance (Lebanon, NJ) and Brian's Wine & Liquor Emporium (Piscataway, NJ)