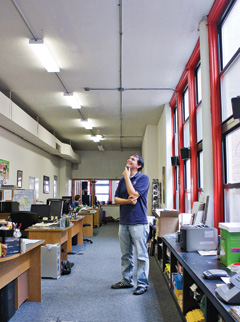 A fever has gripped Red Flag Media. All of a sudden, we're having the seven-year itch with our office space. Could it have been triggered by visiting the inspiring buildings profiled in Grid's "Greenprint" insert (created in partnership with the Delaware Valley Green Building Council)? Absolutely. Walking down the sunlit hallways of Johnson and Johnson's labs, or looking out at lush rain gardens from Germantown Friends School's new science building changes you. It fills you with awe. Honestly, I didn't know a work space could be like that.
Returning to our own office left us feeling a bit glum. When Red Flag Media—publishers of Grid and two other monthly magazines—moved here in 2003, the space was completely open. A blank slate. We needed two private offices, but, in retrospect, the walls we built inhibit sunlight and block airflow, creating multiple climates—some of them quite harsh—in different sections. Maybe someone should have hired an architect.
Still, I have deep affection for this space. When five of us moved from Wilkes-Barre to the big city, we had a luxurious 2,200 square feet to grow into. And now, with a staff of part-timers and interns that can number as high as 14 or 15, we have. It still doesn't feel too crowded—except for the single bathroom, which always seems to have its door closed. (On occasion, I've opted to take a walk to the public restrooms at the Reading Terminal Market.)
Did I mention the Reading Terminal Market? We are practically next door to it. A bonanza of food options, including our beloved Fair Food Farmstand, reside a mere two-minute walk away. My heart breaks at the thought of being far from it. Plus, the office's proximity to metal shows at the Trocadero and General Tso's "Chicken" at Kingdom of Vegetarians led one of our editors to call it "the greatest block on Earth." Despite that, he moved to Virginia a few years ago.
But it's okay that he relocated, because we're also right next door to Market East Station. As the monthly deadline for his publication approaches, he arrives by train. In fact, everyone who works here either walks, bikes or rides the rails to work. What a luxury.
Obviously, there are a lot of reasons to stay. We could take down those walls, install a new bathroom, do some remodeling and spruce the place up. But here's the deal-breaker: We don't own the building, and our landlord isn't interested in making improvements. Investing in someone else's property—no matter how lovely the final results—seems like folly. Plus, we're on a month-to-month lease, and have no recourse if the building is sold.
So, the quest to find a new home for Red Flag Media—and Grid—begins. For the time being, renting seems like the way to go, but if the right property at the right price suddenly emerged, well, maybe we'd take the plunge. In the meantime, we'll be making our list of needs and wants, scouring Craigslist, remembering all the inspiring places we've seen and dreaming of the next space that we'll call home.