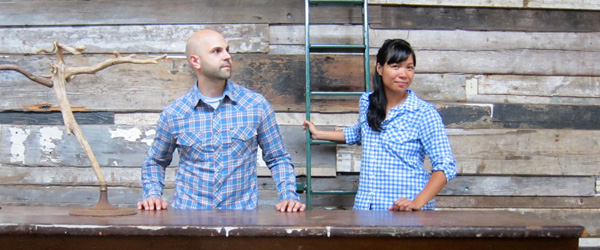 story by Lee Stabert Three Potato Four's new retail space on Shurs Lane feels a bit like a macro version of their beautiful, deliberately-chosen salvaged items and antiques. A former wool mill that's over 100 years old, the converted space (once used as a dye room), has taken on myriad other incarnations in the last few decades, including a furniture repair shop, a dog collar factory and, according to Three Potato Four co-owner Stu Eli, host to a couple of raves in the '80s. Most recently, it was an event space.
"When we got the place, it was battleship gray," recalls Eli who, along with his business partner (and wife) Janet Morales, reinvigorated the rustic spirit of the old building, removing a prefab office, adding salvaged wood to the walls, and installing a platform and counter inspired by classic general stores. The soaring ceilings and industrial grandeur are a perfect showcase for Three Potato Four's diverse inventory of furniture, home wares, signage and other eclectic unearthed treasures.
The business started three years ago when Eli and Morales moved to Virginia from New York City, where they had both worked in the graphic design industry. They decided to start their own business and went through a series of ideas.
"First it was going to be a stationery store," explains Eli. "Then we were going to do a hamburger stand." When they eventually settled on stationery and home wares—sold online to start—they discussed a plan to distinguish themselves. "What makes one store different from another?" asks Eli. "You could open a shop, and you have the same catalogs to choose from that I do."
So, they added antiques to their selection, and within the first six months, that segment had become 90 percent of their business. The website developed a devoted following, and the couple decided to open a brick-and-mortar store. "We wanted to get out from behind our computers," explains Eli, "sell some bigger pieces and expand the customer base." Plus, they hoped to get the inventory out of their home. Though they don't have roots in the region, the couple eventually settled on Philadelphia, moving to the area in July.
Three Potato Four's continued growth can be attributed to Eli and Morales' astute eye—their objects convey an aesthetic that's hard to pin down, but undeniably stylish and soulful. The pair goes shopping at least twice a week, combing the East Coast for items that intrigue them.
Many of their objects incorporate vintage lettering, type and graphics. They also have a particular affection for signage, a holdover from their graphic design days. Eli notes his particular interest in old public school, library and science artifacts. Their inventory also includes a fair share of industrial relics, old general store items and unique handmade pieces.
On a recent visit, standouts included a German beer hall table—perfect for a patio or even a breakfast nook—a gaming wheel crafted from an old bike tire, factory ladders from Bethlehem Steel, a mail-sorting cabinet (complete with town labels) and a vintage educational chart featuring a giant crayfish.
"Look at something and it makes you smile—that's good enough for me," says Eli when asked about what objects make the cut. "We might not know a deep level of history on some of these items, but we know a good amount. And the most important thing to us is just that we like it."
Three Potato Four, 376 Shurs Ln., Building A, 12 – 7 p.m. Fri. & Sat., and by appointment, threepotatofourshop.com