I would be lying if I said I'd never snuck in anywhere I wasn't supposed to.
I have gone herping (recreationally searching for reptiles and amphibians) all over Philadelphia, and more than once I have taken a look at a "No Trespassing" sign, glanced over my shoulder to see if anyone was watching and pressed forward.
I'd also be lying if I said that being where I wasn't supposed to be wasn't part of the fun. It gets the heart pumping and the adrenaline flowing in a way that setting foot on an official, blazed trail does not.
The same thrill of trespassing is probably felt by those illegally hunting deer in Philadelphia.
White-tailed deer flourish where woods mix with more open terrain like meadows, marshes and landscaped gardens — basically what you find in and around any Philly park or vacant greenspace.
Philadelphia hosts densities of deer so high that they prevent forest regeneration, eating the next generation of trees before it can reach the canopy. Deer populations have rebounded since they were nearly wiped out at the end of the 19th century, but their nonhuman predators such as wolves and mountain lions have not. Trespassing hunters could argue that they are doing the environment a favor by killing deer.
In a crowded city, however, the risks of amateur hunting might still outweigh the benefits. Humans have been hunting whitetails in what is now Philadelphia since the last ice age, but today, with about 12,000 people packed in per square mile, it takes professionals to safely kill deer without endangering humans, and to do so quickly enough to avoid any wounded animals staggering into traffic or a neighbor's garden. That's why Philadelphia Parks & Recreation hires teams of USDA sharpshooters to cull deer in an effort to reduce their impact on the forest, removing around 300 every year.
There are rare exceptions where amateurs can hunt. At the John Heinz National Wildlife Refuge at Tinicum and at Benjamin Rush State Park, mentored hunts offer new bow hunters the opportunity to kill deer. And although a few hunters get permission to hunt on larger parcels of private land, most Philly hunters looking to bag deer legally have to head out of town.
That hasn't stopped some from trying to hunt where they shouldn't.
When he set off on his daily walk, Eastwick Friends & Neighbors Coalition president Earl Wilson wasn't expecting to find a couple hunters gutting a deer. Near the intersection of Mario Lanza Boulevard and Crane Street he spotted the two men. "At least one had a bloody hand, and apparently they had just killed the deer and were field dressing it right there. All I could say to myself was, 'Don't say anything, look forward and keep walking.'" (A first step after killing a deer is to "field dress" it by cutting out its entrails.)
Anyone walking or driving through Eastwick can't miss the large white signs posted on the vacant properties that say in red stenciled letters, "POSTED, PRIVATE PROPERTY, NO HUNTING, FISHING, TRAPPING OR TRESPASSING."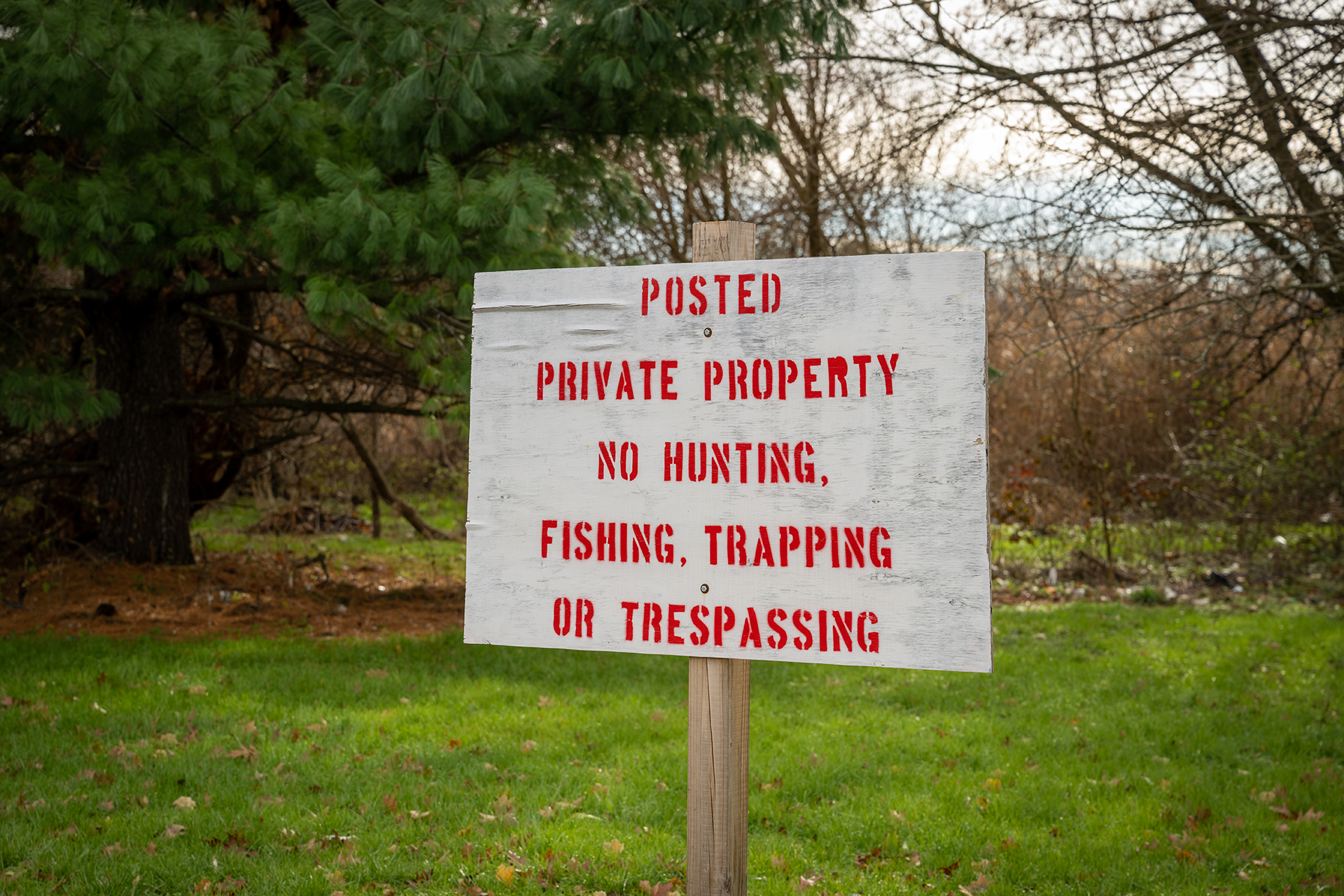 It was those signs that prompted me to ask Wilson, whom I was interviewing for an article on illegal dumping, about illicit hunting in Eastwick at the end of our conversation.
It's a question I've gotten into the habit of asking whenever I talk with people who steward Philadelphia greenspaces, whether the spaces are public parks or private land. Whenever I ask, I hear stories.
In Cobbs Creek, a neighbor left an angry note at a makeshift hunting blind he found in the woods. In Mount Moriah Cemetery visitors on a nature walk spotted a man carrying a hunting bow. In Morris Park a hunter had set up a deer stand — an elevated platform that hunters erect to get a better vantage point for hunting — and game cameras to help him track the behavior of the whitetails he was targeting. According to Pennsylvania Game Commission spokesperson Travis Lau, there were two deer illegally killed in Philadelphia in 2021, and none in the three years before that.
There are people who cheat on the laws on anything, and trespassing is one of them."

—

Brad Gates,

local wildlife manager
Brad Gates, a local wildlife manager, pointed out that since bowhunting relies on very close shots with a relatively slow projectile, it is unlikely to pose much of a practical threat to anyone except the deer being targeted. Also, someone can be obeying state game laws while trespassing, so people call the police in addition to the Game Commission. "There are people who cheat on the laws on anything, and trespassing is one of them," says Gates.
That brings us back to sneaking in. I could always argue that tromping about and taking pictures of snakes or frogs didn't hurt anyone, which is what I imagine a hunter slipping into Morris Park or vacant land in Eastwick says, or, for that matter, swimmers jumping in at illegal swimming holes like Devil's Pool.
But that doesn't make it feel like any less of an invasion to the neighbors. It became clear to me as I reported the illegal dumping article how helpless people felt when outsiders violated their neighborhoods, and how damaging that feeling is. Outsiders didn't care that they were doing things the locals clearly didn't want done. Tracking down and running off dumpers, even if it was a small action in the face of a huge problem, restored local residents' agency, their sense that they were in charge of their own spaces.
Knowing this certainly takes the fun out of sneaking in, as it should.
If you spot someone hunting in Philadelphia where they should not be, call the Game Commission's Operation Game Thief hotline at 888-742-8001. The Game Commission enforces state laws governing hunting, including seasons when hunting is allowed, safety zones and what animals are legal to hunt.