On January 3, 2022, the Philadelphia Department of Licenses and Inspections (L&I) told the Union League of Philadelphia that it had to wait to cut down 43 large, native trees at its golf club at Torresdale. The private member's only club had sought to clear the trees in order to expand their golf course and add a golf training center. Cutting down the trees, protected under Philadelphia law as "heritage trees," required special permission from the Zoning Board of Adjustment, according to the referral notice from L&I.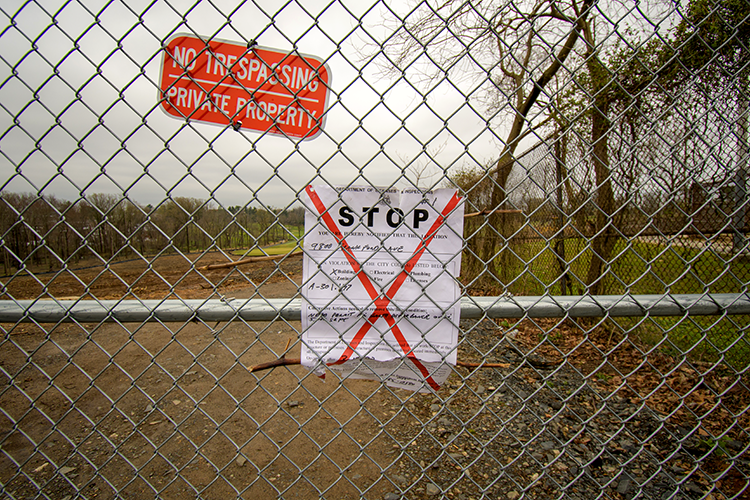 This didn't stop the Union League.
On January 23, L&I investigated and cited the golf club for multiple violations, including one for disturbing more than 5,000 square feet of land without a permit. These land disturbance permits force developers to take measures to prevent soil from washing off the disturbed landscape and into local waterways, such as Byberry Creek. On March 1 the golf club failed another inspection from L&I, and the department posted a stop work order effective March 17th.
Any project disturbing more than one acre of soil is also required to submit plans for approval to the Philadelphia Water Department to explain how stormwater runoff will be managed after construction is complete. This in turn requires another permit from the Pennsylvania Department of Environmental Protection (DEP), called a National Pollution Discharge Elimination System permit. The DEP's tracking system shows that the Union League only applied for this state permit on March 7.
Grid reached out to L&I to ask why the department hadn't also cited the Union League for cutting down the heritage trees without the proper permits. An L&I representative responded: "It's really a matter of priorities and reasonable expectations. L&I's core mission is protecting public safety in the context of construction activity."
In addition to clearing the trees, the Union League had constructed a new building without any advance permitting, and the inspectors had focused on the land disturbance and building violations.
L&I inspectors have a lot on their plates, including ensuring that demolition and construction activities don't endanger the lives of Philadelphians, that electrical systems won't spark fires, and that buildings will be accessible for people with disabilities, among other concerns.
The fact that they are additionally responsible for interpreting and enforcing rules protecting Philadelphia's trees points to a major weakness in the city's forest canopy.
Philadelphia's tree code requires landowners to identify trees, including heritage trees, in their development plans that will need to be removed and then replaced. It also leaves it to arborists hired by landowners to identify trees that don't require special permission to be removed or won't be replaced at all, for example trees that are dead or diseased.
The Union League put the L&I inspector, who is not an arborist, in an impossible situation of having to review a landscape of stumps and dismembered trees and determine which should have required a permit to cut. As L&I's representative put it, "The inspector would not be expected to, in addition, surmise that the heritage tree provisions of the Zoning Code may have also been violated and issue a citation. This is especially true given the difficulty of proving that the violation occurred, because the inspector would not be able to testify to having personally observed heritage trees on the property."
On March 3

the Union League requested approval for cutting 43 heritage trees, which, by that time, had already been cut down.
L&I's citations required the Union League to obtain permits for the earth disturbance and for the new use. Ordinarily developers seek approval ahead of time from the community for projects like this by reaching out to local organizations designated as "Registered Community Organizations." These organizations then provide feedback and vote on whether to support the project.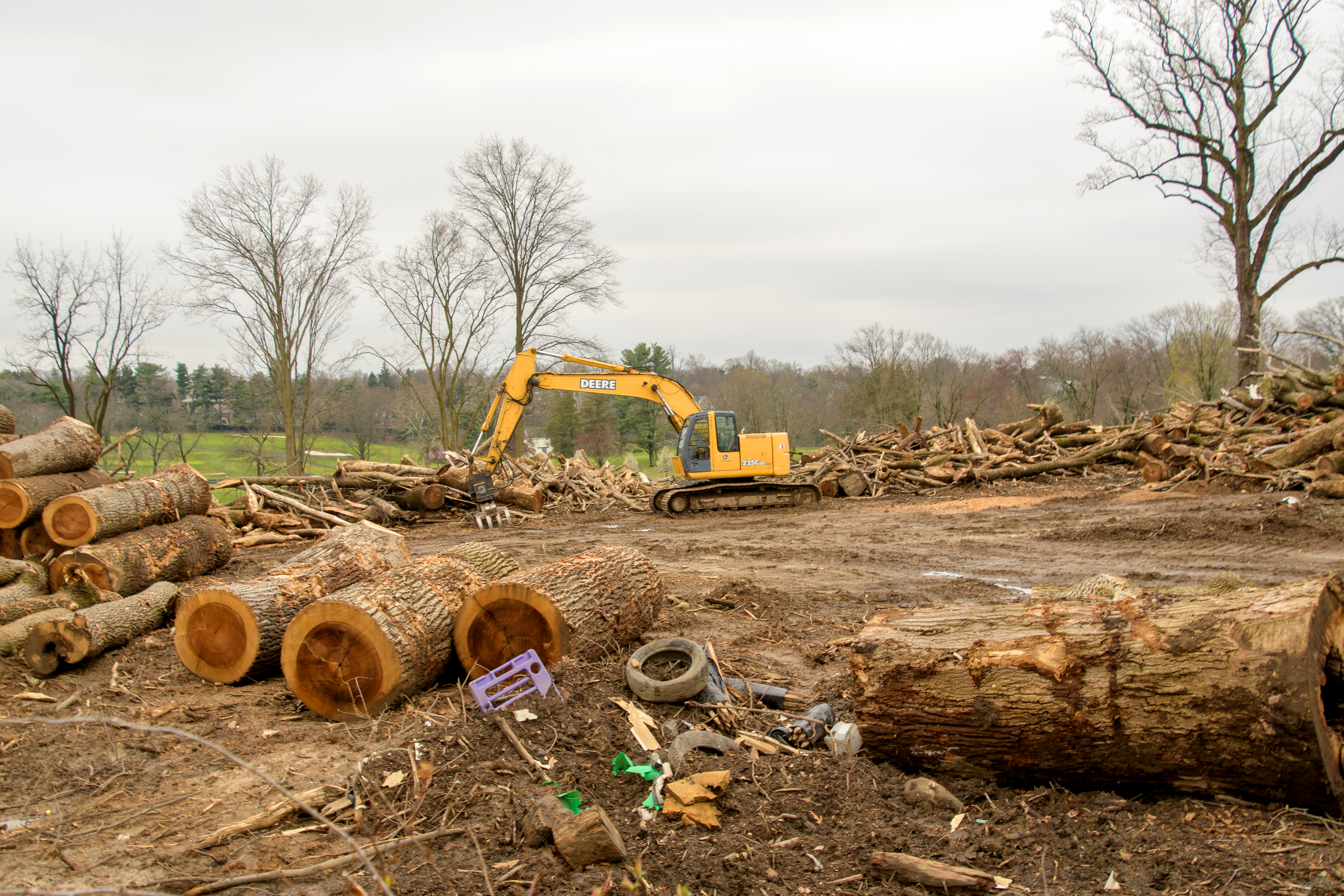 In this case, the golf course development took the community by surprise.
On February 9, Ken Law, the Treasurer of the West Torresdale/Morrell Park Civic Association, alerted staff of Philadelphia Parks & Recreation that the Union League had cut down an estimated 15 acres of trees at the club, visible behind the Thomas Mitchell Playground and John Hancock Elementary School. Before the cutting began, about 55 acres of woods stood between the club's golf course and trap shooting range and the neighborhood, largely composed of row houses, to the north.
Law's email stated that the club was "clearing land in or very close to flood plains, on slopes [greater than] 15 degrees, removing habitat of many animals, and subjecting the residential neighborhood [to] the sounds of unabated … shooting and errant golf balls." Byberry Creek runs through the woods being cleared, and the noise from shotguns had drawn noise complaints from neighbors in the past.
Law, who declined to comment for this story, also made 311 calls to report the tree cutting, according to a Philadelphia Inquirer article about the golf course development.
It is hard to imagine that the Union League violated local zoning and land use regulations out of ignorance. The current president of the Union League's board of trustees, Charles J. Davidson, teaches full time at the Daniel M. DiLella Center for Real Estate at the Villanova School of Business, serves as a member of the Lower Merion Township Zoning Hearing Board, and previously served on the Planning Commission of Lower Merion Township, Montgomery County.
Union League CEO Jeff McFadden presented the club's development plans at a March 3 special meeting of the West Torresdale/Morrell Park Civic Association. There he requested belated approval for a new use as well as for cutting the 43 heritage trees, which, by that time, had already been cut down.
The Union League told the civic association members that, "much of what was removed was either dead or diseased," according to the minutes from the meeting. They also presented plans to replace many of the trees they had taken down. McFadden has not responded to Grid's requests for an interview.
Many of these trees are probably close to 100 years old or older, and whoever said they were sickly is very wrong…"

— Torresdale resident
The civic association voted 62 to 21 to retroactively support the Union League's application to the zoning board for the permits to cut down the heritage trees and to allow the new "recreational" use.
A neighbor familiar with the woods before the cutting, who requested to speak anonymously, visited on March 30 and observed a new fence behind the playground, topped with barbed wire. Behind it, apparently freshly-cut tree trunks sat stacked up with logging machinery nearby.
"It is extremely sad how many trees they took out," they said. "Many of these trees are probably close to 100 years old or older, and whoever said they were sickly is very wrong. …[T]he inner parts of the trunk are perfect. Not a blessed thing wrong with them. They took out hundreds of trees."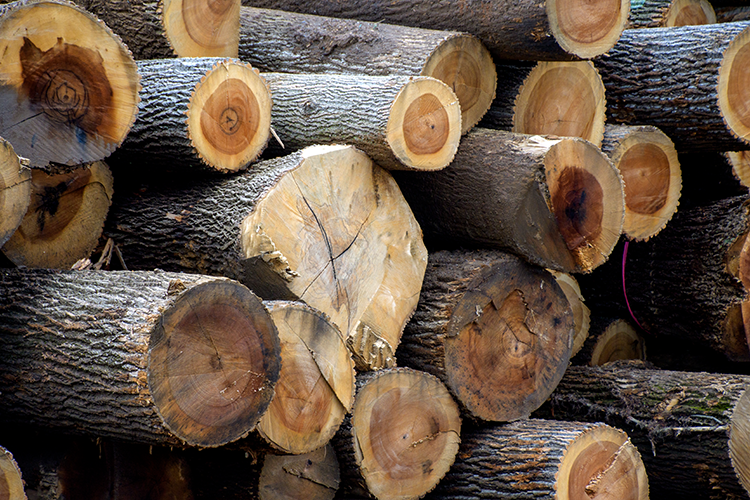 The Union League told the civic association that it planned to replace the heritage trees with new plantings, as is required by Philadelphia's zoning code. By then, of course, the trees were already gone, and there was no independent assessment to back up the Union League's claims of how many trees needed to be replaced.
The tree code's reliance on landowners and L&I inspectors who aren't tree experts creates loopholes big enough to drive a logging truck through. Even if the Union League hadn't completely flouted the city's construction laws, it likely would have been permitted to cut down the trees after seeking approval for plans to replace the trees from the civic association, and then obtaining a special exemption from the zoning board.
Like most municipal tree codes, Philadelphia focuses on documenting and then replacing trees rather than protecting them from being cut down in the first place.
"So much of these ordinances are about measurement and mitigation," Pete Smith, program manager for urban forestry at the Arbor Day Foundation says. "You can still cut the tree down. The public often doesn't get that. So every time a tree comes down the public asks what is going on."
Though tree lovers might recoil at the sight of a bare stump, there are plenty of reasons to cut a tree down.
This winter Parks & Recreation took down a beloved but ailing sugar maple on the Belmont Plateau. If it had stood in a forest, its rotting interior might have provided habitat for owls, flying squirrels and other wildlife. If a limb broke off, it would have hit another tree or the forest floor. In a busy park, however, its falling limbs and splitting trunk posed a risk to people beneath. The same would be true next to a house or a sidewalk.
Large trees store a lot of carbon, help cool the air and buffer the watershed from heavy rains, but they can also heave up the sidewalk, rendering the pavement impassable for people who depend on wheelchairs to get around.
Exotic tree species can displace native species without providing the same benefits to the local food web, and forest restoration projects often involve cutting the former in order to plant the latter. Forests can also overwhelm other habitat types. Meadow restoration, for example, often involves cutting back trees.
And of course, trees often get in the way of construction projects.
"I would suggest that tree cover in neighborhoods is as much a result of stability in housing as any other factor," Smith says.
For decades, stability in Philadelphia led to increased tree cover. By the 1970s, virtually all of the city's farmlands had been built up with row house or suburban-style developments, and the trees planted along these streets and in thousands of new yards grew taller and matured.
Housing patterns in older neighborhoods also led to tree growth, as mostly white residents fled for newer neighborhoods and many residents of color, hobbled by racist housing and lending systems, stayed. Vacant lots either sprouted trees on their own or were landscaped with trees by beautification efforts.
And in a perverse twist, tree cover in parks increased as budgets shrank. With less money to mow and maintain landscaping, woods grew up in Fairmount Park's unused spaces.
Researchers from the U.S. Forest Service and the University of Pennsylvania analyzed Philadelphia's tree cover in a 2021 study using aerial images and found that overall, between 1970 and 2010, the city's tree cover went from 18.7% to 23%.
However as Philadelphia's population loss has turned around and construction has boomed, trees have paid the price. The city's 2018 Tree Canopy Assessment used LiDAR (aerial laser imaging that can detect vegetation) to determine that between 2008 and 2018, the city gained 1,980 acres of trees but lost 3,075, for a net loss of 1,095 acres, or 6% of its tree cover.
The report recommends that, "Preserving existing tree canopy is the most effective means for securing future tree canopy, as loss is an event but gain is a process." Most of the city's lost tree cover had been on residential land. "While some trees on residential land use likely have reached maximum life expectancy, factors such as construction and landowner removal are more likely to play a role," according to the assessment.
The assessment found that the vast majority of Philadelphia's tree canopy is on residential land or on wooded land, which isn't surprising given that residential land covers most of the city, and that wooded land, by definition, is covered in trees. What is surprising, given the need to protect the city's tree cover, is that the zoning code's tree protections generally don't apply to either.
Philadelphia's zoning code exempts "lots with a principal single-family, two-family, parks and open space, or urban agriculture use" from heritage tree protections as well as other landscaping requirements to replace trees removed in construction.
Around the same time the Union League was cutting down its trees, the Cobbs Creek Foundation was clearing about 100 acres of forest, likely including several hundred heritage trees, at the Cobbs Creek and Karakung golf courses. Since they stood on land zoned as "recreation," which falls under the "parks and open space" use, the trees on the golf course were completely unprotected, and the foundation is not required to replace them.
"Trees are going to be removed for all kinds of purposes. It's not unreasonable to ask developers to make adjustments. The other side is that if we can't save them all and they're not all worth saving, can we mitigate and use more public space to add that tree canopy where it can thrive," says Smith, from the Arbor Day Foundation. "I encourage every city to look around and try something different. On the whole, when you calculate the benefit of those trees for air quality, water quality and the health benefits that trees provide humans, it is worth the effort."
Other cities have tree ordinances covering public lands as well as smaller residential lots, and city arborists involved in oversight. Austin, Texas, stands out as having particularly stringent tree protections. There a city arborist is involved with approving the removal of any tree with a trunk 19 inches wide or more ("diameter at breast height" is a commonly used measure of tree size). Removing even dead or diseased heritage trees requires approval of the city arborist's office.
Cities such as San Antonio administer tree funds that developers can pay into when they cut down a tree, and that are then used by the city to plant more trees.
In 2008, the administration of then-Mayor Michael Nutter set a target to increase the city's tree cover to 30%. Given that the city lost 6% of its urban forest canopy in the next decade, the city is failing, and much of that failure stems from an inability to protect the city's existing trees, whether they are in a backyard, along a street or on a golf course.
TreePhilly, the urban forestry program run by Parks & Recreation and the Fairmount Park Conservancy, plans to release a new tree plan for the city later this spring.
The draft tree plan, released in 2021 for public comment, proposes changes to strengthen Philadelphia's tree protections, including creating a city forester office to be involved with the planning process, increasing the numbers of trees required to be planted by developers, issuing fines to developers for not replacing trees, and establishing a tree fund with the proceeds of those fines. It also proposes measures to mitigate tree challenges for homeowners, for example having the city pay to repair sidewalk damage caused by trees. The draft plan does not mention expanding tree protections onto smaller residential lots or public property.
Although Parks & Recreation declined to make TreePhilly staff available to comment for this article, others involved in the development of the new tree plan noted the need to improve Philadelphia's system for regulating tree removal.
"There are ongoing discussions to make the tree replacement ordinance clearer and more effective so Philadelphia's canopy cover will be increased and protected," Jason Lubar, associate director of urban forestry for the Morris Arboretum, says. "It would be beneficial if the folks reviewing the plans at L&I did have some environmental background in arboriculture, landscape design, that kind of thing. Or if they had questions about the submission, they [could] reach out to a knowledgeable party."
Overall, though, Lubar thinks the city is moving forward.
"Personally I'm glad to see an ordinance in place and a movement to keep improving it," Lubar says. "Preserving and enhancing the tree canopy, especially in urban areas, is vital to the health of people and the environment.