When Laverne Evans needed a red purse for her birthday outfit this past November, she knew exactly where to go.
Evans, 28, made her way to I Spy, You Buy, a curated thrift store in Mount Airy, to see if owner Dolly Park had something in stock.
"She told me to come back tomorrow," Evans says. "She was going out thrifting [and] if I came back, she'd have it. And she sure did have it."
Park, 33, of Jenkintown, has sold her thrifted finds from the storefront at 7151 Germantown Avenue for about five years.
On any given day, you can walk into the store and find Park helping customers find that perfectly fitted denim jacket, or styling local music groups for an upcoming show. The store is unique in that Park not only plays the role of business owner and merchandise specialist, but also personal shopping buddy.
"Dolly is different," Evans says. "She makes you feel confident in the clothes that you're getting. She's always there to assist, to pick out entire outfits … from bags to shirts to shoes."
In her off time, Park is always on the hunt for more clothing to stock her store. She doesn't accept donations, but rather thrifts herself to curate the perfect selections of retro and name brand items from other thrift shops, like The Salvation Army, New Life Thrift, Bargain Thrift Center and Second Chances Thrift Shoppe.
"After a while with the return of the customers, I just knew what they would buy," Park says. "So you want Uggs, you want Nike, you want Adidas. Okay, so now I know what you want … you won't come here and just see anything random. Everything has a purpose."
Park's keeping an eye out for her customers has certainly been noted by Evans.
"I don't feel the love and the attention … when I go to other thrift stores," Evans says.
Park says there are certain clothes she is always on the lookout for: mom jeans, jerseys, graphic T-shirts, windbreakers and army fatigues. She also tries to avoid certain clothing, too, including most items from fast fashion brands like Forever 21 and H&M. The quality just isn't up to par, she says.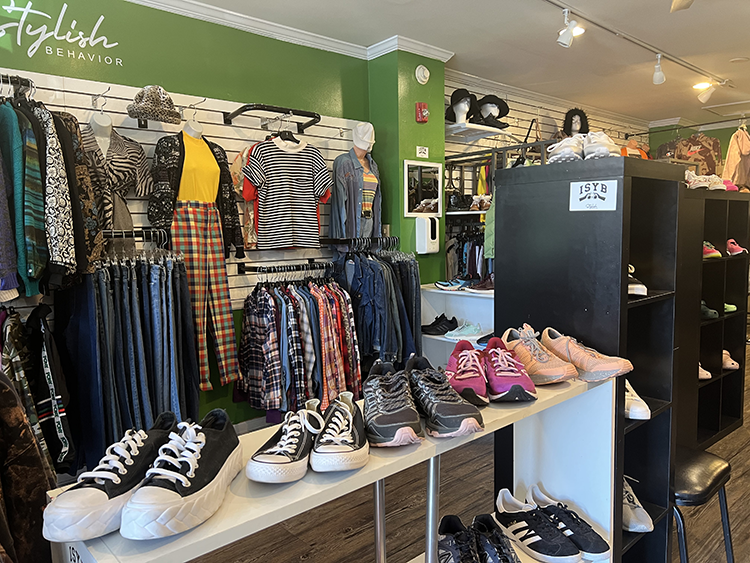 "With clothes being mass-produced, they're trash," Park says. "[With the] fabrics they're using, they're just landing in landfills. That's where the clothes are going. You wash them one time, and then they become rags."
Park notes that she keeps an eye out for vintage and retro clothes that are made from 100% cotton, a fiber that makes for "quality merchandise."
Natasha Martinez, 42, a longtime customer of I Spy, You Buy, says she always gets compliments on the clothes she buys from Park.
Sometimes Martinez comes into the shop looking for vintage clothes from the 1980s and '90s; other times she's looking for something more trendy. The store's variety of clothing keeps her coming back, as well as Park herself.
"It's just her energy is always positive," Martinez, of Northeast Philly says. "She's had me buy things that I would normally not wear, but she makes me feel so good about it. I feel like a million bucks in the outfit."
Martinez has been buying clothes from Park since her early days.
Before opening the storefront, Park would sell thrifted clothing on the sidewalk outside of the Philadelphia Interfaith Hospitality Network, also on Germantown Avenue. Park estimates more than half of her current customer base has been shopping with her since the sidewalk sale days.
And before that, Park was thrifting for her girlfriends, who would buy from a makeshift store in her own living room.
Fashion is Park's passion, she says. She also upcycles damaged clothes she finds to repurpose them. She'll bleach and tie dye clothes that could use a little love and sell them as part of her brand, Stylish Behavior.
"I feel like it's a big stage, and we're all actors, and we're performing and the clothes definitely give you this finish," Park says.
In high school, her fashion sense made her stand out, she says. Her black nail polish and Doc Martens were not the norm. Today, the youth are more adventurous in terms of fashion, Park says, sharing that she has teen customers frequenting her store.
"Now being weird or being able to express yourself however you want is acceptable," Park says.
"People used to turn their noses up at thrifting, 'What, you got that from a thrift store? Oh, that means you're poor,'" she adds. "No, that means you have swag. You have personality. You don't want to look like everybody else."
Cordell Green, 25, of West Philly, is working on a documentary that captures Dolly's thrifting story for his production company Green Light Studios.
"I was never into thrifting, but the way she throws everything together, and the way she sells it makes me want to get more into it," Green says of Park.
"She is very creative and expressive about her art and thrifting," he adds. "The goal is to get people to see Dolly's vision."
I Spy, You Buy is open Tuesdays through Saturdays from 11 a.m. to 5 p.m.