When the COVID-19 pandemic started in early 2020, entrepreneur Dan Tsao's multiple businesses were devastated.
As the owner of the restaurants EMei in Chinatown and General Tsao's House in Rittenhouse and the publisher of two Asian weekly newspapers since 2007, Tsao sent out an email to his newspapers' more than 43,000 email subscribers. The feedback he got was that readers were afraid to come to the city to eat or shop in Chinatown. Tsao knew he had to pivot.
Tsao began to offer family meal packages to suburban subscribers, effectively bringing Chinatown to them. He also invited other restaurant accounts to be on his website, most of them in Chinatown. Tsao's restaurants EMei and GTH–Tsao's new restaurant with business partner Eric Rosenfeld–are also included on the site.
Three months later, the new venture was being used by more than 35 restaurants. Nine months later it was serving more than 2,000 families.
That's how RiceVan, a grocery and takeout delivery service that takes suburban orders up to 60 miles away within the tri-state region, started.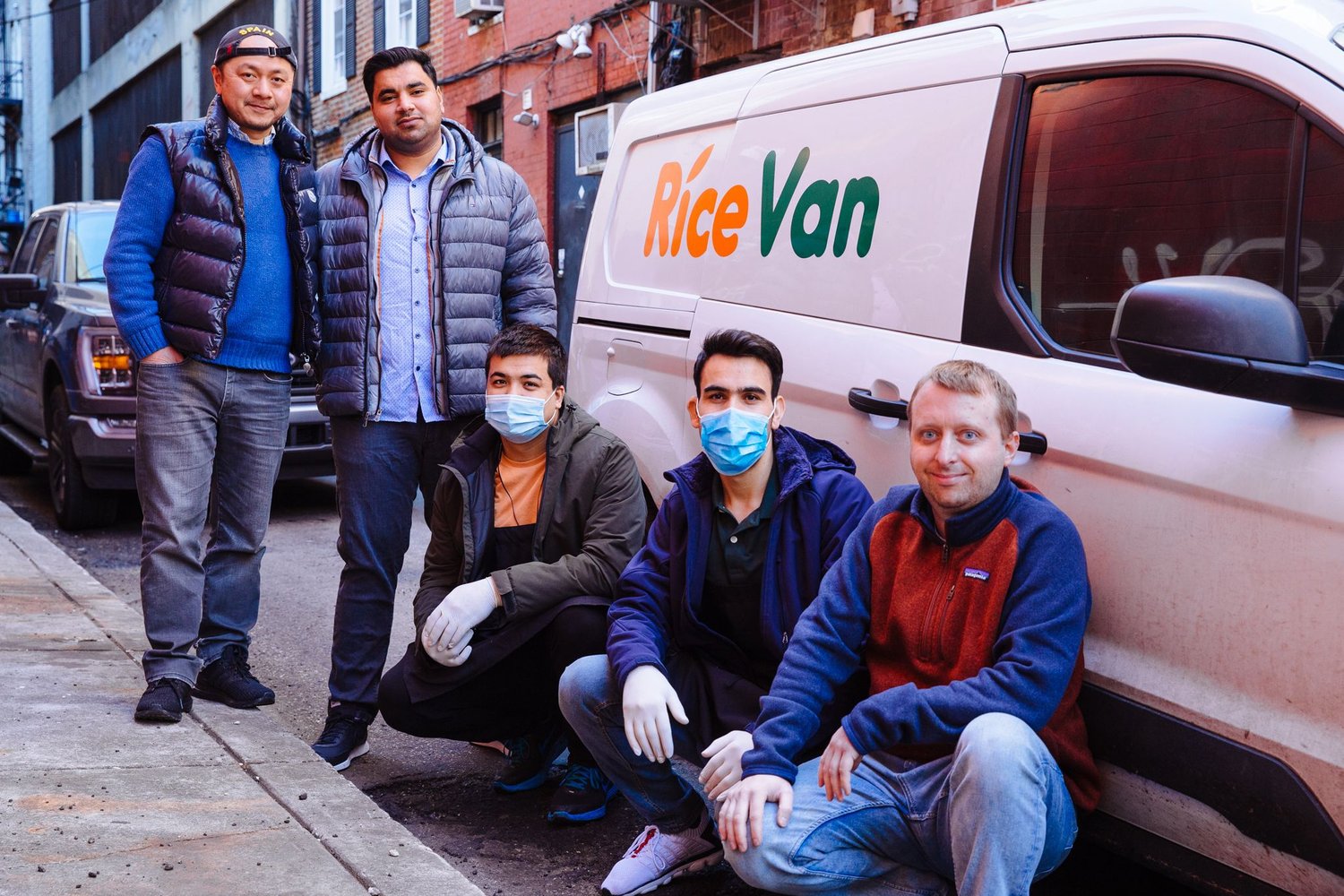 From there, it's also evolved as a way to pay homage to Tsao's immigrant roots.
Over the past three months, RiceVan has been providing daily lunch and dinner, and weekly grocery service to several hundred refugees living in temporary housing in Center City. Nationalities Service Center, the largest refugee resettlement agency in Philadelphia, pays for the meals. The business also has five refugee employees, three of whom are full time.
Tsao arrived here as an immigrant from China more than 20 years ago.
"Both myself as an immigrant and the refugees, we share the challenge of a language barrier and cultural barriers," he says. "For them, career, and education for [their] kids—there's going to be a journey."
Tsao listens to their stories about what happened to them and their families in Afghanistan. He shares with them successful stories about people coming to the U.S. to give them hope.
The first day Nasratullah, their accomplished Afghan chef, came to GTH, he went to the Western Union and wired $60 back to his family and he only had about $40 left in his pocket.
"After two months of working together, we are becoming more like a family. There is a much bigger community of Afghan refugees in temporary housing, but we are interacting with our own Afghan refugee employees on a daily basis," he says.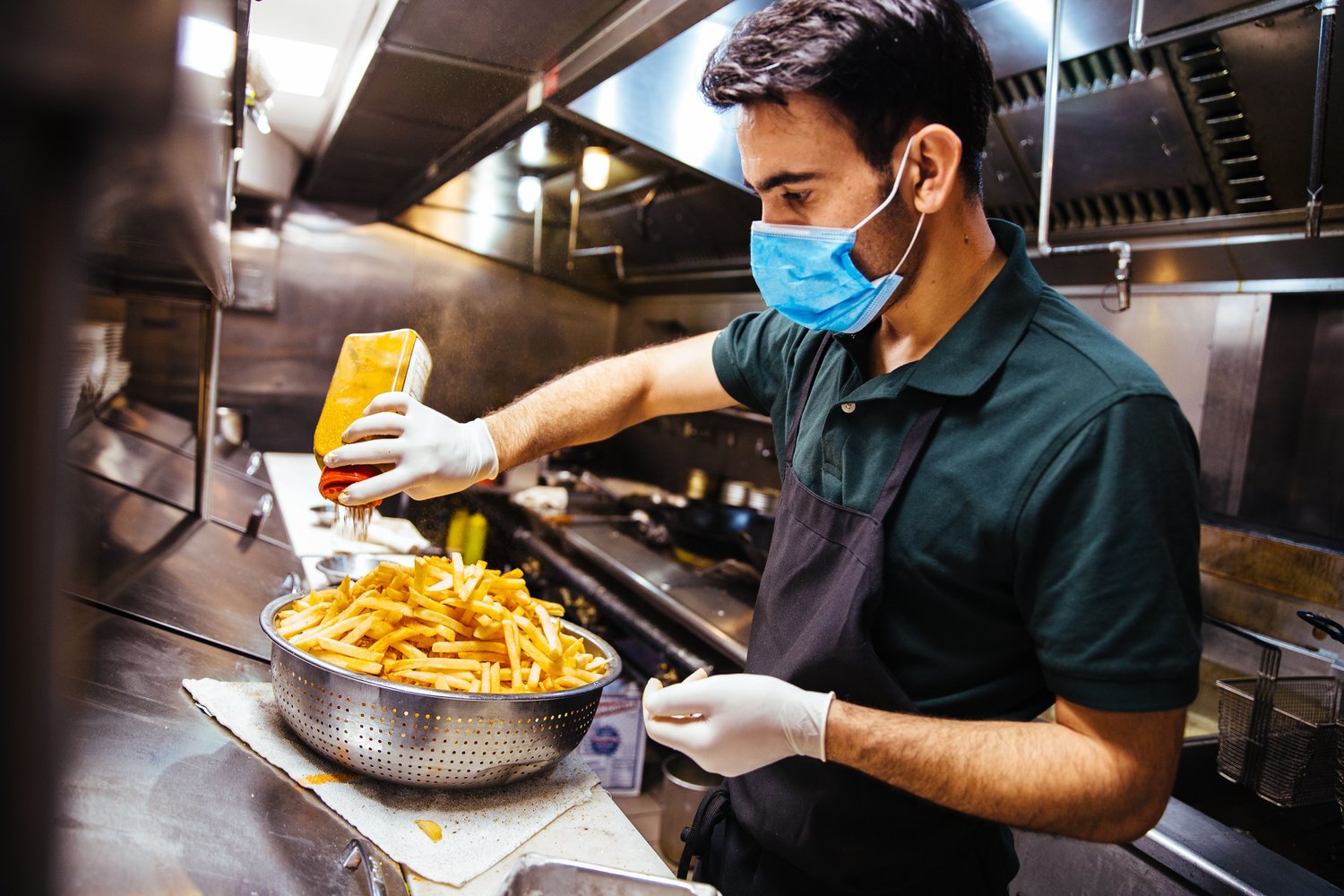 Rosenfeld has a background in immigrant and workforce development. He worked for The Welcoming Center and had supported immigrant entrepreneurs across demographics and nationalities.
Rosenfeld connected with Tsao a year ago and admired what he had done for the Chinese and Pan-Asian community.
"My wife is also a Chinese immigrant, so we had a personal connection. I wanted to replicate what he had done in other communities," says Rosenfeld. "There's a huge diversity of population of immigrants and refugees in the greater Philadelphia region. There are more foreign born outside of Philadelphia now in the suburban counties than there are in the city."
RiceVan originally started sourcing from different Halal restaurants around the city– some in West Philly, some in Northeast Philly. They are vendor partners like their original Chinatown-based establishments. At one time the centralized food distribution platform was supplying 600 meals per day.
RiceVan started cooking in-house at RiceVan-owned restaurant GTH. "We took some of the operations in-house within our network," Rosenfeld says. "We decided we had to start cooking some of these meals rather than sourcing them."
Nasratullah was among the refugees living at the hotel where RiceVan was serving; RiceVan hired him and several others to provide the food in-house. Their team currently prepares roughly 3,000 meals per week.
When Bahram Alem Sarwary arrived from the Fort Pickett, Virginia camp, he spent his first day at the hotel, helping to serve food as a volunteer. Fort Pickett is the military base (refugee camp) Sarwary was sent to when he entered the U.S. He lived there for three months before arriving in Philadelphia for permanent resettlement. Rosenfeld offered him a job at RiceVan.
"I accepted that job because it was my first job in the U.S.A. I was happy to do that," he says.
He emphasizes that the situation he comes from in his home country is dire.
"Right now in Afghanistan, there's the Taliban. There's more danger. The people can't do anything. They don't have any choice. If they do something, [the Taliban] are going to kill them," he says. "They're going to punish them."
Sarwary has an uncle in another city in Pennsylvania and relatives in Virginia and Haiti. He says he will soon be moving out of the hotel into an apartment in Center City. RiceVan is renting a multi-unit property and subleasing units to its Afghan employees if they are interested.
Sarwary is grateful to have a job at RiceVan, he says.
"Because of the situation in Afghanistan, we are broke [there]," he explains. "We have nothing to do. We don't have any money. So, this is just [a] starting [point] for building a life."
Someday, Sarwary says he wants his family to come to the U.S., too—his parents, brother and five sisters.
"So, I have to work hard to sponsor them," he says, "to invite them to come here."