If Noah Raven, founder of Monarch Defenders, dashes from plant to plant in his pollinator-friendly garden with the kinetic energy of a 12-year-old, there's good reason: he is one.
Raven's Monarch Defenders website rivals that of any big-budget nonprofit. Complete with a mission statement, educational facts, resource citations, ways to take action and an interactive map showing the locations of member gardens across the country, he offers up a variety of conservation tools. Under the microhabitat link, for example, he provides tips for how to "ditch your lawn," dishing out advice on selecting native plants, dealing with aphids and deciding whether to grow milkweed from seed. Raven, who considers writing a recreational activity, created the website in a few months.
During a chat in his family's backyard, Raven points out wild visitors including a Cooper's hawk, a red-headed woodpecker and a rabbit. Although he has always cared about environmental issues, a family trip to the Piedra Herrada Monarch Butterfly Reserve in Mexico with his mom, Carolyn Kousky; his dad, Francis Raven; and his little brother, Nate, 7, stirred a passion. Raven speaks quickly when he describes seeing his first real-life migration. "It was so amazing! There were floods of butterflies. We'd researched it, but it's a lot more beautiful in real life."
Raven came home from that trip in February, did his research on monarchs and built the website. His grandmothers lent him financial support for his Squarespace fees and proofread the website's content. By May it was up and running. The site now includes native plant lists for every region in the United States and one for Eastern Canada. "Noah doesn't think small. He goes deep," his mom says. And "he's more focused on ecology now."
His parents, who homeschool Raven and his brother, encourage integrated learning. His father Francis describes what it's like to teach his son. "Whatever Noah is interested in he is really interested in. Homeschooling has allowed him to really deeply focus on those interests. I'm just lucky to be there for the ride. I try to stay two steps ahead of his knowledge base, but that takes a lot of work!"
The learning projects that Raven and his family take on tend to branch out. For example, during the pandemic, geography studies led to family dinners based on specific countries. They're up to 150. And Raven has been keeping a vegetarian diet since reading a book on factory farming.
According to Francis, Raven's interest in monarch butterflies also evolved from his previous passions. When he was about 7 he became very interested in archaeology. After deep research on the subject and several international trips, Raven was fascinated by Native Americans and other indigenous peoples. He took a special interest in their stewardship of the land. At the time, Raven and a friend were also involved in a year-long climate change project. These twin interests led to the family trip to see the overwintering site of the monarchs.
"We do lots of projects," his mom Carolyn says. Raven's mom, a writer and researcher at the Environmental Defense Fund, helps extend the learning with efforts like reducing their use of single-use plastics and increasing the wildlife habitat in their yard.
Not one to shy away from difficult realities, Raven says he channels the bad stuff into action. For example, along with some Monarch Defenders friends, he recently met with United States Senator Bob Casey of Pennsylvania to lobby for the Recovering America's Wildlife Act, which has strong bipartisan support and may be passed before the legislature's winter recess.
However, his number one priority is to persuade people to cultivate microhabitats, either in backyard gardens or in pollinator-friendly containers.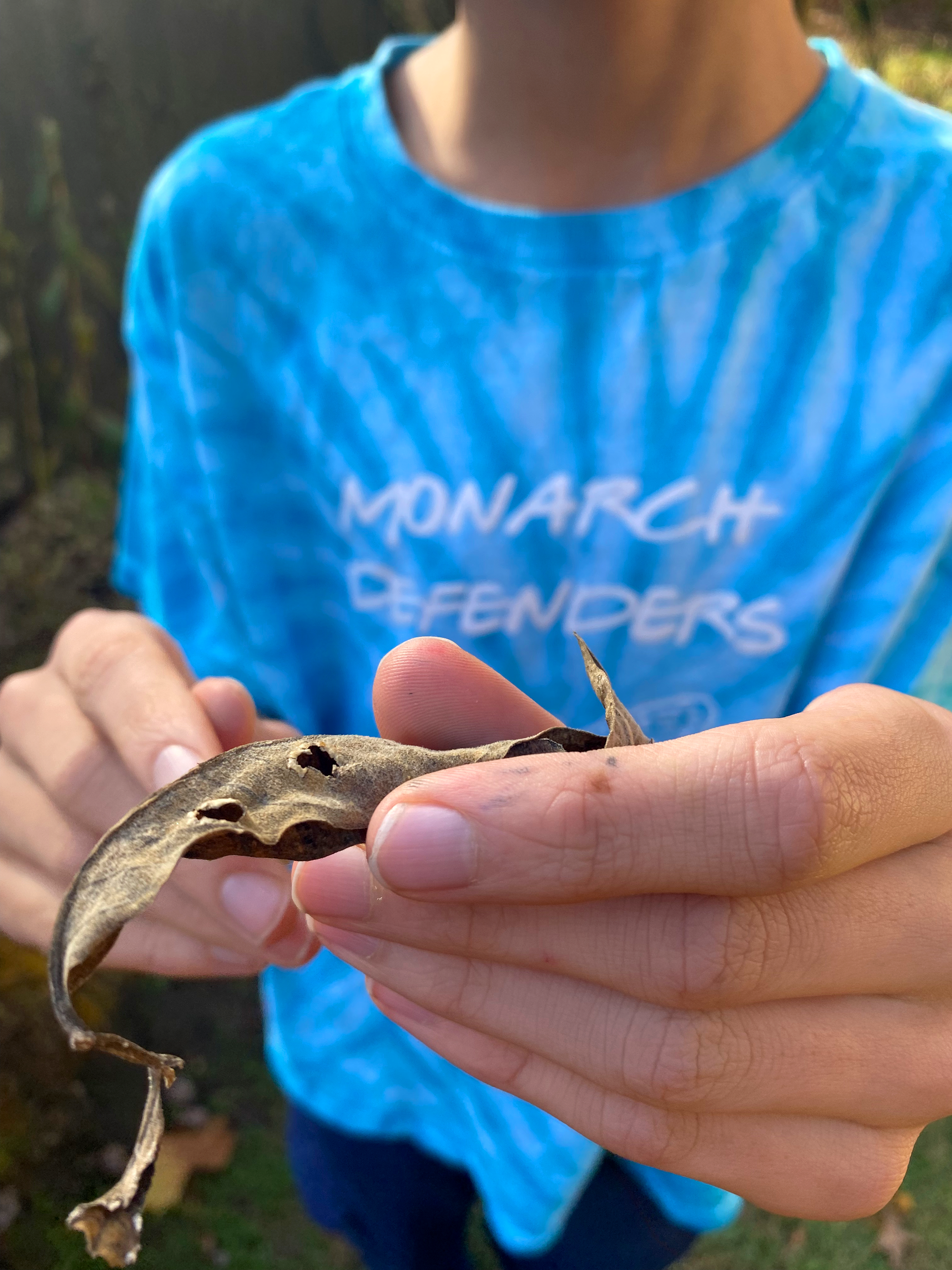 "Planting milkweed is the most important thing because it's the only plant monarchs will lay their eggs on," Raven says. Scientists attribute the decline of monarch populations to the use of herbicides and the loss of milkweed and forest habitats. Raven explains that there are two monarch populations: the eastern population, which has declined by 80% in the past 30 years and travels from the northeastern side of the United States to central Mexico, and the western group, which overwinters in California. The western population has declined more than 99% and is close to extinction.
When asked what he does when things seem too bleak, Raven explains that his process usually begins with writing. "It's really depressing, the level of extinction," he says. But he enjoys writing poems, essays and stories. In fact, he recently had a letter to the editor published by the Sierra Club.
People should listen to kids because we're the generation that is going to be impacted."

— Noah Raven,

founder of Monarch Defenders
According to his parents, Raven's interest in writing isn't all that surprising since both of them write. His mom writes research and policy analysis, including a couple books, and his dad has been writing poetry since high school.
Outside of his parental influence, Raven looks up to environmentalists like Greta Thunberg. "I like how she's so young, but she doesn't give up. She's so determined," he said. "People should listen to kids because we're the generation that is going to be impacted. All of my friends are passionate."
For straight-up fun, Raven reads fantasy books and throws seed bombs. Since September, Raven has amassed an impressive collection of seeds. To make his seed bombs, he mixes them with compost and clay before locating suitable spaces to throw them. "I've been seed-bombing the Meadows," he said. He has joined forces with South Philly Meadows activists and co-led a seed-bombing
expedition in the areas that had been torn open by earthmovers.
Hope is the key driver for Raven, so he's always on the lookout for positives. He describes the wonder of planting the family's pollinator garden and then having butterflies show up almost immediately. He smiled thinking of the neighbor who turned their front lawn into a pollinator habitat. "It's so amazing!" he said. "Even small actions can make a difference."
Raven's current endeavor is to get his parents to turn more of their backyard over to the pollinators, but it won't be that difficult. They love the idea.
For more information on how to help monarch butterflies, visit the Monarch Defenders website and follow Raven on Instagram @monarchdefenders, where he posts ideas on everything from butterfly holiday decorations to pro tips for collecting milkweed seeds and making seed bombs.