In 2005, Bill Golderer, then pastor of the Presbyterian church at 315 S. Broad Street, ripped the pews out of the sanctuary to create a big dining room bathed in light from stained glass windows. That move helped thrust the historic limestone church, now Broad Street Ministry (BSM), toward radical, inclusive hospitality. Today, BSM offers, among other services, free hot lunches Monday through Friday to up to 400 guests each day, many of them living in extreme poverty.
"I know what it's like to live on the streets," says Donald Williams, 60, BSM's associate culinary director, who fell in love with cooking while preparing meals for his grandmother's church in the shed kitchen of her North Philly home. "Coming in off the street, you're looking for a home-cooked meal, for [being treated with] dignity," says Williams, who takes pride in cooking from scratch using organic, locally-sourced ingredients. "At BSM you're relaxed. You're family."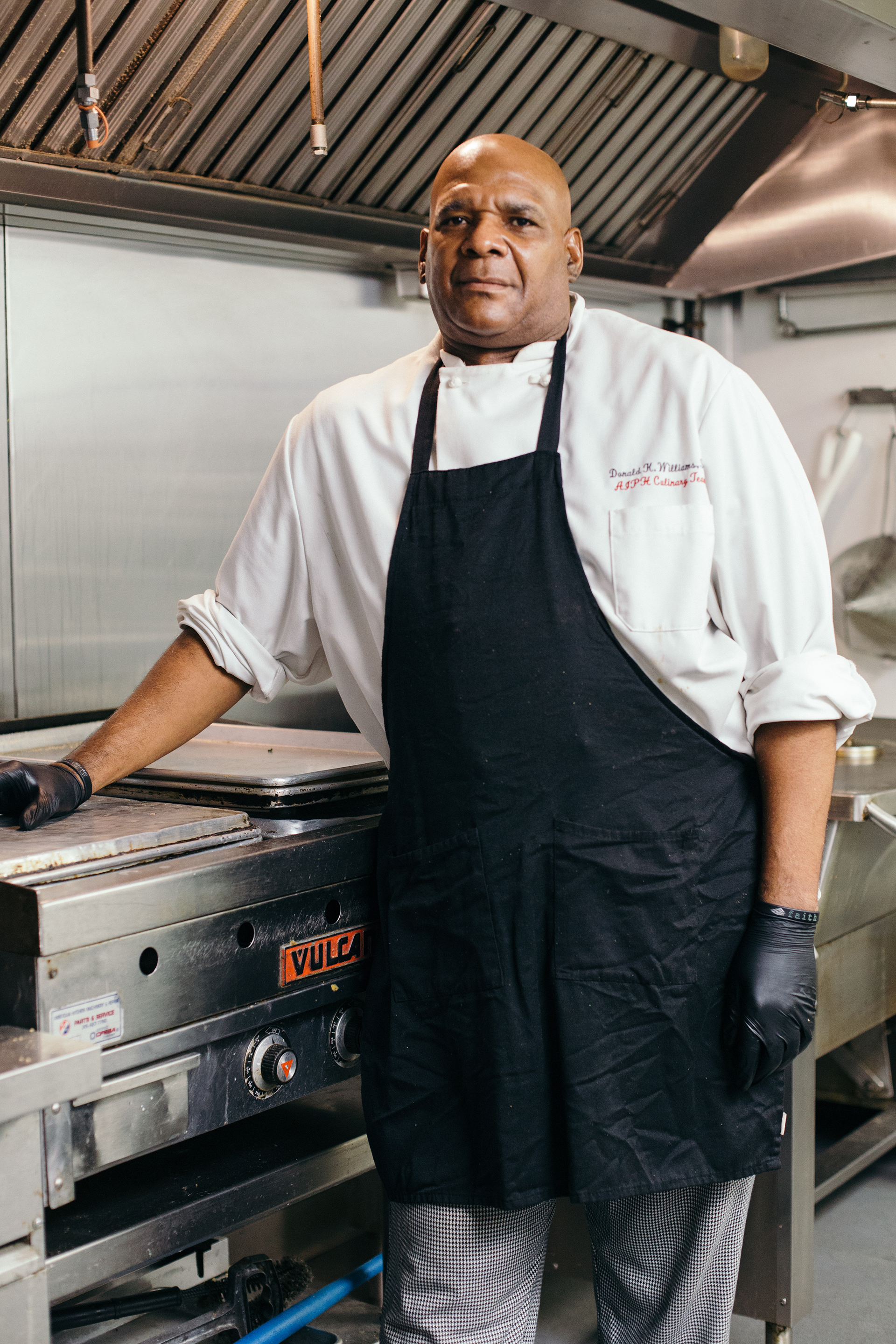 For guests, the meals often provide a gateway to transformative programs.
"Today, Broad Street Ministry has become the region's most creative social service organization for people experiencing deep poverty," says Laure Biron, 38, BSM's CEO. "We provide life-stabilizing services to more than 7,000 guests a year," she adds, noting that BSM enjoys a wide base of support through individual donors, foundation grants, a few small contracts with the City and fundraisers.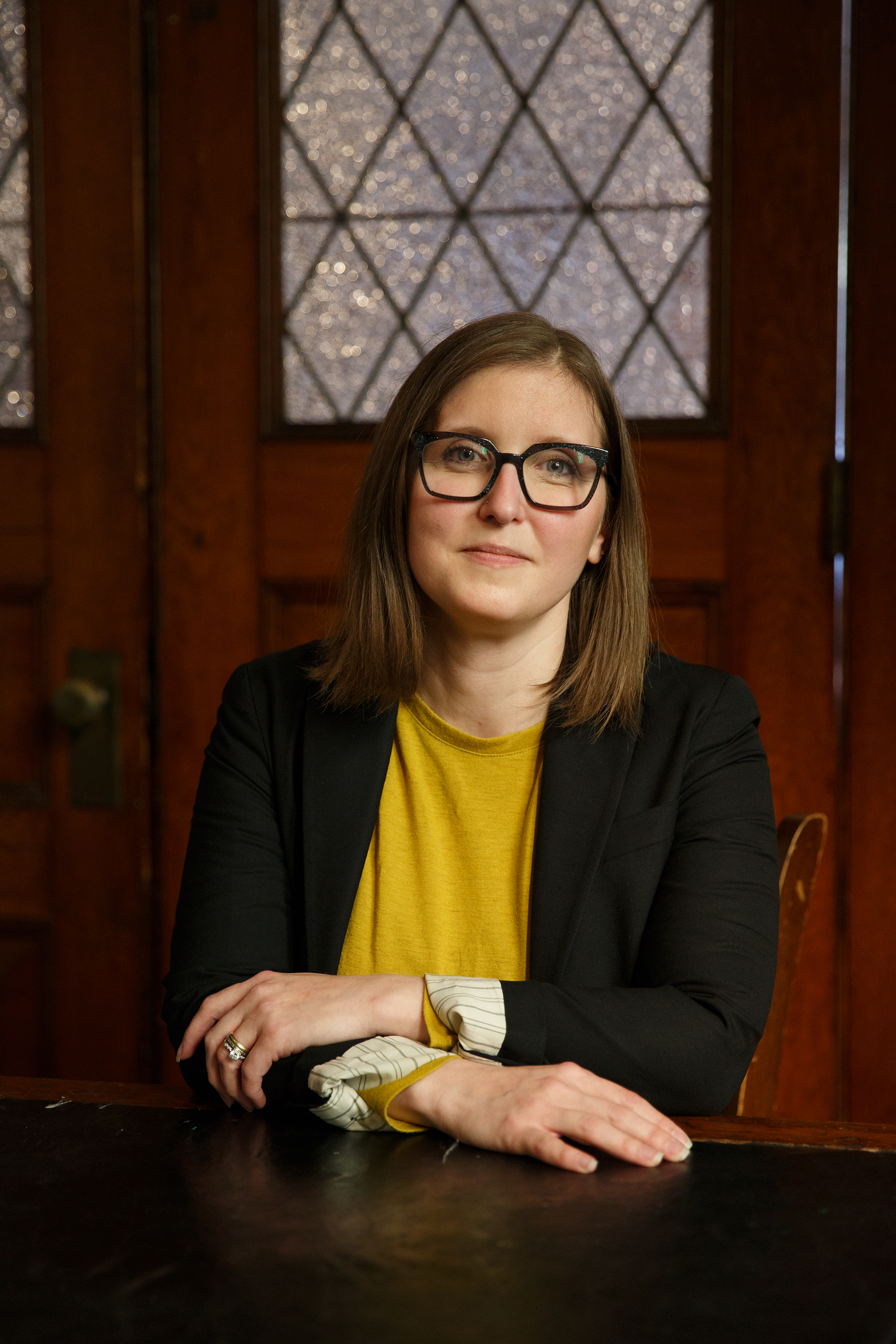 BSM's community shapes its program, Biron says. Its mail service, begun in 2008, grew from a guest needing a secure address to receive a package. In 2018, BSM distributed 154,120 pieces of mail to guests, according to that year's annual report.
"BSM gives me a mailing address," says Lucretia Tanksey, 49. "I put in an application for housing. I'm here today to check [if there's a response]."
Besides determining key services, guests influence how services are delivered.
"Recently, guests talked about traveling long distances to check their mailboxes only to find them empty," Biron says. "Now they can call in ahead of time and ask if they've received mail. We don't open the mail, of course, but we can tell them what's in their box."
Clothes take priority too. Staff members help guests find the kinds of items they like in BSM's clothing boutique, "almost like having a personal shopper," Biron says. More than 5,000 guests selected items from the boutique, which relies solely on donations. In addition, volunteers mend guests' clothes on Thursdays.
BSM also offers personal care items and distributes them discreetly. Guests tell staffers privately what they would like, be it underwear, socks, deodorant, feminine hygiene supplies or other necessities. Guests then receive the requested items in an opaque bag for confidentiality.
The ministry extends its reach with a hygiene truck packed with personal care products. "We go to several locations each week," says Shahid Guyton, 47, restorative services director, who adds that the truck made the rounds during the pandemic. "Toothbrushes, diapers and other items often cost more than many people have. Being a formerly homeless man, I can recall how receiving hygiene products helped me feel human," says Guyton. "In the future, I hope to take the truck to more locations."
Working in tandem with other local groups, BSM offers housing assistance, public benefits, reentry services, legal help and more. Through a partnership with Philadelphia FIGHT, a comprehensive healthcare organization, guests can receive primary medical care, Biron notes, while caseworkers and peer specialists are on hand to remove any administrative barriers such as insurance coverage.
BSM owes much of its success to a safe, welcoming ambience, the staff feels.
"We don't have security guards," Biron says. Instead, BSM relies on a de-escalation team to cool down disputes. "Everyone who works here is trauma informed and has completed trainings in behavioral health."
Besides formal training, de-escalation specialists like Guyton have street savvy. "If someone is upset about a situation, I tell them, 'I know exactly what you're going through,'" says Guyton, who was homeless for 12 years and is now a homeowner. "Establishing rapport can make a difference. Also, if you know that two guests sometimes clash, you steer them away from each other. I want to be a beacon of hope for guests. I love this work. It feels like a calling to me," says Guyton, who got married at BSM in 2019.
Accommodating a range of guests also distinguishes BSM, Biron points out. "We have the capacity to work with people who are having extraordinary symptoms," says Biron, a psychotherapist and visual artist. BSM takes it a step further. "At times guests with difficult behaviors are barred from some places. We work with those places to have guests admitted again so they can receive services they need."
BSM makes the most of its location on the Avenue of the Arts by folding creativity into its programs. Members of the Philadelphia Orchestra guide guests in composing songs and expressing themselves through music on Music Mondays. Staff members from the Wilma Theater give poetry workshops. Philly documentary filmmaker Glenn Holsten worked with guests to make first-person shorts as part of "Voices from Broad Street Ministry," available on YouTube.
With the holidays, a time of welcome and warmth, BSM plans to bump up its hospitality even more. The annual Concert for Coats, featuring seasonal favorites played by the Philadelphia Wind Symphony, will take place Thursday, December 16, from 6:30 p.m. to 9:30 p.m.
"No tickets are needed, but we encourage audience members to donate a gently used coat or winter gear like beanie-style hats, stretch gloves or backpacks," Biron says. "I also hope to find a useful gift for our guests. One year we gave out boots, but it's important to have a large enough quantity for everyone. Many guests have lived with scarcity. We don't want to exacerbate that."
Chef Don, for his part, will provide guests with "a traditional family-style holiday meal" during the week before Christmas. Given that menu, volunteers who serve meals may find themselves busier than ever.
"I love what I do here," says volunteer Deidre Bernstein, 59, of Center City. "I get 10 times more than I give."
Amid the season's celebrations, Biron reflects on the ministry's direction and challenges.
"We could do so many things, so we have to ask ourselves about our highest and best use constantly," she says, "and it's a perennial challenge finding resources to make it possible to meet great need with abundant provisions."
Ultimately, optimism about not only BSM but the future of social services citywide prevails.
"We sustain a … [hope] that one day this practice of hospitality will be pervasive," Biron says, "and no longer considered a radical act."
To learn more about Broad Street Ministry, which welcomes volunteers and donations, visit broadstreetministry.org or call (215) 735-4847.
Ark of Safety: LGBTQ+ shelter
Former BSM staffer Tatyana Woodard, 34, offers radical hospitality to some vulnerable Philadelphians.
"In 2021, I cofounded the Ark of Safety, a shelter for LGBTQ+ in North Philadelphia, with Bishop Romaine Gibbs, of the Next Level Revival Church," says Woodard, a community affairs manager with Mazzoni Center, which offers health services and programs for the LGBTQ community. "I was sending my [Mazzoni] clients to City shelters, and they'd come back in tears. They were misgendered, mistreated and sexually assaulted." Studies by the Williams Institute at the UCLA School of Law echo those outcomes. "They preferred to sleep on the street."
"Ark has 12 beds and provides food, clothing and training in life skills," says Woodard, a Black transgender woman forced to leave home at age 16. "We're just a drop in the bucket. More funding is needed." Once people have housing, issues like preventing AIDS and STIs can be addressed, Woodard explains.
To donate, visit gofundme.com/f/phillys-first-trans-focused-lgbtq-plus-safe-haven.