Feast Jewelry's Adrienne Manno doesn't upcycle because it's trendy. Or because she's on some sustainability soapbox. Manno describes the reclaim-and-repurpose aspect of her jewelry making as an organic outgrowth of incorrigible collecting.
On her used-to-be-frequent travels, Manno would spot and acquire a piece here, an element there—a 1980s faux horn belt at a London flea market, a slew of African glass beads on a trip to DC.
Such finds accumulated as Manno amassed 15-plus years of experience in the fashion industry. For five years in the mid-aughts, Manno supplemented her corporate day job with a small-business side gig, producing hand-sewn small-batch apparel using deadstock and upcycled vintage fabric.
"I kind of revived that concept in making jewelry," Kensington-based Manno says of her business Feast Jewelry, which she launched in 2018. "It's about giving new life to things that have been pre-loved."
Feast is a line of seasonal capsule collections characterized by what Manno calls a "vintage aesthetic, but made very modern."
Manno works with a combination of new and upcycled materials, sourcing deadstock metal components from suppliers in Philadelphia and New York, pirating from thrift store and estate sale acquisitions, re-envisioning dated pieces languishing in clients' drawers.
Past offerings have incorporated vintage coral, recycled glass, surplus brass nuggets from a turn-of-the-century bead production out of Varanasi, India. The fall 2019 collection debuted freshwater pearl elements that have become Feast's signature.
The serendipity inherent in reliance on found, leftover, and subject-to-natural-variation materials defines Feast.
"That's really the essence of everything I do," Manno says of how upcycling constraints shape her process. "I have all this material. How do I design around this?"
Manno's choice of materials impacts a collection from start to finish. While some brands artificially manufacture scarcity to drive demand, Feast comes by it naturally. The line's use of vintage and deadstock elements all but ensures that pieces are unique and few.
When a limited run of a popular style—like the FLORES drop earrings featuring those deadstock brass nuggets, for instance—sells out, Manno can't just hit up a findings supplier and restock. She moves on to the next inspiration.
Manno relishes mastering new materials and skills, and she cites Philadelphia's vibrant community of makers as a resource vital to her growth as a creative and entrepreneur. "It's been wild to see that blossom," she says.
Even as she learns—properties of porcelain, say—Manno teaches: a sustainable sportswear class this semester as an adjunct professor at Drexel University.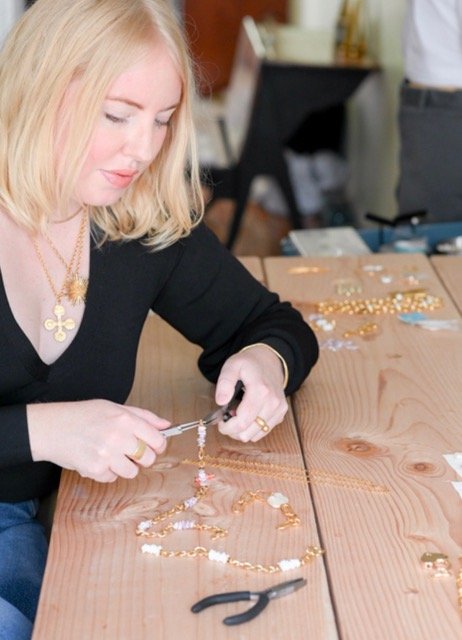 Her students' energy bolsters Manno's sense that circular design is not having a moment—it's building potentially industry-altering momentum. Feast is a small part of the broader shift Manno would like to see toward a sector-wide consciousness of sourcing and footprint and opportunity for reuse.
"I'm hoping that this [sustainable fashion] is not just a trend because 'trend' really signifies that it dies out," Manno says. "I'm hoping that it becomes much more of an impact on the environment through larger businesses getting involved."