When Emily Rodia and Jason Rusnock began pursuing a low-waste lifestyle, they started small. They replaced single-use items in their lives—trading up for things like reusable water bottles and bamboo toothbrushes. Before they knew it, the amount of plastic they put out on the sidewalk each week had dwindled.
Three years after starting their zero-waste journey, Rodia and Rusnock are the proud entrepreneurs behind Good Buy Supply, Philadelphia's first shop dedicated exclusively to zero-waste supplies.
The East Passyunk brick-and-mortar offers essentials, like wool dish sponges, shampoo bars and compostable food waste bags, to help customers start living waste-free. When you order online, the packaging is plastic-free.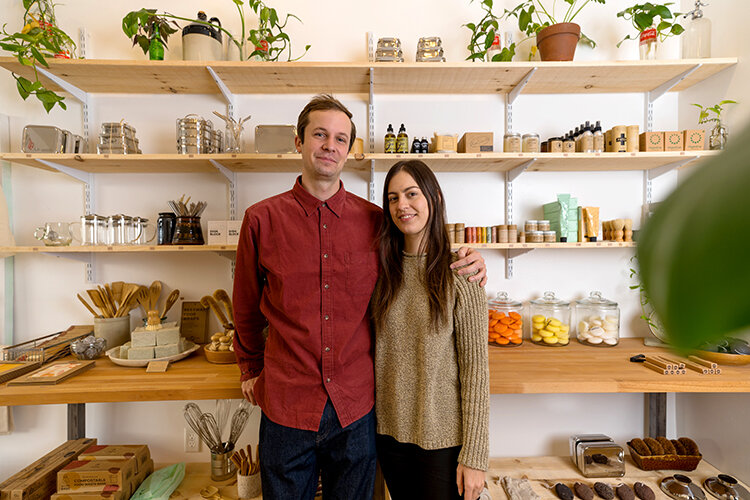 Customers can also bring their own jars for the bulk refill stations for soap and laundry detergent.
It was on a trip to Canada in September 2019 that the idea for a storefront was born.
"We came across a zero-waste grocery store, and we loved it," Rodia says. "I just thought, 'What if there could be something like this in Philly?' "
The two of them got to work immediately. Rodia planned to quit her job when they began looking for storefronts in March 2020. Of course, COVID-19 derailed everything. Rodia stayed at her job and they put the store on hold.
The silver lining, she says, is that being home actually gave her and Rusnock more time to design the business.
"We had more time to talk about it and plan out all the items we wanted to bring into the store, so we just kept planning throughout COVID while I was working," Rodia says. "We had this mindset of 'When the time comes, we'll be ready.'"
When the retail space they'd been eyeing became available, Rodia left her job and they jumped in, opening Good Buy's doors on Small Business Saturday, November 28.
"I was really surprised by how out-of-the-way some refill stations were, so I'm happy to help bring them here…"

— Ray Daly, owner of Ray's Reusables
Rodia admitted that opening a business during the pandemic was nerve-racking.
"I was scared pretty much up until we opened the front door and people actually started coming in," she says. "I'm definitely still nervous, but not as nervous because people have been so kind and so supportive of us since we opened."
In addition to being eco-friendly, a lot of Good Buy Supply's products are local. The store features items from vendors like Remark Glass, Vellum St. Soap Company, and the Kitchen Garden Series. 
Kitchen Garden Series founder Heidi Barr is "unbelievably excited" about Good Buy Supply and their contribution to Philadelphia's reusable market.
"I think that having a sort of general store that people can go to will really expand the reusable market in Philadelphia, and it's just so amazing to finally have a storefront that's 100% my ethos where my [products] can exist," Barr says.
Founder of Vellum St. Soap Company, Melissa Torre, echoes Barr's sentiment. Torre says that for people who are looking to get their feet wet in the world of sustainability, Good Buy Supply is the perfect destination.
"When you're at a grocery store, the employees there aren't going to take the time to talk to you about what trash bags you should buy, but when you're at Good Buy, that's the whole reason Emily and Jason are there," Torre says. "They want to explain their products to people and help them adopt this sort of lifestyle."
Another passion project turned low-waste small business is Ray's Reusables, a mobile refill station that is the first of its kind in Philadelphia. Founder Ray Daly launched her venture the same weekend as Good Buy Supply with a similar intention of providing the city with accessible, low-waste products and services.
Daly says the original inspiration behind her business was sewing. She'd taken old jeans and turned them into a cutlery roll. From there she started making more items geared toward low-waste living.
Daly had planned to open a store for her goods eventually, she says, but when the pandemic hit, and the volume of trash in the city increased dramatically, it gave her a sense of urgency.
"I felt like there was much more of an emphasis [on buying low-waste] because I saw how much more waste was being created," Daly says. "I wanted to make it really accessible, so I decided to be mobile and accelerate my timeline a little bit."
Daly was underwhelmed by Philly's reusable market. After growing up in  suburban Maryland, where the sustainable scene was small, Daly believed that a big city like Philadelphia would have a plethora of options, but that wasn't the case.
"I was really surprised by how out-of-the-way some refill stations were, so I'm happy to help bring them here and make them more accessible," Daly says.
Before starting her brand, Daly participated in her first pop-up, at the Cherry Street Fall Market in October 2019. It was after this that her passion slowly evolved from a hobby to a business.
Since establishing her business and doing pop-ups and farmers markets throughout the city, Daly has received an overwhelmingly positive response to Ray's Reusables.
"It's just really touching because before, I'd get people coming up to me at farmers markets while I was still fleshing out my brand, telling me they saw my social media and that they couldn't wait for me to get started," Daly says.
In Daly's van, customers can fill up on laundry soap, dish detergent and house soap. They can also shop for handmade masks, soap from New Jersey-based business Salty Lemon Apothecary and beeswax wraps from Kennett Square's Bee Our Guest.
While Daly's business is mobile, she also rented a space from NextFab that will allow customers to do curbside pickup.
Daphane Mitlo, founder of Salty Lemon Apothecary, says that cross-promoting with Ray's on social media has been effective.
"For Ray, it's people who want to be more eco-friendly. For me, it might be people who are more interested in candles or home decor. I post about Ray all the time and she posts [about] me all the time, and through that, we're capturing an audience for each other … ," Mitlo says.
The founders of Bee Our Guest, Peter Fitzgerald and Adriana Perez Rosas Fitzgerald, say that a relationship between a local business and a local vendor is the very foundation to a more sustainable society.
"The reusability is obviously something that really connects her brand and our brand. But also I think it's just kind of a more macro-level understanding about local community," Peter says. "We understand that strong and supportive local communities are going to make our best possible global communities."