In 2019, after two years of saving, I was finally able to buy the bicycle of my dreams: the Brompton M6.
Given Philadelphia's tight living spaces, and the relentless thieves who often prowl for bikes locked up outdoors, the Brompton—a folding bicycle with 16-inch wheels—is a fantastic choice for the city.
Because it quickly converts to a miniature size (23" x 22.2" x 10.6" according to the manufacturer), it is easy to carry or roll around. And, as goofy as the tiny frame and 16-inch wheels make me look, it rides like a full-size road bike, getting me around town, to and from work, grocery stores and parks.
But the bicycle that best fits my lifestyle wasn't cheap—the Brompton costs more than $1,500. Since bikes are paid for upfront, it took me two years to afford, and that just shouldn't be—especially since it's my main form of transportation.
Today, assuming your credit allows, you can walk into a car dealership and waltz away with a $70,000 truck (that has the ability to both slowly kill the Earth and quickly kill anything in its path). Your purchase and the roads you drive on are subsidized by taxpayers—even more so if you buy a hybrid or electric vehicle—and, in many cases, you can leave without paying a dime upfront.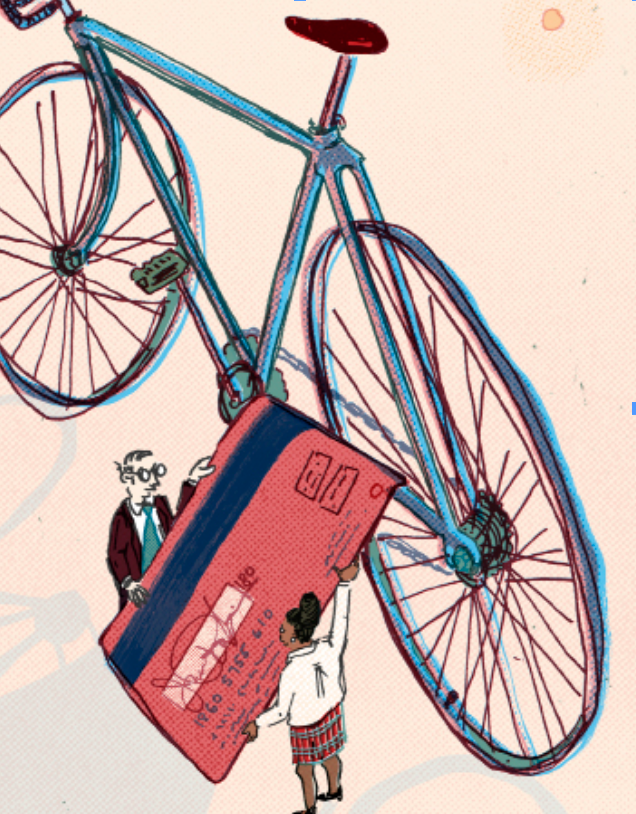 Not so for bicycles.
No matter what your reason for buying your bicycle, whether for transportation or recreation, whether it's a $200 single-speed road bike or a $7,000 electric cargo bike, virtually all purchases need to be made upfront, in full.
With new bicycle infrastructure slowly trudging along in American cities, and more people choosing bicycles as their primary transportation mode, it's time for both the public and private sectors to rethink how Americans pay for bikes. Especially given the societal benefits bikes provide.
Increasingly, technology is being developed that bicycles can replace most, if not all, motor vehicle trips. E-bikes make trips faster and take less effort to ride. Cargo bikes can replace a car trunk. And adaptive cycles make it so almost anyone, of any ability, can ride a bike.
Although these bikes are often pricey, I think we could get more people to buy them if the government would provide owners with the same subsidies and tax breaks that Americans who drive cars and ride trains already enjoy.
As I've noted before in this column, if you do not own a motor vehicle, you subsidize roads and vehicles for those who do. If you own a bike and are riding it in a bike lane, most of your infrastructure-earmarked tax dollars are still paying for the space you're not using, despite what gas tax "truthers"
may claim.
To make up for this deficiency, the government could take a step to exempt bicycle components from former President Donald Trump's tariffs on goods from China. The Department of Transportation could also, as noted in a recent Bloomberg CityLab article, "work with Congress to make bike expenses and bikeshare memberships eligible for pre-tax commuter benefits" like the Department currently does for the first $270 of transit and private vehicle parking. A bill has already been proposed in the House of Representatives to add bikesharing to this benefit.
We could also replicate the system used to give tax credits to those who buy electric vehicles. For instance, if you buy a Nissan Leaf, the U.S. government gives you a $7,500 tax credit because of the vehicle's battery power—which is almost a third of the total cost of the vehicle. The U.S. Congress could add bicycles to this tax benefit—which would go a long way toward getting more people on bicycles and easing congestion in cities.
Then there are cash payments: pay people to ride bikes instead of driving. That may sound radical, but it's already being done in Europe. In the Netherlands, folks who opt to bike to work earn about 22 cents per kilometer traveled. "It means someone cycling 10 kilometers a day, five days a week, can earn around $500 a year from the tax-free benefit," as reported by Adam Forrest for the Huffington Post.
The other issue is a bit more obvious.
Because virtually every bicycle you buy has to be paid for upfront, it's rare that a small bike shop offers any financing options. And unless you want to put a huge sum on your credit card (assuming you have one), then expensive, useful bicycles like electric, cargo and adaptive are often out of reach for the average consumer.
There are a few specific capital companies that provide long-term financing on sporting goods, like bicycles; and some big companies, like Trek, offer financing on their website and for in-store products, but you've got to get their credit card to do it.
In Philadelphia, bike shop owners have tried some of these companies, with varying success. Shelly Salamon recalls her experience with a company several years back at her shops, Fairmount Bicycles and Brewerytown Bicycles.
"All of a sudden you're not just expected to know tons about bikes, but also about how credit and the financial world works. It puts you in the awkward position of having to ask people about their credit—since they won't get approved if it's bad—and then breaking bad news to them if it doesn't work out," she remembers.
"…[L]et's say the customer does get approved, but then they miss a payment and get smacked with a late fee. Hard to make the case that it has nothing to do with the bike shop, even though logically everyone should know it doesn't."
Whatever the solution, it should be easier to buy a bicycle—and not just any bicycle, but the right bicycle. Achieving this, through better financing options or government subsidies, would go a long way toward a greener, healthier future for all.