In 2020 the failures of Philadelphia's recycling and waste management were on spectacular display. Sanitary workers were seen throwing garbage bags and carefully sorted recyclables into the same truck, leaving environmentally minded onlookers appalled. The city blamed a depleted workforce, ravaged by COVID-19, and a significant increase in volume due to people staying home.
But the truth is recycling has been problematic for years.
The People's Republic of China's 2017 decision to stop purchasing plastic, glass and metals that are more than 0.5% contaminated put cities like Philadelphia in a difficult position. Between 15 and 20% of Philadelphia's recyclables are contaminated with food waste, grease or other nonrecyclable waste. And when recycling and trash are mixed in the same bin, the recycling is also considered trash.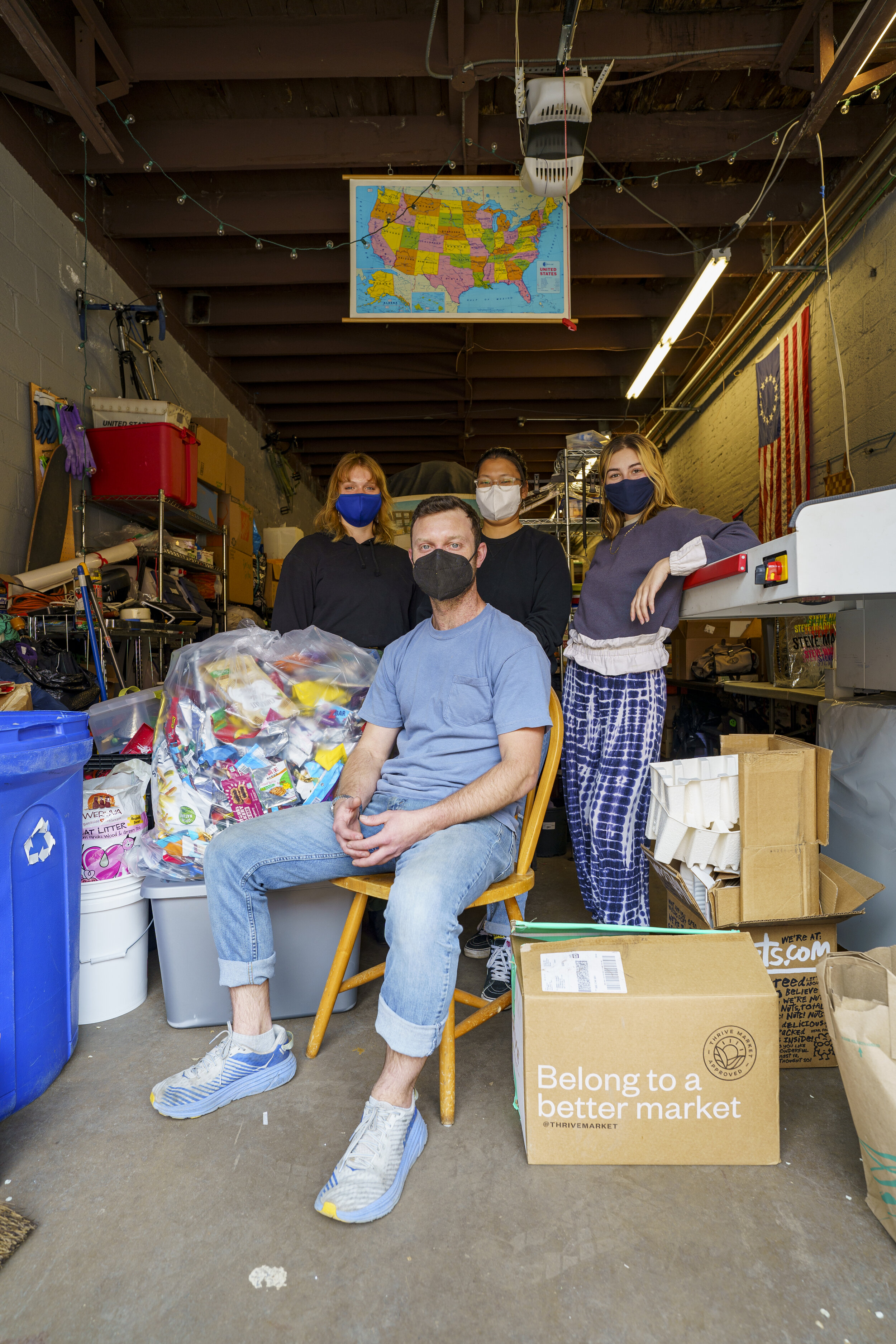 When the city became unable to ship recyclables overseas, it began sending about half of its recycling to a "waste-to-energy" plant (read: incinerator) run by Covanta Holding Corporation in Chester, PA, as Grid reported in January 2019.
And this still doesn't begin to address the many items that cannot be recycled. Is there really nothing to be done with them?
Bryan Siegfried, who co-founded Rabbit Recycling along with his brother Matt, thought there must be.
Siegfried has been interested in recycling for many years.
"I was brought up by parents who were very environmentally conscious," he says.
However, he did not begin to think about the importance of creating separate streams for recycling until he started working as a chemist.
"I had to deal with a lot of unique chemicals. I separated them into different waste streams, so I got the idea, 'What if you did that with household waste as well?' " he recalls.
Siegfried first attempted to sort and store recycling in his house, but he had trouble finding adequate space to accommodate the volume of recycling needed to ship to recycling facilities.
"If we can educate residents about higher-level recycling, we can show them there's an endless amount of solutions to divert waste."

– Matt Siegfried, Rabbit Recycling co-founder
While he realized he could not pursue the project alone, "I figured out that this could work if you could find enough people to come together with one service," Siegfried says.
He reached out to Bennett Compost, a company that he considers a pioneer in providing a service for customers interested in reducing how much of their waste ends up in a landfill.
"I realized that if people were interested in composting, they would be interested in recycling," Siegfried says, noting Rabbit  could fill a niche for Philadelphians frustrated with the city's municipal service.
"What the municipality has to do is a tough job. I think they're so overwhelmed," Siegfried says. "I knew people wanted a solution where they could have their [waste] recycled properly."
In late 2019 Siegfried first began to spread the word about Rabbit Recycling at different events focused on waste and recycling throughout the city. He participated in State of Young Philly, events organized by Green Philly and socials at bars like Triple Bottom Brewing.
"I'd go to waste events, recycling events," Siegfried says.
There he met other Philadelphians who were frustrated with the city's recycling system. Many felt that their actions were futile with so much recycling destined for the incinerator.
Siegfried imagined a recycling option that would recycle, upcycle or donate any item, avoiding the landfill at every turn.
Some Philadelphians he talked to felt guilty when purchasing anything that contained excessive plastic packaging, because they knew those materials would not be recycled. Siegfried wanted his company to search for a way to recycle every item that they possibly could, helping ease residents "[guilt] about the packaging and extra material that they end up getting."
"We can find a solution by recycling properly," Siegfried says.
Rave Reviews
Early customers have responded warmly to the company's efforts.
"I have been trying to reduce my plastic consumption for several years," says Jennifer Gray, who found @rabbit_recycling on Instagram. "I realized that there are some things you purchase that are going to be in plastic. There's no way around it. As a consumer, what can I do?"
Gray signed up for Rabbit online and chose a five-gallon container to be dropped off at her home. She could fill up the container with any items listed on the company website. Rabbit collects an extensive array of items, including traditional recyclables, appliances, clothing and household cookware. Some items they accept are microwaves, batteries, linens, balloons, DVDs, plastics No. 1 through No. 7, un-numbered plastics, glass bottles, hairbrushes and construction paper.
Rabbit serves Philadelphia and its surrounding suburbs (excluding New Jersey). Siegfried is interested in expanding his company's reach in the near future.
"We're starting to branch outside of Philadelphia. The further out [customers] are, the fewer pickups we have throughout the month. We're looking into outsourcing our pickups so someone can do the pickups for us in Upper Bucks County or Camden," Siegfried says.
At first Gray scheduled pickups often because Rabbit accepts so many of the items she had been meaning to get rid of.
Before each pickup, Gray requests a pickup and sets out her items in her bin. Rabbit offers a 5- or 18-gallon container. Each pickup costs $7 for the small container, or $16 for the large. If any items do not fit in the provided bin, they need to be bagged and set next to the container. Pickup of extra bags is priced according to volume.
"The first couple [pickups], it was every 10 days. When people sign up, they realize they have all these things that can go in the bucket. Now [I schedule] every three weeks," Gray says.
All items put out for pickup need to be cleaned by customers. Chip bags, for example, should be cut open and wiped to remove any food particles. This eliminates the risk of contamination, which plagues Philadelphia's recycling system. Customers are also encouraged to sort their items, though this is not required.
Every three or four weeks, someone stops by Mai Vy Alexander's house to collect, among other things, her empty plastic clamshell berry containers and chip bags.
Alexander first discovered the company in 2019 after signing up for Green Philly's newsletter.
"They mentioned Rabbit Recycling as a way of reducing plastic waste, because so much cannot be recycled through curbside recycling," Alexander says.
She signed up, requested a container and began scheduling pickups whenever she needed them.
This flexibility is key for customers like Alexander and Gray.
"It can be as frequent or infrequent as you want it to be," Gray notes.
Alexander was interested in going zero waste but didn't know how to ensure that what she recycled would actually stay out of the landfill. She was aware that certain plastics, such as straws and cling wrap, are rarely recycled by municipalities.
Siegfried has noticed that most people who sign up become repeat customers. "More than 70% of our customers come back to us within a month."
The company has been growing steadily and currently has about 350 customers. Siegfried is happy with the continued interest.
"We're not overwhelmed yet. We've been able to grow at a steady pace," Siegfried says. He acknowledges that customers who are interested are willing to meticulously clean their recycling, which is something not every Philadelphian may be willing to do.
"It's for people interested in cleaning out a yogurt container to give to us. It's not for everyone," Siegfried says.
Both Gray and Alexander have recommended the service to friends and family. Gray's friend had previously been using TerraCycle, which was more expensive and required her to separate and store her recycling at home. Items such as toothpaste tubes could not be mixed with any other materials.
Gray says this is a step up: "You don't have to separate it. It all goes in the same container."
Where do the goods go?
Once Rabbit collects a customer's items, they bring them back to their Spring Garden facility, where they are sorted and deconstructed as needed. Deconstruction is all done by hand or with handheld tools. Dental floss containers, for example, need to be taken apart because they are made up of about three different plastic pieces and one metal component. If the floss container is not deconstructed, it won't be accepted by a recycling facility.
All items that they collect fit into one of five categories: commodity, donation, upcycle, deconstruct and specialty. These categorizations determine where the items will go and how they will be used.
Commodity items, which make up the majority of what is recycled, include soft and rigid plastics, e-waste and paper. These items need to be shipped to processing facilities in large volumes. Rabbit collects and stores them until they have enough to ship. Many commodity products are held in bins in the warehouse.
"We get it from our customers, organize it and build up piles of it until it's worthwhile to send to recycling companies," Siegfried says.
Specialty items include light bulbs and scrap fabric, which need to be sent to other facilities. These items do not have to be shipped in specific quantities in order to be accepted by facilities.
Rabbit is a "small fish" in the waste industry, Siegfried says, so it is still negotiating relationships with facilities and searching for centers with transparent business practices.
"We're trying to come up with a way that we can validate that the source we're sending to has an industry standard. [When] we have conversations with potential vendors, we ask, 'What are you doing with this? How will it get reused? What is the best way we can give it to you so that it can be reused?' We relay that to our customers," Siegfried says.
Milk jugs, for instance, need to be cut open and dried out before a processing center will accept them. Rabbit tells customers how items should be cleaned and prepared. This ensures that recycling will be processed efficiently and will not end up in the trash pile.
Siegfried is looking into some solutions that may reduce how far some materials need to be shipped, and may even eliminate the need to ship altogether.
"We have foam we need to ship to Oregon to be processed, so we want to find better solutions, maybe closer to home," Siegfried says.
Rabbit Recycling is also in the process of building their own plastic shredder in to make bins and containers for their customers.
"If we can start doing stuff in-house, it will make us a lot more sustainable."