Sponsored Content
"Old buildings are so cool," says Alison Eberhardt. "They're so unique."
Eberhardt will be one of the first graduates of the newly-minted Master's in Historic Preservation offered by Thomas Jefferson University.
While it is a new program, its (literal and figurative) architect, Dr. Suzanne Singletary, says the program is a natural extension of work that has been going on at Jefferson over the past decade. Historic Preservation started 10 years ago as a single course, but interest was strong and it gained momentum.
"When I became the director of the Architectural Studies program, I developed [Historic Preservation] into a minor of four courses, then students were really interested in that. So we developed it next into a concentration of about 24 credits." In 2019, Historic Preservation became a master's degree.
Interest in preservation really kicked off in 1963 with the regrettable decision to demolish the magnificent Penn Station in New York City. Singletary says, "If you take the train to New York, you know what was put in its place. It's like going into Dante's Inferno."
Preservation has evolved since the demolition of Penn Station and the National Historic Preservation Act was passed by Congress in 1966. While it may have once had a reputation as a pursuit driven by an overly romantic attachment to the past, that is far from the truth.
"Preservation has changed from being a very insulated field, or perceived as one, where we just preserve and mummify the past," says Singletary. "Now it's really engaged in all kinds of levels with social and economic and political arenas. And so I think that's very exciting."
Another common misconception about preservation is that it only extends to a certain type of building, perhaps the archetype of colonial architecture found in Elfreth's Alley in Old City. But it's about preserving what exists as it ages.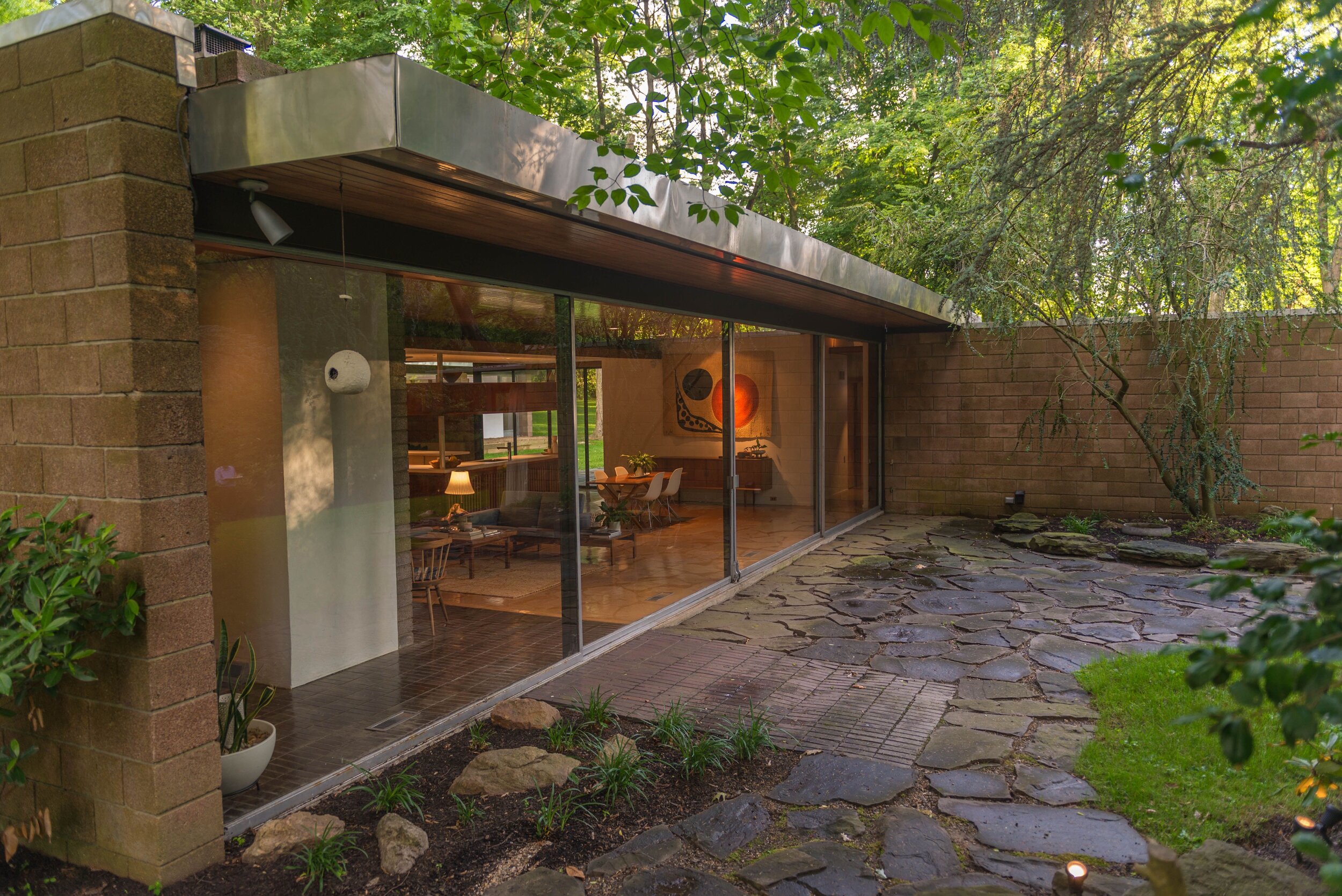 That means that mid-century modern and modern buildings are up for consideration for preservation. In 2017, Jefferson acquired a beautiful example of a mid-century home, the Hassrick House, which was designed by renowned architect Richard Neutra.  Fortunately for them, it was located on a lot adjacent to their campus in East Falls.
Students have benefitted from the acquisition of the home, as it gives them access to an historically unique architectural work that is ripe for research. Eberhardt and their classmates are working on stitching the body of work together in a book.
"It's a publication that compiles the work we did as students and really puts it into something cohesive. Previous students have started to document and draw the house down to every flagstone outside of it. So we're going to show off those great drawings. We're going to show off this great research."
Working directly on a building from that time exposes them to the challenges that require new problem-solving skills.
"It's not like if you have a church, let's say Notre Dame," says Singletary. "You try to reconstruct what was missing and use the techniques of that time—which has its own set of problems. With a mid-century building or a modern building, the structural system is inseparable from the building. If you have a steel frame, you don't just replace one part of the frame. And a lot of times materials are not even made anymore."
Speaking of materials, preservation strikes at the heart of sustainability because it emphasizes using what already exists.
Singletary says, "Historic preservationists like to say, 'The greenest building is the one already built.' "
And though the act of preservation is rooted in a love and respect for the past, it's a field that embraces new technology.
"LIDAR, photogrammetry augmented reality, GIS: They're all very much a part of the toolkit today," says Singletary.
The intersection of economics, technology, community and problem solving is all part of the Historic Preservation program. But ultimately, it is rooted in heritage and aesthetics.
"We have students coming in who just love architecture," says Singletary. "They love historic buildings. They love the thought of creating new life for a building. I mean, they're just excited by that."
The mission of  Jefferson's College of Architecture and the Built Environment is to educate the next generation of design and construction professionals to create an equitable and sustainable future. Learn more at Jefferson.edu/Grid.