While the craft beer renaissance has generated an uptick in breweries throughout Philadelphia (with as many as 16 new breweries opening in 2019 alone), Rich and Mengistu Koilor are on a mission to add to the city's thriving beer scene by opening its first Black-owned brewery.
The West Philadelphia brothers behind Two Locals Brewing Company spoke with Grid about their passion for brewing, the vision for their brewery and their recent Black Is Beautiful collaborations.
This interview has been edited for clarity, length and style.
How did the idea to create Two Locals Brewing Company come about? 
rich: My older brother and I developed a love for craft beer. We would send pictures back and forth of different beers we were trying. Then eventually, I got a homebrew kit and I brewed an Irish Red Ale that turned out pretty good. Eventually, we joined a Philly homebrew club to learn how to brew better and to test our beers on people who had been brewing for years.
We got our LLC in 2018, and that's when we put ourselves out there, and the more that we brewed, we saw that there weren't a lot of Black brewers or Black breweries. So we thought, "Why not create something where we can enjoy great beers and create a space for our community?"
Mengistu: We certainly have a love for beer—the whole scene and the whole vibe. Once we started homebrewing, we started sharing and partnering with nonprofits; we did pop-ups at coworking spaces and a variety of events. We were receiving really good feedback on the beer, and that's what kicked off our journey. We thought, "So many people like our beers, why not open a brewery?"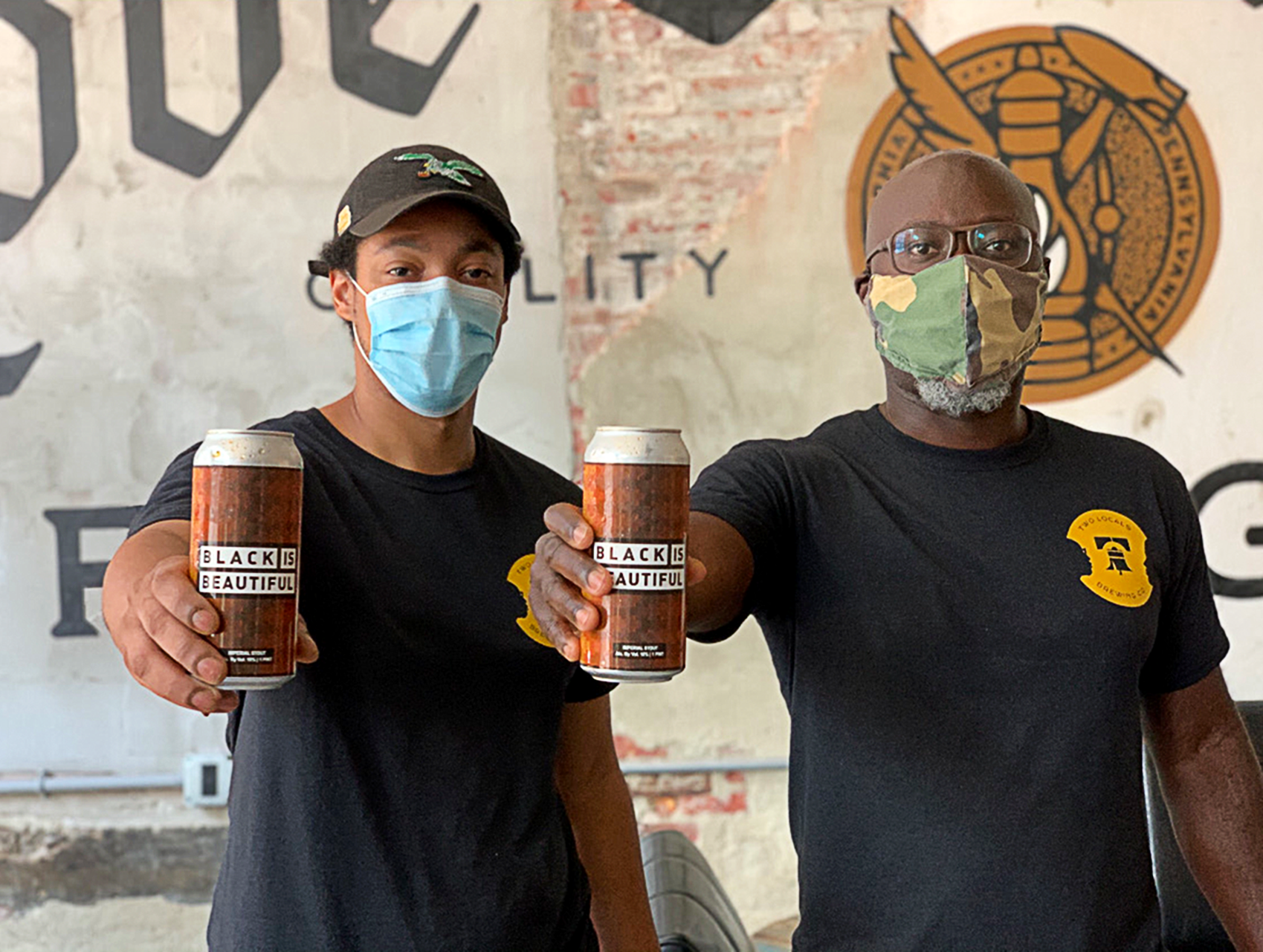 It's pretty incredible that you already have more than 3,000 followers on Instagram and you haven't opened your physical location yet. Have you been surprised by the reception?
Rich: I'm surprised by how quickly we got over 3,000 followers. That is amazing. We always felt that our story would connect with people here in Philly. We did have to get our story out there, but once we were featured in "The [Philadelphia] Tribune" and on KYW, people started to see those articles and we felt the support that we always knew was there.
What is your vision for the physical brewery?
Mengistu: In terms of space, we're looking for anywhere from a 2,500- to 4,000-square-foot space that would allow us to grow. We'll start with a 7- to 10-barrel system. The key is finding a space that allows us to grow, because as we talk to other breweries, they emphasize [the] need to expand.
As for the vibe of the actual space, it will definitely have the industrial brewery look, with a West African, West Philly twist to it, from the artwork to the music.
Will you continue to host events once you have your physical space?
Mengistu: Oh, yeah. One of the reasons why we want a large space is so we can do events. When all of this [COVID-19] craziness comes to an end, we plan on continuing to partner with the community. We want to stay connected with the community. We want to host events, collaborate with nonprofits. We want to help people—especially from the African American community. We want to teach our community how a brewery runs. And show people that they could potentially get into this great industry that's not going anywhere.
What beers are you currently brewing?
Mengistu: Right now, we have about five beers that we'll open up our brewery with. We have a Belgian wheat called Who You Wit?, our Nubian Brown Ale, a pale ale called 215 City Ale, an oatmeal milk stout and our Prolific Hazy IPA. We actually did a sampling via Zoom recently for the Prolific and it got really great feedback.
Will you tell us about your recent Black Is Beautiful collaboration?
Rich: With everything that's going on with Black Lives Matter, there was a beer recipe developed called Black Is Beautiful, and different breweries are participating around the country and around the world, and all proceeds [go] to local social justice organizations. We collaborated with Harris Family Brewery, in Harrisburg, which is the first Black-owned brewery in Pennsylvania, and Love City Brewing. We put our own spin on the recipe by adding toasted coconut, because we wanted to add a summer flare to the imperial stout, and it's available at Love City.
The Black Is Beautiful recipe was developed by Weathered Souls, in San Antonio. The purpose is to raise awareness and give back, as well as to show that the craft beer industry wants to be more diverse.
Do you have any other collaborations coming up?
Rich: We have another Black Is Beautiful collaboration with Chimney Rustic Ales, located in New Jersey. It'll only be available to purchase in New Jersey. However, we may buy some cases to bring to Philly. We are having a T-shirt made so people can buy that, too.
The special thing about the recipe with Chimney Rustic Ales is that we are going to age the barrel of the beer. The purpose of using aged barrels is to show that change doesn't come quickly and that it takes time.
How can folks currently support your brewery?
Rich: Our swag bags have been flying off the shelf. Last week, we ran out of things so we had to reorder them. We did a presale for T-shirts. We had over 120 orders and then we took it down and people have been asking.
I think that shows the kind of support that we do have. I think we have a really solid following and we don't have a location yet. To be able to start to learn names already, and to see the same people showing up and supporting us, that's all that we can really ask for.
Where can we follow along on your journey?
Rich: We hope to be open soon, but in the meantime, follow us on Instagram
 @twolocals. And if people want to support us, we'll continue to have swag for sale at
twolocalsbrewing.com.