One could call the Pennsylvania Horticultural Society's (PHS) Tree Tenders quixotic in their drive to increase Philadelphia's tree canopy, a goal whose attainment would mean a healthier city.
"Our canopy, which currently sits at 20 percent, represents a 6 percent loss over the past 10 years," says Tree Tender Marcus Ferreira, 47, of South Philadelphia, a lawyer with a degree in urban planning. "As things stand, we're losing ground."
Those numbers would be grimmer without Tree Tenders, which are volunteer-based community groups that plant trees. Under the guidance of Mindy Maslin, aka The Tree Lady, who began the program in 1993 and continues to manage it, Tree Tenders has trained some 5,000 people, who've led volunteers in planting more than 1,500 trees annually.
Trees are more than a matter of charming street scenes, Tree Tenders point out.
"ADHD is less of a problem on tree-lined streets," says retired marketing analytics professional Rose Johnson, 58, of East Mount Airy Tree Tenders, who's helped plant some 80 trees in five years. "Cars go slower and people are less anxious," she adds.
Ferreira, co-chair of the PHS Tree Tenders Steering Committee, sheds more light on this connection.
"If you have a view of greenery in the hospital, you recover faster," he says, "and investing in trees and green spaces is one of the most effective ways to cut violence."
A February 2018 study of Chicago in "Landscape and Urban Planning" yielded hard numbers on this issue: "A 10 percent increase in the tree canopy [is] associated with 11.3 percent less assault, robbery [and] narcotics," the authors found.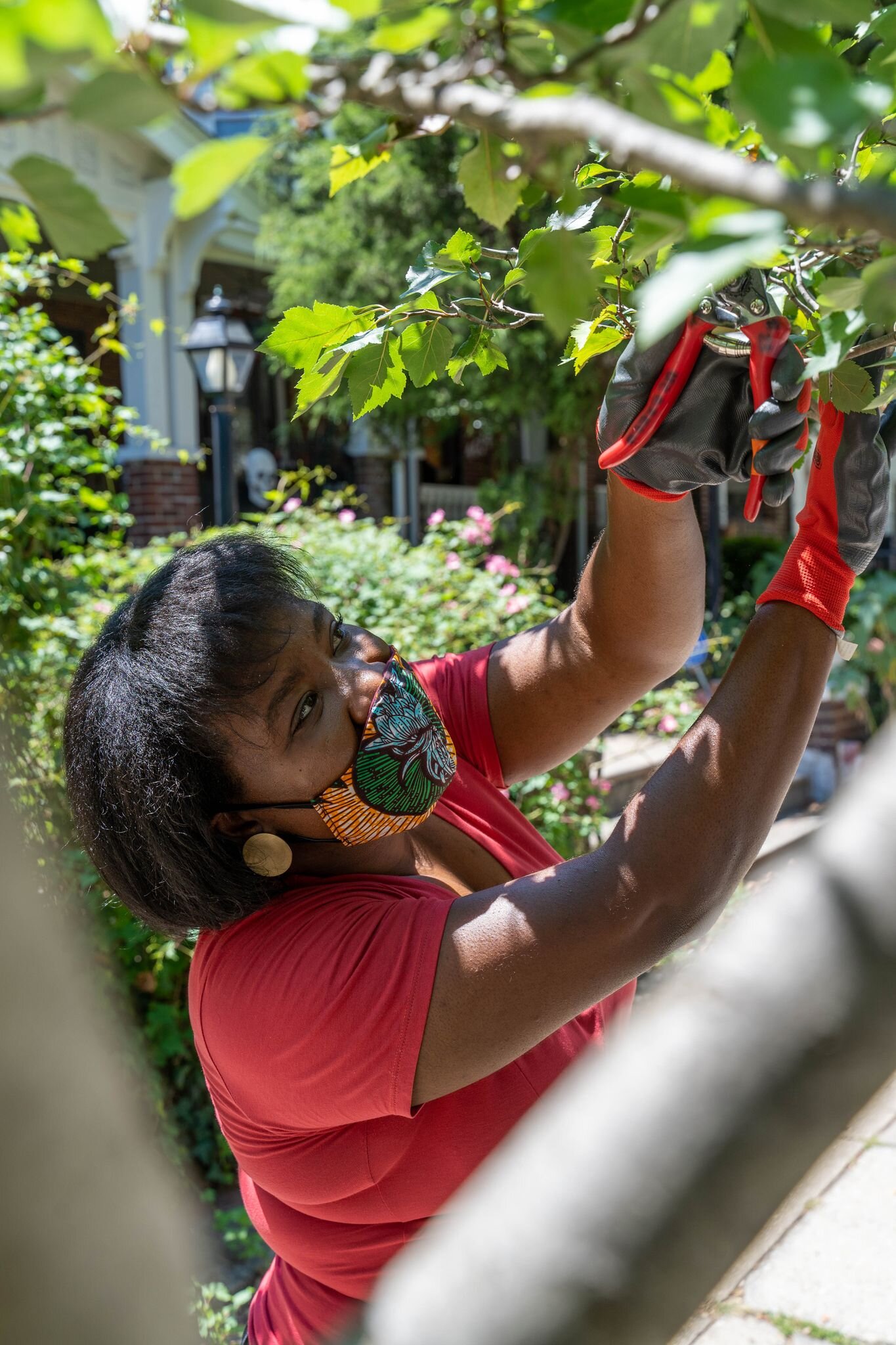 Philadelphia would like to increase its tree canopy by that magic 10 percentage points, Ferreira notes, but achieving it means reversing the current trend. "Philadelphia has one of the smallest tree canopies among major northeastern cities," he says. "New York's canopy stands at 24 percent, while Baltimore's is 28 percent."
A series of workshops preps Tree Tenders for their task.
"The training's very good," says Johnson. "We learned tree identification, proper planting techniques and how to water and prune trees. Tips on community engagement help us approach neighbors about having a tree on their property. East Mount Airy Tree Tenders has done outreach with neighbors and some churches," she says, "and an arborist who lives nearby did a tree walk for us and talked about Mt. Airy's tree nurseries in the 1800s."
"You learn which trees to plant where," says social worker Kiasha Huling, 38, executive director of UC Green, a nonprofit that "empower[s] volunteer environmental stewardship in University City and surrounding communities." Huling has helped plant more than 100 trees in two years.
"My first tree was a honey locust in Malcolm X Park," says Huling, who, like other Tree Tenders, returns to check the health and growth of trees. "A couple of the trees have had struggles. Someone dumped hot coals on the honey locust, but when I checked back, it had recovered."
Over the years, Tree Tenders have formed friendships, strengthened their communities and left a green imprint on the city. Cynthia Kishinchand, 79, retired acting executive director of Friends of the Free Library of Philadelphia, has coordinated East Falls Tree Tenders (EFTT) since 1996.
In 25 years, EFTT has had a hand in planting about 1,000 trees along 47 thoroughfares as well as at schools and a recreation center. Many trees carry a label that says, "I am your breath of fresh air."
While Tree Tenders rack up successes, they hit snags, too.
"Getting people to apply for the trees is the biggest challenge," Johnson says. "I explain that the trees are free, but people have many different reasons for saying no." But she remains undeterred. "We've planted four trees on my block, and more nearby. The streets look much more welcoming now, and in 10 or 15 years, those trees will make an even bigger difference. You have to see it as a long-term project."
Tree Tenders often wrestle with small budgets that limit their activities. "The trees are free, but you need tools, mulch, tree guards, buckets and other items," Kishinchand says. She has built community connections that give EFTT a longer reach.
"We've collaborated with individuals, institutions and businesses like Bartlett Tree Experts, East Falls Business Association, Jefferson University and other organizations for funds to plant the trees and provide programs for 6,000 youngsters," says Kishinchand, who, like many Tree Tenders, stresses introducing children to trees early. "They're your future Tree Tenders. We've invited students from Thomas Mifflin, St. Bridget's, Penn Charter and Wissahickon Charter schools to our annual Arbor Day Celebration at Inn Yard Park since 1996."
5 Policy Points For Protecting Trees 

Tree Tender Marcus Ferreira feels it's critical for the city to have a policy about trees, including:

1. As in NYC, protect existing trees by requiring developers to erect frames around trees and their critical root zone.

2. Coordinate with the Streets Department to prune lower limbs of trees to reduce limb loss and premature mortality.

3. Require developers to post substantial bonds against tree damage.

4. Eliminate the threshold for protected-tree status—a diameter of 24 inches and at a height of 4.5 feet from the ground. Philadelphia Parks and Recreation supplies the trees.

5. regard trees as necessary infrastructure for all mid-and-large scale projects.
"You've got to remember to say thank you," Kishinchand adds.
Income may play a role. Despite the city's 30 percent canopy goal, numbers hover at 2.5 in some neighborhoods, many of them with lower-income households. For that reason, EFTT has extended its tree-planting to communities in North Philly, Kishinchand says, but it takes empathy.
"You contact civic associations and neighborhood groups. You can't just waltz in and say, 'You should plant trees for these reasons.' People may be struggling to pay bills," Kishinchand says. "You have to be respectful. You have to listen."
Kishinchand would like trees to have the same protections as fire hydrants.
"Fire hydrants do a job," she says. "They save burning houses. Trees do work too: they remove pollutants from the air, generate oxygen, provide shade, combat global warming and increase property value. Trees aren't just another pretty face. They're your quality of life."