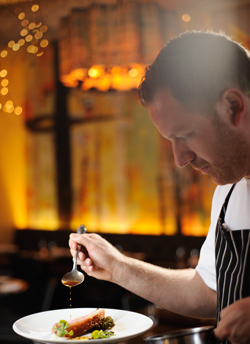 Travel anywhere and you'll find foods that taste of specific places and flavors that connect people to landscapes. New York City, for some, can be encapsulated in a bite of bagel or a sip of cider. For Philadelphia, it's cherry water ice on the first really hot day in spring, or a smear of golden Lancaster County butter. Sometimes we can lose perspective on the flavors of where we're from, but all it takes is an outsider to help us approach them with renewed vigor.
Eli Kulp, the chef of Fork Restaurant and High Street on Market, both in Old City, is originally from the West Coast, and came to Pennsylvania from New York to take the position of chef at Fork in September of 2012. Kulp, recently named a 2014 "Best New Chef" by Food & Wine magazine, soon found himself inspired by the variety of ingredients from local sources.
"Whenever you move," Kulp says, there's a drive, as a cook, to discover the ingredients that represent your new landscape. "You want to sort of immerse yourself in it."
This past winter, Kulp and his team at Fork worked with local producers to develop "Our Terroir," a seven-course tasting menu inspired by the wealth of local products that Kulp has encountered in Philadelphia. Here, the French term—traditionally used to to indicate how the flavor of a wine expresses specific flavors based on where it was produced—is applied to food instead. In the context of Fork's menu, "terroir" reflects not only the use of locally sourced ingredients, but also the food cultures of the region.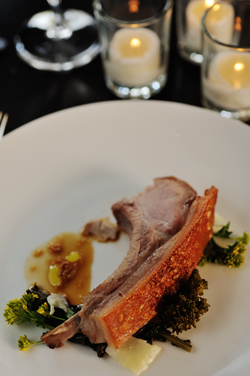 Though "Our Terroir" takes its inspiration from our region, one dish speaks to Philadelphia specifically. An entrée of tender roasted pork, served with fermented broccoli rabe and chips of sharp provolone, is an elegant twist on a roast pork sandwich, with bitter greens from John's, DiNiC'S or Tony Luke's. The meal begins with a dish that evokes Philadelphia's proximity to the shore. "The raw bar" is comprised of an oyster on the half shell topped with vinegary celery granita and a small buckwheat bagel coated in trout roe. The second dish invokes the orchards of Adams County with an apple salad with watercress and ginger shrub, scattered with buttery hickory nuts sourced from Berks County.
Kulp's goal is to have the menu's ingredients reflect the dynamic region in its entirety: "I didn't want it to be a Lancaster County menu." Though Lancaster County is famously agricultural in its heritage, there are inspiring ingredients available from producers in almost every other county that surrounds Philadelphia as well. So, while the plate of wonderfully rich, brown buttered noodles with egg yolk and the shoofly pie for dessert are undeniably inspired by the Pennsylvania Dutch, Fork's menu gives equal attention to "The Pine Barrens" as well. The dish, named for South Jersey's sandy-soiled pine forests, is a carpaccio of Highbourne Farm venison with charred cabbage, pine nut purée and pine tea.
As the weather warms and fresh produce becomes increasingly available, Kulp will shift the menu dish by dish rather than changing the entire progression at once. "Our menu always evolves … one or two [dishes] at a time because that's how the season changes … [in] spring especially, and spring starts everything," he says.
Winter, spring, summer or fall, Kulp isn't short on inspiration. He says in curating the "Our Terroir" menu, "we realized just how much is out there. I could do a 50-course menu and not run out of ideas."
Emily Teel is a food freelancer in Philadelphia. See more of her work at emilyteel.com.
The Near and Deer: Highbourne Farm in Dallastown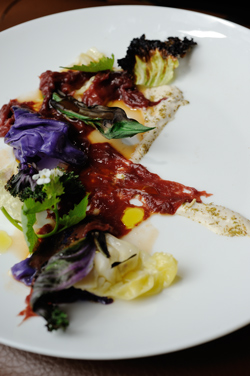 Judging by the number of products available that claim to prevent deer from snacking on suburban gardens, it seems as though venison should be easy to come by, but chef Eli Kulp and his cooks at Fork Restaurant had to search awhile before finding a local supplier. In October of 2013, thanks to the internet, they connected with Highbourne Farm in Dallastown, Pa., whose venison now appears on Fork's menu.
John Behrmann started Highbourne 26 years ago when he imported purebred red deer from New Zealand. Red deer, with their huge antlers, are more closely related to North American elk than their white-tailed relatives. Prized for the high quality of their meat, they have relatively even temperaments that make them attractive as livestock, though they're still wilder than cattle.
"They will fight you if they feel like they have to, so you have to respect them," says Connie Hutchison, who with her husband, Trent, have been the caretakers of the Highbourne herd for the past decade. Because the herd is fed mostly on pasture (except in winter, when they receive grains and hay to supplement) and are largely self-sufficient, the caretakers at Highbourne don't interfere with them too much.
For more information on Highbourne Farm, visit highbourne.com.