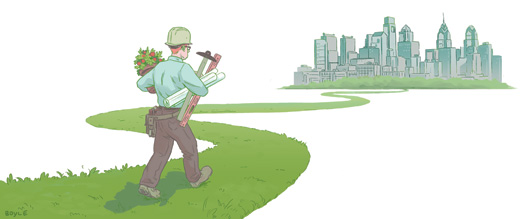 It is the night before greenbuild, the U.S. Green Building Council's international conference and expo, and tens of thousands are flocking to Philadelphia to celebrate and promote sustainability as a genuine worldwide movement. As an architect and professor of sustainable design, it's more than an amazing moment in our city's history; it's a validation of 18 years of hard work and dedication. Too excited to sleep, instead, I think back on the moments of my life that brought me here.
As a five-year-old in 1968, I remember my mother coming home red-faced and watery-eyed from being tear-gassed at a civil rights protest. I also recall a long, uncomfortable, rainy weekend at Woodstock — not much fun for a small child, but it also left an indelible mark. These events and many others contributed to a vague but deep awareness that something important was happening. Only later did I realize the seeds of sustainability were being sown by a courageous generation of civil rights leaders, environmental activists and enlightened politicians.
Three years later, I traveled across the country with my mother and sister. From the large windows of our sleek AMC Pacer, I saw the vast Midwest, the spectacular Rockies, the sublime nothingness of the Bonneville Salt Flats and finally the pristine West Coast — so different from the Jersey Shore. But along the way, I also saw environmental distress: sprawling housing developments and industrial plants spewing smoke, and I realized there were injustices taking place.
When I was a young teen, my father bought me a Commodore 64 and taught me how to write simple computer programs to control graphics and solve math problems. In college, I learned to design buildings with computers. I didn't realize it then, but Computer-Aided Design was one of many digital tools I would use to confront the injustices I had seen earlier in life.
This power of "knowing," the ability to think and act objectively, became the yin to my crunchy granola yang. I tried to combine those two elements as an architect, but despite some success, I remained unsatisfied. Before long, I returned to graduate school to learn more about architecture, with the ostensible goal of obtaining additional qualifications, so I could possibly pursue teaching or start my own design firm. I didn't know it, but I was searching for something bigger.
On the first day of school, my teacher introduced "the new concept of sustainability." As she began to unwind the core principles of sustainable design, I instantly connected the dots: my concern for nature and social justice and my love of computation and design. I felt a quiet happiness that comes with deep knowing, but at the same time, an extreme restlessness that comes with a defined sense of purpose and need for action. For me, that restlessness turned into a passion for teaching — not just because I wanted others to share my experience and knowledge, but because this was not so much an "A-ha!" moment as an "Oh no!" moment — a realization that the planet really was in need of healing, and it had to happen fast.
In the 18 years since that moment in graduate school, I have been driven by a singular mission: to use inclusivity and empathy to educate and connect with as many people as possible about sustainability. It hasn't always been easy, but it has always been rewarding, in no small part because of all the great people working toward the same goal, many of whom are on their way to Philadelphia for the Greenbuild expo. The thought of it makes me smile, and I finally drift off to sleep thinking that tens of thousands of people attending Greenbuild is all the proof I need that the dream of a sustainable future is now a reality.
Story by Rob Fleming | Illustration by James Boyle.
Rob Fleming is the Director of the Master of Science in Sustainable Design Program at Philadelphia University. His new book: Design Education for a Sustainable Future is published by Routledge/Earthscan.