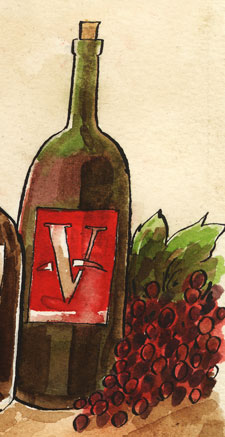 When it comes to caring about the well-being of the environment, Pennsylvania's roughly 200 wineries are inherently invested in sustainable practices, according to Jennifer Eckinger, executive director at the Pennsylvania Winery Association.
"Using our locally produced products is obviously a big part of all these wineries," Eckinger says. "But caring for the land and being good stewards of the soil and water is also part and parcel of what these businesses are about. It's about being sustainable for them and for future generations."
Although any bottle of wine made in Pennsylvania is going to come with a smaller carbon footprint than an Australian shiraz, Eckinger says these nearby Pennsylvania wineries make an extra effort to be responsible.
Crossing Vineyards
Located less than an hour from Philadelphia in Washington's Crossing, Bucks County, this family-owned vineyard strives for sustainable agricultural practices in the fields and at the winery. A recent upgrade to a geothermal heating and cooling system has significantly reduced energy consumption.
1853 Wrightstown Rd., Washington Crossing
215-493-6500
Vynecrest Winery
This Lehigh County gem calls a 19th century banked barn home, allowing the winery to take advantage of the earth's natural insulating properties. They've also installed geothermal, taking the bite out of a pricey and carbon-intensive oil heating system.
172 Arrowhead Ln., Breinigsville
610-398-7530
Manatawny Creek Winery
Located on the banks of the Manatawny Creek, this Berks County winery uses integrated pest management, has rooftop solar panels and instead of using chemicals, fertilizes their vines with compost made from wine-making byproducts and manure from local farms.
227 Levengood Rd., Douglassville
610-689-9804
Story by Brian Rademaekers illustration by Michael Alan