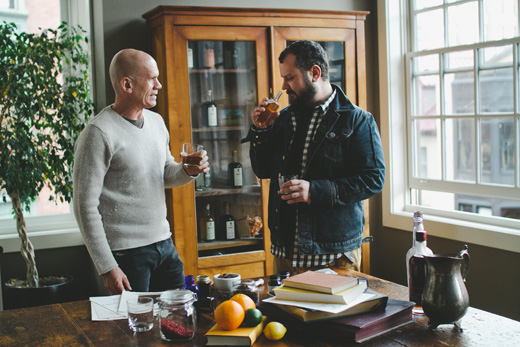 Art in the Age founder Steven Grasse (left) and collaborator Michael AlanWhen it comes to libations, it can be fun to mix things up. But what if you're after something that's interesting, straight from the bottle? The lineup of liquors from Art in the Age of Mechanical Reproduction — Sage, Snap, Rhubarb Tea and Root — exist somewhere outside the scope of the usual boozy suspects.
Steven Grasse, founder of Art in the Age and a self-proclaimed "American history geek," looks to the past to create the concepts and recipes for these products. Each one harkens back to a time before the massive commercialization of the alcohol industry.
Sage, a gin packed with herbs, recalls the garden spirits that early Americans — including Thomas Jefferson — made to showcase their agricultural prowess. Snap is a zippy, liquefied version of traditional Pennsylvania Dutch lebkuchen (ginger snap). Rhubarb Tea celebrates the tart pink stalks that Benjamin Franklin brought here from Europe — and is an homage to the rhubarb tea that Grasse's mother used to make. And Root, the company's original offering, is based on the root tea that Native Americans taught the earliest settlers to make. It's Grasse's favorite of the four, and he claims that Root mixed with Pennsylvania Dutch birch beer is "the best drink ever in the history of the world."
But a passion for history isn't the only source of inspiration behind these unusual libations. As a seasoned ad man (he owns the agency Quaker City Mercantile), Grasse also realizes that storytelling is a key aspect of marketing.
"I feel like with brands, everything needs to add up," he says. "I think people don't just buy the product; they buy the whole vibe. It transcends logic — it's an emotion thing."
A significant part of the vibe of Art in the Age — and what makes the company's spirits stand out on any bar — is their simple and beautiful bottle designs. The minimalist bell shape of the clear glass bottle feels modern, but the hammered flat bottle stop hints at homemade hooch. The front labels list all ingredients, which is very rare for an alcoholic product.
"I like to be brutally honest about the ingredients," Grasse says, "because we use whole, certified organic fruits and botanicals."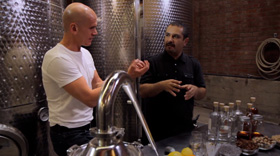 Steven Grasse (left) and distiller Melkon Khosrovian at Greenbar Distillery in Los AngelesThe charming illustrations associated with the brands are by the Reverend Michael Alan, a local ordained minister, chef and artist. He and Grasse collaborate to create the recipes with the distillery in Los Angeles that produces them. Soon, however, Art in the Age will start producing spirits (and perfume) from their own distillery in New Hampshire. Grasse explains that they chose not to build their new facility in Pennsylvania because of rampant fracking and how it has compromised the state's water supply.
"The key to making good spirits is water," he says. "And in New Hampshire, our distillery sits on top of the purest aquifer on the East Coast." The distillery will double as a radical test kitchen for Art in The Age.
"Anything that rots, I can ferment. I want to be the Willy Wonka of distilling!" Grasse says. "I want to see what happens if you distill moose dung!"
While the result of that experiment may never make it to market, he is rolling out a new spirit that may challenge less gallant drinkers: Durt, a vodka infused with parsnips, Portobello mushrooms and sea lettuce. Grasse sees savory cocktails trending, and you can just imagine the fun that creative mixologists will have incorporating soil-scented liquor into their drink menus.
Once in their new space, they'll also be working closely with farms within a 20-mile radius, and will start donating a portion of their profits to the American Farmland Trust.
"Alchemists believed that you were distilling a living spirit out of the plants," Grasse says. "We're trying to put spirituality back into spirits, to take it back to this place instead of how industrialized everything has become. It's better for family farms, and the environment. Spirits can save world."
Fireside Cider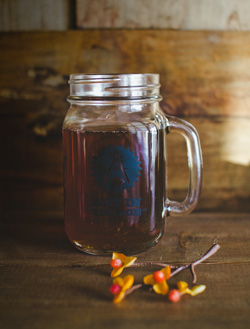 courtesy of Art in the Age of Mechanical Reproduction
Thirsting for a warm winter cider to sip in front of a roaring fire? Art in the Age concocted this recipe just for Grid.
1 oz Art in the Age's SNAP liquor
1 oz Applejack
¼ oz Allspice dram (also known as pimento dram)
Hot apple cider to taste
Pour the first three ingredients into a warmed mug.
Top with hot apple cider and stir with a cinnamon stick.
Visit Art in the Age of Mechanical Reproduction at artintheage.com, or the old fashioned way, at 116 N. 3rd St.
Story by Emily Kovach.