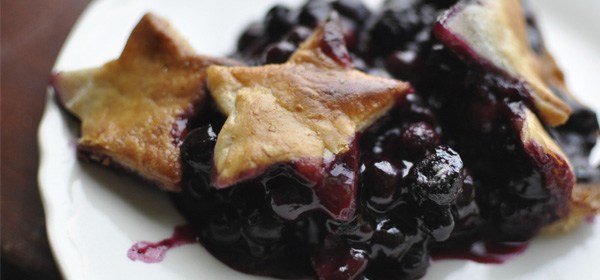 Story by Marisa McClellan
Basic Blueberry Pie
1 recipe of basic pie dough
6 cups blueberries (fresh or frozen)
1 cup sugar
1/3 cup all-purpose flour
1 lemon, zested and juiced
1/2 tsp. cinnamon
1/4 tsp. grated nutmeg
2 Tbsp. butter
1 egg (for egg wash)
Preheat oven to 425 degrees F.
In a large bowl, combine blueberries, sugar, flour, lemon zest and juice, cinnamon and nutmeg. Stir to combine and set aside.
Roll out bottom pie crust as directed above.
Pour blueberry filling into prepared piecrust and dot with butter. Proceed as directed above, rolling out second dough ball for lattice or full crust, and brushing with egg wash. Bake as directed.