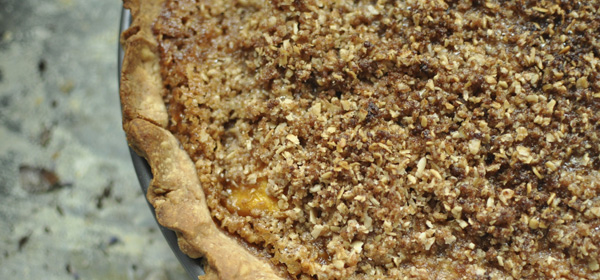 Peach Pie with Crumble Topping
1/2 recipe of basic pie dough
5 cups sliced peaches (8-9 peaches)
1/2 cup brown sugar
1/3 cup all-purpose flour
1 lemon, zested and juiced
1/2 tsp. cinnamon
1/2 tsp. almond extract
Preheat oven to 425 degrees F.
In a large bowl, combine the peaches, sugar, flour, lemon zest and juice, cinnamon and almond extract. Stir to combine and set aside.
Roll out bottom pie crust as directed above.
Pour peach filling into prepared piecrust. Trim excess crust. Top the peaches with crumble topping (recipe below) and bake as directed above.
Crumble topping
1 cup oats
1/2 cup brown sugar
1/4 tsp. cinnamon
1/4 tsp. salt
1/4 cup butter, cut into cubes
Combine oats, sugar, cinnamon and salt in the bowl of a food processor, and pulse to combine. Add the cubes of butter and pulse until incorporated.
If you don't have a food processor, start with instant oats to mimic the texture of the processed oats.