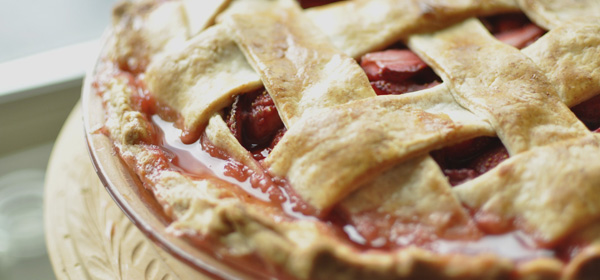 Story by Marisa McClellan
Strawberry-Rhubarb Pie
1 recipe of basic pie dough
1 quart strawberries, washed and quartered
1 pound rhubarb, chopped into 1-inch lengths
1 cup sugar
1/2 cup all-purpose flour
1/2 tsp. vanilla extract
2 Tbsp. butter
1 egg (for egg wash)
Preheat oven to 425 degrees F.
Combine strawberries, rhubarb, sugar, flour and vanilla extract in a large bowl and stir to combine. Set aside.
Roll out one round of dough on a well-floured board or counter. When it's large enough to fully cover your pie plate with some overhang, use a spatula to loosen the crust from the board. Gently fold it in half and position the plate right next to it. Leaving the crust folded, scoot it halfway across the plate, so that the seam of the fold is somewhere near the middle of the plate. Gently unfold the crust and work it into the plate.
Pour strawberry-rhubarb filling into the crust and dot the top of the fruit with butter. Set aside.
Roll out the second hunk of pie crust. You can either give this pie a full crust (making sure to cut several vents so the steam can escape) or create a lattice topper. Either way, when top crust is in position, trim excess pie crust and crimp the edges.
Whisk the egg together with a tablespoon of water and brush over the pastry top. This will give it a glossy finish and help it brown.
Put pie on a rimmed baking sheet and place into the oven. Bake at 425 degrees for 20 minutes. After that, reduce the temperature to 350 and bake for an additional 30-35 minutes, until the top is golden and the juices are thickened.
Let the pie sit for at least an hour before cutting, so that the juices have a chance to continue to thicken. This way, your pie won't be a runny mess (though even runny messes are delicious).