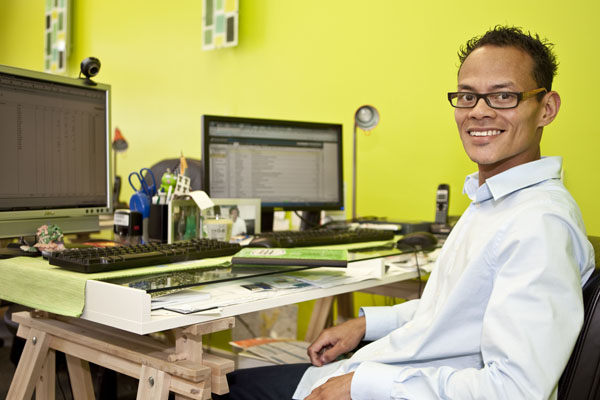 A local cleaning company is as green as its mascot
by Lee Stabert
After only a few minutes of conversation with Dos Funny Frogs' Alex Suarez, it becomes clear that he has the mind of a scientist—discern a problem, research, test, solve. That enthusiasm for discovering a better (and greener) way to do things propels his business, a cleaning service and cleaning product manufacturer with an environmental bent, to growing success. Last month they opened a storefront location on a bustling section of Girard Avenue in Fishtown.
Suarez immigrated from Cuba over a decade ago. He attended Bucknell College, earning a degree in molecular biology. His mother, who followed him to America a year and a half later, started cleaning houses. "She doesn't speak English, but she's a very hard worker," says Suarez. "Once I finished school, I noticed that she had a few customers, and that she was making a little bit of money." Dos Funny Frogs was born.
"I wanted the name of the business to be something very different," he explains. "And I wanted it to be Spanglish—unique to us, yet very friendly to Americans. So, that's where 'dos' comes from—dos meaning two. It's just me and my mother." The "Frogs" part of the name was inspired by Suarez's passion for biology. "I think they are very, very cool animals," he continues. "So gentle, and they are a very good example of how we are devastating the environment."
Once he went into business with his mother, Suarez started to notice all the waste that happens in cleaning operations. "My mother was spending a tremendous amount of money for paper towels," he explains. "Why are we using paper towels? Not only are we killing a tremendous amount of trees, but we are spending a lot of money. So we had to do a little research, and it was, in my opinion, environmentally conscious to use rags that you can wash and reuse." He also wanted to disinfect without the use of chemicals, so they came up with the idea of boiling the rags before reuse.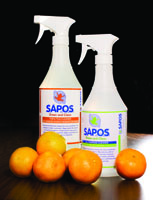 Then it was onto the next challenge: Suarez was tired of using someone else's cleaning products, so he got to work—research, test, solve. Dos Funny Frogs developed SAPOS, a hydrogen peroxide-based all-purpose cleaner scented with oil from discarded orange peels. ("I love orange. I love it. It's like one of my things," effuses Suarez.) Finding acceptable bottles was also a complicated task. They needed to be made in the US and composed of No. 2 plastic for recycling purposes. Suarez eventually found a suitable company in Iowa; their labels are manufactured locally using biodegradable ink. Eventually, the Fishtown storefront will house a refill station offering the cleaner at discounted rates.
In addition to the rags and the cleaner, Suarez has gone green with the company's transportation system. To cut down on fuel costs and Frogs' carbon footprint, employees travel en masse in the "Frog Mobile," cleaning homes more quickly in larger teams. This eliminates the need for picking up and dropping off. The company's website also features "The Frog Tracker," allowing customers to remotely monitor the crew, seeing if they are en route, in progress or finished with the job.
Environmentalism informs every aspect of the business. The SAPOS label features a frog suspended in a bubble—it's a carefully considered image. "Bubbles are very fragile," says Suarez. "And that's basically how everything is—life is very fragile. Today you have it and tomorrow you don't. If we don't take care of our everyday habits, the frogs will eventually be exterminated. Our great grandkids may never get to see a frog. I do have a real frog, by the way. She's not here, yet. She's at the old office. Her name's Mango."
dosfunnyfrogs.com, 215-740-5522,
223 W. Girard Ave