The PECO rate caps are about to expire. Are you ready?
story by Samatha Wittchen
illustration by Michael Miller
there's an elephant in the room. You might have overlooked him because it's a big room—the entire Philadelphia region, in fact. That said, he's also a big elephant—a big, electron-filled elephant. But come January 1, you'll finally be forced to notice that he's been sitting on your great-grandmother's coffee table all along.
We think you should start sooner. In case you've missed Grid's relentless attempts over the past several months to hammer home this point (heck, we're even tired of hearing ourselves talk about it), here's a news bulletin: The rate caps on PECO's electricity will expire on December 31, 2010.
Nicole huie hasn't used her air conditioning all summer.
And she doesn't plan to. She knows that the cheapest watt of electricity is the one she never uses. Since the electricity rate caps expired where she lives—the Lehigh Valley—her electric bill has increased 25 percent. That shift equals serious money during the summer months when central air makes the electric meter spin like crazy.
In parts of the state (like the Lehigh Valley) where caps have already expired, electricity bills have increased 20 to 40 percent across the board. And for that extra electrical cost, you can bet the coffee Huie brews every morning doesn't taste any better.
Meanwhile Philadelphia customers might be in for a double whammy: Philadelphia Gas Works (PGW) has successfully petitioned the Public Utility Commission to raise its rates by 10 percent. Details are still being worked out regarding how PGW will help customers mitigate these costs through an energy conservation plan, but Philadelphians can expect to see an increase in their gas bills as well.
The big question for a lot of consumers is, "Why now?" With the economy showing timid signs of recovery from a deep recession, it seems like the rate increases couldn't come at a worse time. However, the PECO rate increase isn't arbitrary—the legislation that set the caps and their conditions of expiration was passed over a decade ago. We've known it was coming for quite some time, making our gross ill-preparedness even more frustrating. Regardless of how this elephant wound up in our living room, he's here now, and he's hungry.
In 1996, when the economy was booming and the concept of deregulation was sweeping the nation, the Pennsylvania government believed that by opening up electricity generation to free-market competition, it would drive down prices and create more reliable service. Pennsylvania passed the "Electricity Generation Customer Choice and Competition Act" (Competition Act), which allowed consumers to shop around for cheaper generation rates, while their current provider would have to maintain the equipment to get the electricity from the generating company to their home. (This is called transmission and distribution.)
Unfortunately, the Competition Act didn't work out as intended.
Before 1996, many Pennsylvania utility companies had invested in power plants, believing that they were necessary to supply their captive customer base. When faced with deregulation and the possibility of losing customers to other providers, the companies felt that these new investments could no longer be profitable and demanded the ability to recoup these "stranded costs." On your bill, it's called a "transition charge."
The trade-off was that the utilities were forced to agree to rate caps until they recovered their stranded costs. As the costs are paid off, the caps expire, which is why some have expired sooner than others. Because of the increased price of oil, natural gas and coal, the cost of generating electricity has been much higher than what the rate caps mandated. As a result, competing providers that didn't have stranded costs to recoup left the state. The Competition Act's anticipated electricity generation price reduction never happened, and we're left with an instantaneous jump in price over the artificially low prices we've grown accustomed to during the last 14 years.
Yes, higher costs are a bummer, but there is another way to look at this: In the long run, Philadelphians could ultimately benefit. The rise in energy prices is spurring the rapid development of an energy efficiency sector in our economy, as well as new opportunities for business and job growth. As consumers and businesses take advantage of incentives and low-interest loans to implement energy-efficiency measures before the rate caps expire, a whole new industry of trained technicians and professionals is needed to perform the work of making our region more energy-efficient.
The Philadelphia region has already made substantial strides in developing this skilled workforce, and recently received a financial boost from the federal government. In April, Philadelphia and its surrounding counties received a $25 million "Recovery Through Retrofit" Block Grant from the U.S. Department of Energy to fund residential and commercial building retrofits. The grant provides additional funding to expand several existing programs, including Greenworks' loan and grant programs and the Keystone HELP program. The balance of funds is available to the entire Philadelphia region on a competitive basis.
The grant also presents a tremendous opportunity for the region to establish itself as a leader in America's growing green economy. Improving existing building efficiency by leveraging the region's highly skilled tradesmen is a win-win. Becoming more energy-efficient will provide greater security to residents and businesses, as energy rates will undoubtedly continue to rise even after the rate caps expire.
Sounds like a rosy green future, right? So, why aren't we beating down the doors of energy efficiency experts to improve our homes and businesses? Turns out building a whole new industry isn't so easy.
To start, there needs to be consumer demand. As stakeholders in the future of the greater Philadelphia region, we have to take it upon ourselves to make energy efficiency a priority. As a nation, we aren't long-range planners, and in general, we're not sold on energy efficiency quite yet. The Greenworks Small Business Energy Efficiency Rebate Program has been open since February, and only 24 qualified applications have been accepted. The Greenworks loan program has been met with a similarly tepid response. Some of this may be due to lack of marketing for the programs, and some of it may be that businesses don't have the upfront cash for upgrades, even if they're getting reimbursed.
PECO, on the other hand, says the response to their residential programs has been very good. They've poured a lot of money into marketing their CFL program, and they've made it relatively easy for consumers to get rebates for upgrading appliances through their Smart Ideas program. PECO has sold or given away 2,878,301 discounted CFL bulbs between October 2009 and May 2010, and they've processed 16,492 rebates totaling $1.6 million through the end of May.
In the long run, if you're not concerned about energy efficiency, you're doing yourself a disservice. Efficiency upgrades are, hands down, the best energy investment you can make. They may be less sexy than installing solar panels on your roof to power that kegerator/teleportation device you've been eyeing in the Brookstone catalog, but the payback period is much shorter. The investment also makes you more secure in the long term. Energy prices may fluctuate, but optimizing your efficiency ensures that the impact of those fluctuations is minimal. It also means that if you do decide to take the plunge into alternative energy, you will have already minimized your energy demand, so you can purchase a smaller system at lower cost.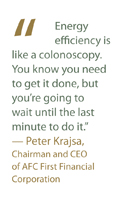 Consider this story: The Energy Coordinating Agency (ECA), a Philadelphia-based nonprofit organization that provides energy conservation services, was called to audit the Elkins Park Mansion Carriage House. Like most carriage houses, it was old, stone and not meant to be a residence. The owner was heating it with a 400,000 Btu fuel oil heating system, costing him thousands of dollars a month during the winter. Seeing an advertisement for a geothermal system that promised massive energy cost savings, he called a geothermal installer to make the switch. The installer replaced the system with a 75,000 Btu geothermal system at the bargain price of $30,000.
Within a few months, the owner called the ECA because his house was so cold that he couldn't sleep at night. As it turned out, the geothermal solution was like placing a band-aid on a gunshot wound. Although the system may have been properly sized for the space, the house was so leaky and poorly insulated that the unit was completely incapable of keeping the house warm.
Contrast that story with this one: The owner of a 110-year-old, three-story Mt. Airy stone house decided she needed to make some changes when she received her first $500 winter gas bill. Through a combination of air sealing, insulation and turning her thermostat down, her bills are down to around $300 per month, a 40 percent savings. She says that the biggest incentive for doing the energy analysis was that she knew she could get the money back through grants and rebates. In addition to saving all that money, gaining control of her home's airflow has made her family more comfortable overall. The report given to her by the energy auditor has also served as an invaluable roadmap for prioritizing energy efficiency projects.
Even if you're already sold, consumer demand is only one piece of the energy efficiency puzzle. Streamlined funding programs and qualified, easy-to-find contractors are also important factors in building this new industry.
"ECA has been doing a lot of training, so we're a lot more ready for demand," says ECA Executive Director Liz Robinson regarding the recently announced incentives. "We're more prepared than even a year ago." ECA will also receive funding through the Recovery Through Retrofit Block Grant to launch a new residential program that's aimed at making energy efficient improvements easier for homeowners. According to Robinson, the main barriers to homeowners making energy efficient improvements are that people don't know what to do and they don't know who to trust.
The new program will include a searchable database of ECA-vetted contractors who work in all the main efficiency disciplines. Robinson says that some segments of the industry will have to be built out very quickly—like air sealing and insulation—but ECA will be doing outreach to existing contractors to identify high-quality work, adding them to the database. The city also has a goal of expanding the database to include more Philadelphia-based contractors; right now listings skew towards the suburbs.
One of the most exciting things about the block grant is that it allows ECA to scale up the work they've been doing for years. "We will be integrating all the lessons we've learned," explains Robinson, "streamlining all of our processes and collapsing all our multiple steps into fewer steps." The city wants to launch the new residential program in July, which should give them some time during the slower summer months to work out the kinks before the anticipated uptick of activity in the fall. The block grant doesn't provide much money to market the program, so the city and ECA are going to rely heavily on community-based and word-of-mouth marketing, and articles in local publications, to jump-start interest in the program.
Most homeowners only think about big-ticket energy upgrades when they're in a pinch—like when some major piece of equipment in their house breaks. As a result, they often don't have time to evaluate their options. The repair must happen right away, so they tend to go with whatever their contractor recommends (and they can afford). According to Peter Krajsa, Chairman and CEO of AFC First Financial Corporation, the company that administers Pennsylvania's Keystone HELP Energy Efficiency Loan Program, some of the block grant money will fund expansion of the Keystone HELP program and help consumers become more proactive and less reactive. "Energy efficiency is like a colonoscopy," said Krajsa. "You know you need to get it done, but you're going to wait until the last minute to do it."
If the contractor can shepherd the homeowner through the process of choosing the right energy-efficient equipment and securing a low-interest loan to fund the project, it's highly probable that the homeowner will take that route. To make this happen, more contractors need to be recruited and trained in energy-efficient technologies and funding programs. Making upgrades easy and affordable will drive faster and broader adoption of these technologies.
We still have a long way to go. The block grant funds are going to be hitting the streets soon, and as a region, we need to make the most out of them.
For residents, the easiest thing to do is get in touch with one of the organizations that's receiving block grant funding to provide low-cost (or no-cost) turnkey services for energy efficiency updates. This includes ECA (ecasavesenergy.org), Keystone HELP (keystone
help.com) and AFC First Financial (afcfirst.com). These organizations can help you find approved contractors and secure funding for the project.
An energy audit of your house will be the first step in making improvements. Until you establish a baseline understanding of exactly how your house is inefficient, it's hard to know what improvements to make. Relatively cheap fixes like air sealing and insulation can often yield some of the best results. Once you have a report from a qualified energy auditor, you'll have a much better handle on where you should be focusing your efforts—and money.
The report may suggest any number of energy efficiency measures, including air sealing, insulation, cool roofing, furnace and water heater replacement, major appliance replacement, new windows and light bulb replacement. Your auditor will help you prioritize the recommendations based on return on investment, available equipment loans and rebates, and your budget.
For example, if you have your house insulated and sealed by an Energy Star-qualified contractor, you can save up to 20 percent on heating and cooling costs. Install a cool roof? That's another 20 percent on cooling costs. Replacing your old refrigerator with an Energy Star model can get you another 10 percent. It doesn't take a mathematician to realize that these changes can add up to significant savings. The Department of Energy has a great online tool (homeenergysaver.lbl.gov/consumer/) to help you do some preliminary calculations on your specific property.
For businesses, the Greenworks Small Business Energy Efficiency Program, the Greenworks loan program, PECO's Smart Equipment Incentives (Philadelphia region) and PPL's Custom Incentive Program (Lehigh Valley and Berks County) are good starting points. These programs provide financial support for initial technical studies (energy audits) and equipment replacement; most require a 50 percent match from the business.
It's important to stress that the current funding won't last forever. In the last year, we've seen an unprecedented investment in the energy-efficient future of the Philadelphia region at the local, state and federal levels. (See sidebar for a list of resources.) With the rate cap expiration, continued Greenworks program rollouts and Recovery Through Retrofit funding, our region has a wealth or resources for low- or no-cost upgrades, ensuring the financial security of our homes and businesses well into the uncertain energy future. Elephants might be large, but they can also be friendly.