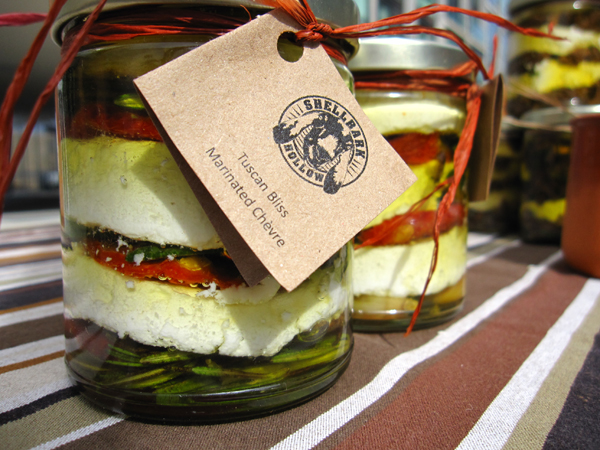 In Pennsylvania and other states around the country, goat cheese is undergoing a renaissance. In her recent book, Goat Cheese (Gibbs Smith, 2008), Maggie Foard points out that, nationally, the number of licensed goat dairies has jumped from "a handful" 20 years ago to "over 200" in 2007. Part of this growth stems from demand, particularly from consumers who are lactose-intolerant. "Goat cheese is easier to digest than cow's milk," Mikulak explains. "The fat globules are smaller and more even in size."
In the Philadelphia area, several established goat cheese artisans supply local markets and cheese counters. Stop by Headhouse Farmers' Market some Sunday and you're likely to meet Elly Hushour of Nazareth, PA, who has been making goat cheese since the '80s under the name Patches of Star. Her goat havarti and queso fresco are also popular at the Union Square Greenmarket in New York. At the Saturday Piazza Farmers' Market in Northern Liberties, you won't have to look hard to find the crowd gathered around Shellbark Hollow's stand. Pete Demchur and his family produce award-winning goat cheese in West Chester, and their spreadable chevres and sharp goat cheeses are sold at Di Bruno Bros. and at Reading Terminal Market's Fair Food Farmstand.
"There are some wonderful goat cheese producers in Pennsylvania—some old, some new," says Paul Lawler of the Fair Food Farmstand, pointing out several newcomers such as Amazing Acres and Yellow Springs Farm of Chester County. The latter, a native plant nursery, offers an artisanal goat cheese CSA. This Community Supported Agriculture program offers members a dozen allotments of goat cheese—both fresh pasteurized and aged raw—over the course of six months.
Goat Cheese Pairings:
Beer: Crack open a bottle of Philadelphia Brewing Company's Walt Wit alongside a wedge of Amazing Acres' Sea Smoke. The bright notes of this unfiltered wheat ale work wonders alongside complex, slightly acidic goat cheese.
Wine: For fresh or slightly aged goat cheese, try a fruity, high-acid white wine, like Pinot Grigio or Chenin Blanc (Vouvray), or a dry rosé. Debbie Mikulak likes to keep it local with a glass of Spiced Apple Wine from Chester County's Black Walnut Winery, alongside her chipotle goat cheese.
Serving Ideas: Because it's light and mild, chevre goes well with sweet or savory accompaniments. Sprinkle it on salads, crumble it over scrambled eggs, or use it to stuff hot pickled peppers or cherry tomatoes. On a cheese board, serve soft goat cheese with honey and toasted pine nuts, or dazzle it up with fresh herbs, lemon zest and edible flowers. You can also warm goat cheese in the oven and drizzle it with olive oil and cracked pepper.
Get Your Goat:
Amazing Acres Goat Dairy
amazingacresgoatdairy.com
Available directly from the dairy, or at Di Bruno Bros., Talula's Table in Kennett Square and other small markets. Try Debbie Mikulak's Sea Smoke, Fromagina (similar to ricotta) or Crottin.
Patches of Star Dairy, LLC
weaseljava.com/POS/
Available at the Headhouse Farmers' Market. Try Elly Hushour's goat havarti, queso fresco and goat's milk gelato.
Shellbark Hollow Farm
shellbarkhollow.com
Available at the Piazza Farmers' Market, the Chestnut Hill Farmers' Market, Di Bruno Bros. and the Fair Food Farmstand in Reading Terminal Market. Try the Demchur family's new aged Crottin de Chevre and herb-marinated goat cheeses.