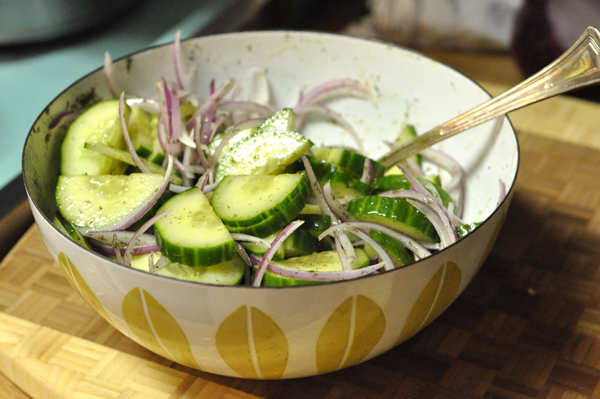 These fresh, easy recipes are perfect for the upcoming season of seaside snacking and backyard barbecues
by Marisa McClellan, foodinjars.com
Cucumber and Red Onion Salad
1 English cucumber or 3 smaller Kirby cucumbers
½ cup seasoned rice wine vinegar
Wash and cut the cucumber into thin half moons. If you can't find English or Kirby cucumbers, conventional slicing cucumbers will also work. However, they'll need to be peeled and de-seeded.
Cut the red onion into thin slivers. (Scallions and spring onions can also be substituted.) Combine the cut cucumbers and onions in a medium serving bowl.
Whisk together the dressing ingredients. Taste and adjust the seasonings.
Pour the dressing over the vegetables and stir to combine. Allow the salad to sit for at least 10 minutes prior to serving so the flavors have a chance to marry.
Whole Grain Strawberry Shortcake
Makes six shortcakes
Biscuits
1 cup whole wheat pastry flour
1 ½ tsp. double acting baking powder
Strawberries
1 quart strawberries, washed and sliced
Whipped Cream
½ pint of heavy whipping cream
Preheat your oven to 425 degrees.
Sift the dry ingredients together. Using a pastry blender, cut the butter into the flour mixture until it is in small bits. Add the milk, stir together with a wooden spoon until just combined.
Turn out onto a clean board or countertop. Knead for 30 seconds and then pat the dough out so it's approximately half an inch thick. Using a clean glass or biscuit cutter, cut the dough into rounds.
Lay out on an ungreased cookie sheet and bake for 10 to 12 minutes, until the tops are brown and the biscuits have puffed up tall.
While the biscuits cook, toss the chopped strawberries together with the sugar. Set aside for a few minutes, so the strawberries get nice and juicy.
Using a hand mixer, whip the cold cream into soft peaks, adding the sugar at the very end.
To assemble, cut the cooled biscuits in half. Place the bottom biscuit on a plate and heap on a layer of strawberries. Top with a spoonful of whipped cream. Balance the top half of the biscuit on the cream. Repeat with layers of strawberries and cream. Serve immediately.