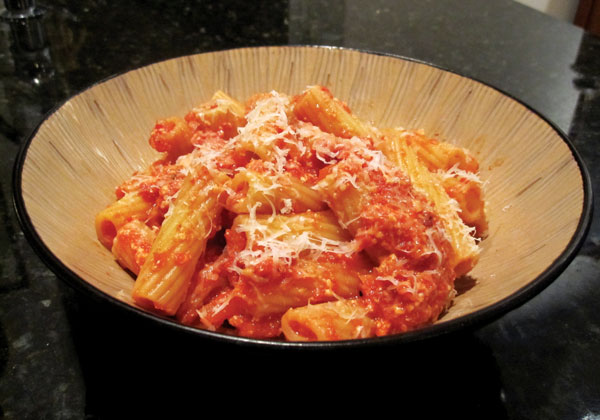 Liberating yourself from processed and prepackaged food often starts with the small stuff. For me, salad dressing was a game changer. Once I realized how simple it was to make, and started reading the labels on commercial brands (Canola oil as the number one ingredient? Water as number two?!), I could never go back. A simple process to master, vinaigrettes can be tweaked and custom tailored with delicious results.
A similar epiphany happened with tomato sauce. It's so easy to make, yet the grocery store is packed with row upon row of pre-made sauces. When you do it yourself, you can use much higher quality ingredients and still save money.Most basic tomato sauces contain some or all of the following: tomatoes, onions, garlic, herbs and spices. Meat and other veggies are also options. As with vinaigrettes, it's really about learning the process; from there, the variations are endless.The first component is obviously the most important. Canned tomatoes can vary widely in quality. If the tomatoes are lackluster and bland, your sauce will be, too. In the past, I found San Marzano tomatoes to be the most reliable. But, as my locavorism has dovetailed with my avoidance of prepared foods, the long distance from Italy to my plate has become hard to justify. Then I learned about something awesome: canned "Jersey Fresh" tomatoes. Available at the Fair Food Farmstand and through Harvest Local Foods (harvestlocalfoods.com), these cans of crushed, locally-cultivated tomatoes are spectacular. The second you peel back the lid, it's clear you've encountered something special—the pulp is thick and vibrant red. It's like opening a can of summer, making them the perfect base for a cold-weather meal.What follows is a flexible set of guidelines. It's really not a recipe, since it can be thrown together with whatever you happen to have on hand. Once you start making your own sauce, you'll never go back.
1 – AromaticsDice half a small or medium onion (shallots also work) and toss it in a deep skillet or sauce pan (I use a small enamel-coated dutch oven) with a tablespoon of olive oil. Cook until the onions are translucent. Toss in finely chopped garlic. I love garlic, so for one 28-ounce can, I usually use about three large cloves, but this is very flexible. Cook for 2-to-3 minutes.If you want to add meat to your sauce, this is the time. Ground pork, beef or sausage (out of the casing) all work well. I find that turkey is a bit too lean to hold up to such a long cooking process and can end up slightly tough. Sauté the meat with the onions and garlic until it is fully cooked, and just starting to brown. This might take a few minutes, as the liquid from the meat needs to cook off.
2 – WineI think white wine is the secret to a tangy, satisfying sauce. It adds that spark of acidity and perfectly complements the tomatoes. That said, if you don't have any, you can skip this step. Pour in half a cup of wine (or one long glug) and give the alcohol a few minutes to burn off. You'll know when the mixture no longer smells boozy. If you're using meat, make sure to scrape up all the brown bits from the bottom of the pan.
3 – TomatoesAdd one 28-ounce can of crushed tomatoes; season with salt and pepper. Go easy on the salt—the sauce will reduce and intensify. You'll want to adjust the seasoning right before serving.This is also the time for red pepper flakes (anywhere from a pinch to a teaspoon) and herbs. In the summer, a handful of fresh, coarsely chopped basil is a must, but the dried version is basically worthless. Instead, try a quarter tablespoon of good, dried oregano.
4 – CookSimmer on low heat, stirring occasionally. If you're in a rush, 20 minutes will produce something tasty. I like to let things linger for an hour or more. If you're using meat, the longer the better—this will make the meat practically melt into the sauce.
5 – SeasonRight before serving, taste and season with salt and pepper to get that ideal zing.