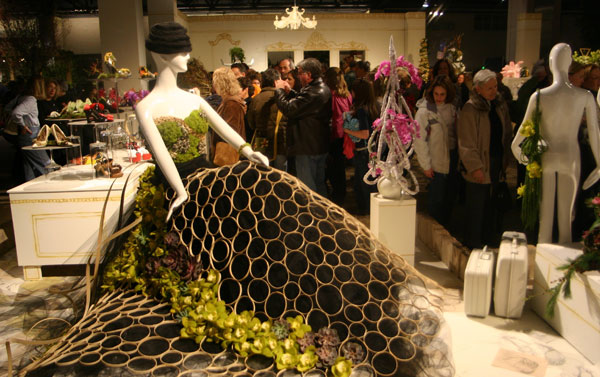 This year's Philadelphia International Flower Show features several green exhibitions.
The 2010 Philadelphia International Flower Show will showcase not only beautiful flowers and horticultural achievements, but also innovative green projects. It's fitting, since the Pennsylvania Horticultural Society (PHS) funnels $1 million in Flower Show revenue into their Philadelphia Green urban revitalization program. Philadelphia Green works to improve vacant land, restore parks, plant trees, manage stormwater runoff and create community gardens. PHS also runs City Harvest, a program that brings fresh produce to underserved communities by investing in urban agriculture.
Local landscape designer Michael Petrie of Handmade Gardens (handmadegardens.net) will be exhibiting a 16×20 foot green wall made of plants and recycled materials, including metal road signs, galvanized roofing, reclaimed wood, doors and windows. And Petrie won't have the Flower Show's only living wall—Glen Mills' Outerspaces Inc. (outerspacesinc.com) will showcase green landscape design, including living walls, solar shade structures and low-volume water features.
Other green exhibits will examine food sustainability through edible gardening (the Camden City Garden Club), and stormwater issues and streambed restoration (the Philadelphia Water Department). Temple University will focus on the confluence of urban spaces and plant life, including the greening of vacant lots and the use of vertical, edible gardens.
Feb. 28-March 7, Pennsylvania Convention Center, 12th & Arch Sts., Philadelphia, PA