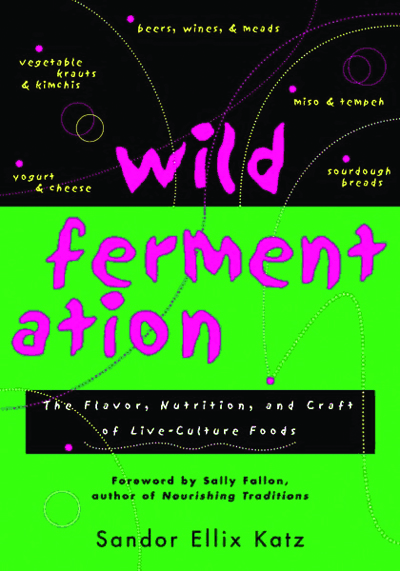 Wild Fermentation
by Sandor Elix Katz
Chelsea Green, 2003; $25
I've lost count of the number of times this book has been recommended or mentioned to me, and it deserves every one. Katz explores the world of fermentable foods, which includes some of the earliest prepared foods humans ate, not only to give you something great to eat, but also to remind us how exciting and unusual the world of edibles can be.
Wild Fermentation isn't just a cookbook; it's also a history lesson on how foods like sourdough bread and kombucha were developed along with human civilization. Katz—who goes by Sanderkraut on his website, in a reference to the fermented favorite sauerkraut—weaves stories about how fermented foods were as important to human growth as the tiny bacteria that live in all of our intestines are to our digestion. He also rails against the homogenization of processed—i.e. not-living—foods that are bland, interchangeable and not very nutritious.

Fermentation is the process where microorganisms, like yeast, go to work on a food product, eating parts of it to produce different tastes, textures and often healthy benefits.
Fermented foods tend to have tastes that are stronger, or stranger, than the kind of processed sweetness we've seen in the past half-century. Part of the book is about rediscovering those tastes, like the tartness of sauerkraut and pickles, and the complex flavors of cheeses. Another part is about teaching people to make the foods themselves and reaping the health benefits (many fermented foods contain extra vitamins, particularly B and C).
There are plenty of great recipes for beer, bread, kimchi, cheese and anything else that can be fermented. Even if you've been culturing cheese and brewing beer yourself for years, there's plenty of little hints and tips to try different things. (In an offhand comment, Katz mentions a friend makes kombucha—a tart, fermented tea drink—with Mountain Dew, which a friend of mine tried to surprisingly good effect.)
We love DIY stuff here at Grid and this book is bursting, like an over-fermented cask, with delicious, self-sufficient projects.