Debates roil South Philadelphia about the synthetic soccer fields proposed for historic FDR Park, at the end of the Broad Street subway line. In 2019, the Fairmount Park Conservancy and Philadelphia Parks & Recreation unveiled a master plan that calls for 12 synthetic multipurpose fields at FDR.
"The opinion you hear [about the fields] depends on who you ask," says Alvaro Drake-Cortés, 47, FDR's liaison to the Latinx community and program manager at The Welcoming Center, a local nonprofit that helps immigrant entrepreneurs. Drake-Cortés, a South Philly resident and U.S. Army veteran originally from Colombia, played soccer in college and later in the Palumbo League.
"The soccer players prefer grass fields," says Drake-Cortés. "All they want is an even grass surface. On the other hand, any soccer coach will tell you that one of the biggest challenges is finding a place to play. There aren't enough, except in the Northeast, which seems to have more green spaces. Low-maintenance synthetic turf fields could help solve the problem. This opportunity will be appreciated by many people."
Carlos, aka El Chupón ("The Pacifier"), 49, a soccer referee in La Liga Pattison for 14 years, confirmed the scarcity of playing fields. "There is a lack of them," he says. "Synthetic fields could help solve the problem, but they're hot [to play on]."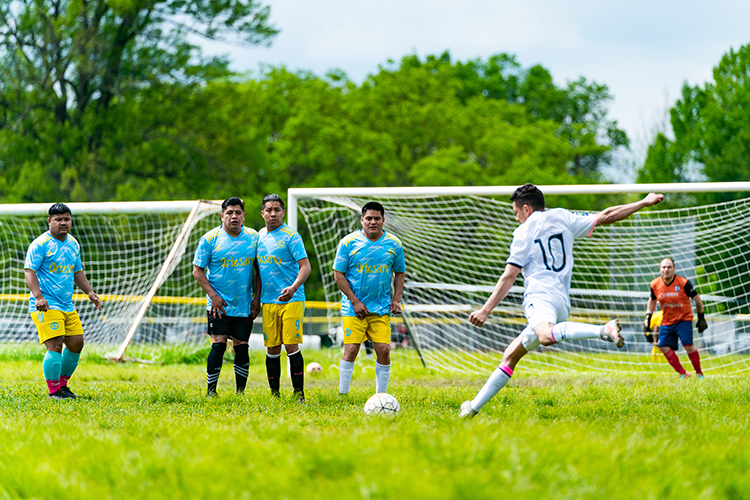 South Philadelphian Thoai Nguyen, 56, CEO of Southeast Asian Mutual Assistance Associations Coalition (SEAMAAC), which has advocated for refugees and immigrants since 1984, has played and coached soccer in South Philly, where he lives.
"Professional teams play on grass," he says. "It's easier on your legs, back, and ankles when you're running for 90 minutes because it has give, but maintaining those fields and keeping the grass at the right height and in good condition is expensive."
The soccer players prefer grass fields. All they want is an even grass surface."


— Alvaro Drake-Cortés,

program manager at The Welcoming Center and FDR Park's Latinx community liaison
Beneath the pros and cons of synthetic turf versus grass lie intangible issues: Would the proposed fields be available to communities that play at FDR now? If turf fields attract professional players, those from outside of Philadelphia, or both, how would their presence affect the social web that the grass fields have long nurtured? What would happen to the many vendors and their families who gain a financial foothold by selling food, clothes and toys?
Current conditions, for example, seem to strengthen families.
"La Liga Pattison is a family league," explains Eladio Soto, 35, originally from Mexico and owner of El Mezcal Cantina, a restaurant at 1260 Point Breeze Avenue. For 10 years, Soto has served as commissioner of La Liga Pattison, founded 22 years ago. The league has 40 teams with 30 people on each team. "People come to see their husbands, fathers and boyfriends play. It's a social time. Vendors come, people eat, children play," says Soto, a father of two.
"My son used to play regularly before the pandemic," says Nguyen, of his 10-year-old son. "His interest in the game has waned. Still, when he and I go out together, it's our preferred activity."
Children have a presence in other ways too.
Daniel Rauda, 10, has come to games with his mother, a food vendor, since he was four years old, he says. "I like to spend time playing here with my friends," Rauda says, pointing to Ronal Contreras, 9, standing beside his blue scooter, and to other boys kicking a soccer ball through the mud.
Families favor the grass surface, according to Drake-Cortés, who makes sure that things run smoothly at Sunday matches. "If you ask family members, they much prefer the grass," he says. "It feels better."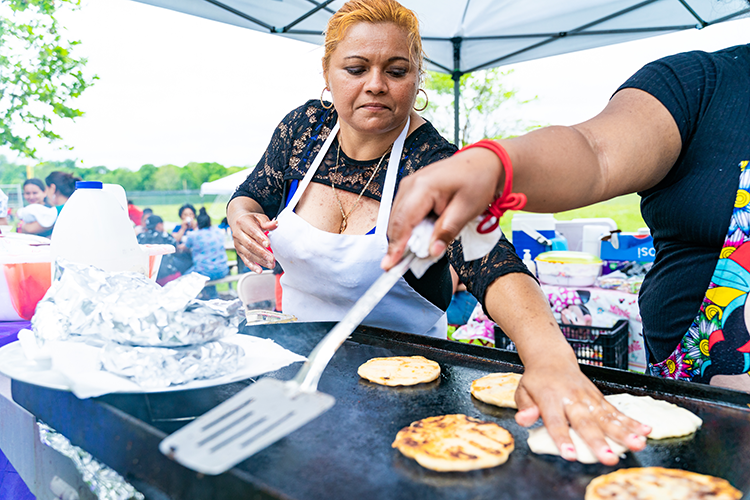 Some young people, like Hannah Sor, 19, cite other reasons for their preference. "I usually come as a visitor, but today I'm helping out [at this food stand]," she says. "I like contact with the public. As for grass or turf, there's no benefit to turf." Sor's studies at the Women in Natural Sciences (WINS) program at the Academy of Natural Sciences of Drexel University included such issues. "Real grass is better for the environment."
"I'm also in the environmental science high school," says Sor's friend Amaral
Lopez, 16. "Keep the green grass to help [prevent] climate change."
At present, selling food and handicrafts to soccer fans fosters solid relationships and financial health for some families. "Entire families come to work as a unit to contribute to their business, including parents and young and adolescent children, so you'll see 'all hands on deck' in the morning to set up equipment," says Drake-Cortés. "As a parent and former educator, I especially enjoy seeing our entrepreneurs' children being involved in the family business. They bring articles to customers. They help straighten out inventory. And when they feel like it, they also play in the midst of all that commercial activity."
First-year vendor Yesid Marcos Vargas, who sells arepas, has flourished. "Being part of the market has allowed us to find new business opportunities," he says.
As things stand, soccer is the world's most popular sport. According to the World Population Review, it has about 3.5 billion fans worldwide and 250 million players across 200 countries. And it helps knit together diverse immigrant community.
"There are families from El Salvador, Honduras, Colombia and Brazil," says Soto. "There are Africans and Asians, too."
Nguyen gained a wider community through soccer.
"I played on an international team until I had a bad ankle fracture in 2015," he says. "You have Colombians, Africans, Italians, Koreans and Brazilians playing in these leagues, becoming friends," says Nguyen, who came to Philadelphia from Vietnam with his family in 1975. "It creates this
amazing sense of community."
No matter one's native tongue, soccer on FDR's grass fields represent a lingua franca, a way to deepen one's connection to other immigrant groups and smooth the adjustment to the United States. "Soccer provides a gateway to help immigrants enter this American life," says Drake-Cortés.
The grass fields maintain our values. You play, you shout, you get dirty. That's natural. That's as it should be."


— Eladio Soto,

commissioner of La Liga Pattison
For Nguyen, the game promotes acquaintance and equity on another level as well. "I've played on teams committed to the inclusion of women players," he says, noting that the teams sometimes used fields at the University of Pennsylvania. "I've also co-coached all-female teams. They play hard."
The question of tradition, and, perhaps, bonds with a distant homeland, come into play. "The grass fields maintain our values," Soto says. "You play, you shout, you get dirty. That's natural. That's as it should be. Otherwise, we are losing our values."
Beyond a supportive environment, the question of access to the proposed turf fields, especially for people of color, looms large for Nguyen. "In my experience, well-maintained playing fields, be they for baseball, soccer or other sports, are under lock and key," he says. "The general public can't use them. Under those circumstances, Black, Brown and Asian players are often shut out."
The City needs money to pay for the fields and later, to maintain them, Nguyen adds.
"There are different grades of synthetic fields," he says. "If you use top-of-the-line technology, it's going to cost you money. It makes sense to charge a nominal fee to help pay for them, but the rental or maintenance fee shouldn't shut people out. If the City controls the fields, there's a better chance of democratic access. With City control, there's a better chance that people like me can participate, a better chance to rectify inequities."
Should the City decide to give control of the proposed fields to other organizations, it must be able to require use by different groups, Nguyen stresses. "If civic groups and private entities control a field, they should have to follow certain criteria. You cannot discriminate against people because you don't like them. Contracts with the City must have a proviso to ensure accessibility, equity and democratic use of the fields. How the City decides to move forward will determine who has access to the fields. Politics and race always play a big part in sports."
It troubles Nguyen that plans for synthetic soccer fields at FDR often overshadow more pressing concerns. "There is so much need for community-accessible urban agriculture and community-shared spaces, such as permaculture gardens, community kitchens, greenhouses, orchards, and vending and market spaces for the most ethnically diverse neighborhood in the city," he says. "It's an absolute disservice to this community if you are ignoring people's need for open public green space, food security and food sovereignty."
Meanwhile, Soto worries that synthetic turf will result in La Liga Pattison being squeezed out. "We're a growing league," he says. "We want to start a team for children. We want the city to let us stay there, not take us out of there. That's my main worry."