Just off South Street, pink neon lights up the new sign outside Worm's Emporium, a boutique-style vendor art mall. Inside the light, airy space, handcrafted fine art and craft pieces delicately line shelves constructed by cofounder Sabrena Wishart. Vendor stalls showcase a variety of mediums including ceramics, drawing, upcycled clothing, stickers and much more. Each vendor has been selected by Wishart and cofounder Rose Ghostly, life and business partners who came up with an idea for a vendor mall in 2021.
The pair met on the dating app Tinder three years ago, and they began selling their art at markets and antique malls, often traveling great distances for a day's worth of sales. Ghostly started selling her art in high school, but after the pandemic, she found herself focusing solely on it. After setting up and breaking down at so many art markets, Wishart and Ghostly began to dream about a stable place to sell their art in Philadelphia.
Wishart, originally from Long Island, grew up near one of the biggest malls in the country. "Malls are a big part of my history and [Ghostly] and I are big fans of antique malls, so all those things came together to form Worm's Emporium."
Ghostly, born in Canada, has found a sense of home in Philadelphia.
"I've hopped around a lot in the quest for home," Ghostly says. "Philly is definitely the place where I am like, 'This is going to be the rest of my life now.' The art scene here is so great. There's so many creative people and a great queer scene."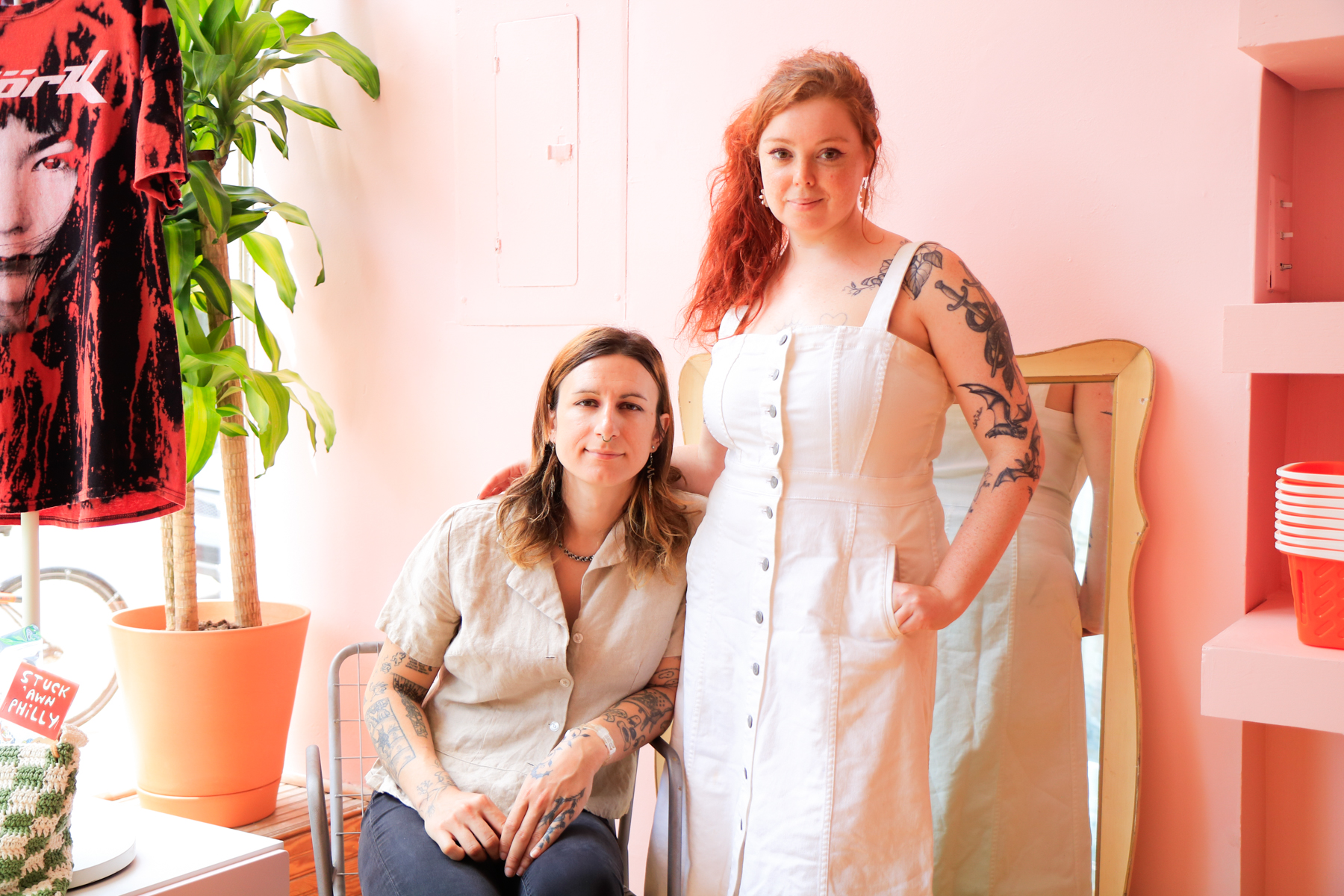 The stability of Worm's Emporium is what they hope to share with other artists in the community.
"I feel like financial and business literacy is not super common in the arts scene we are a part of or the queer scene or the punk scene," Ghostly says. Part of their business model is to share business knowledge and provide a brick-and-mortar for local artists to sell their products without the full responsibility of their own space.
"Part of the space is just trying to demystify this stuff," Wishart says. "It's LLC punk."
Both Wishart and Ghostly have their own stalls in the space. Wishart's stall displays drawings and pillows, while Ghostly's stall houses rugs, ceramics, upcycled clutch purses with hand drawings. Ghostly centers her art not around a medium but rather an aesthetic of "tough femme cutesy goth" that allows her to experiment with different materials.
Wishart enjoys creating with materials that are not typically used in art, such as concrete and plastic.
"I like making things that are typically cheap and overlooked and elevating them," Wishart says. "I think that is what we are also trying to do with the store — like marginalized art craft, there is not inherent inferiority of these things but they have been perceived this way or have not been considered."
Wishart and Ghostly have observed a marginalization of crafts in the art world. Mediums like tie-dye and knitting are often considered less worthwhile than the fine arts, Ghostly explains. The space aims to acknowledge these forms and curate them as an art gallery would.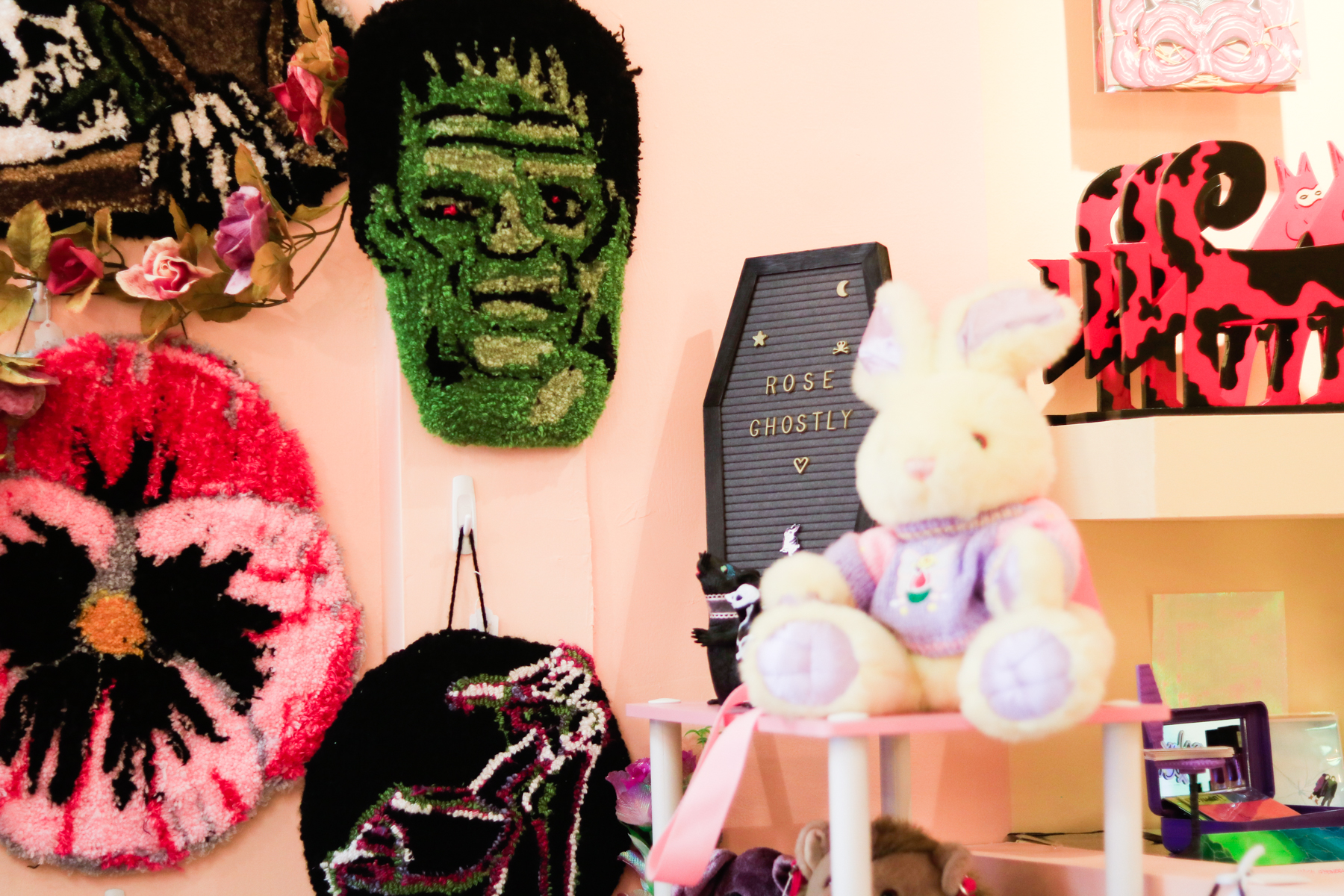 The space was designed and built by Wishart and Ghostly. Wishart built the shelves, walls, and banister and tiled the entire mall. "I am really into designing space, especially commercial space because it is for everyone." Wishart explains that people with marginalized identities are not always treated well in the boutique scene. "I wanted to create a space that is luxurious for people that don't get that experience a lot of the time."
They received an influx of applications with space capacity capped at 53 vendors. "We choose artists we deeply believe in and want to represent," Ghostly says. With the stability of the space, artists do not have to worry about constantly moving around to markets or pop-ups. Instead, they can focus their attention on artmaking and experimenting with new forms.
Wishart says, "It's been kind of a delicate dance of trying to figure out what goes together and what pieces will mesh."
In the back part of the mall sits a room set up for future artmaking workshops and artist talks. Although vendor capacity has a limit, Wishart and Ghostly want the space to welcome the entire community.
"We don't just want to be a retail shop. We also want to be an arts center where people can share their crafts and learn from each other," Ghostly says. Workshops will be beginner-friendly and offer a variety of art forms to learn.
The community focus goes beyond just art. Wishart wanted to create a space where marginalized individuals could feel safe, seen and supported.
"As queer people we haven't necessarily fit into typical work culture or even general mainstream culture," Wishart says. "It's important to have people make you feel like you can foster parts of yourself that have been pushed aside and smothered. We know how important it is to have not only people but spaces that make you feel like you're okay."
A tie-dye macramé wall-hanging workshop will take place on August 18th with @knotinmyplants. More workshop information on Instagram @wormsemporium. For artist applications and workshop hosting, see https://www.wormsemporium.com/