Spring Garden Street, which runs from river to river, is currently a fast but miserable route for a cyclist to cut across Center City. Much of it is unshaded and exposed to the sun, and the bike lane isn't protected by anything but a white stripe on the asphalt. At the eastern end, cyclists who want to connect to the Delaware River multi-use trail have to cross Columbus Boulevard, which is practically a highway. The west end at the Schuylkill River Trail is even worse, with cars on Kelly Drive driving around Eakins Oval and dumping into the four, divided lanes of the Benjamin Franklin Parkway. That said, perhaps some veteran Philly cyclists might grow philosophical as they round Eakins Oval; surviving a brush with traffic death keeps one focused on what is truly important in life.
For everyone else, $31 million in state, federal, and private funding for the final design of the Spring Garden Street Connector promises to make Spring Garden a better place to ride. The funding, announced at a press conference on August 4, 2022, will fund a final design phase of the project. Preliminary designs include an avenue that serves pedestrians as well as cyclists with more trees to provide relief from the heat as well as safer crosswalks.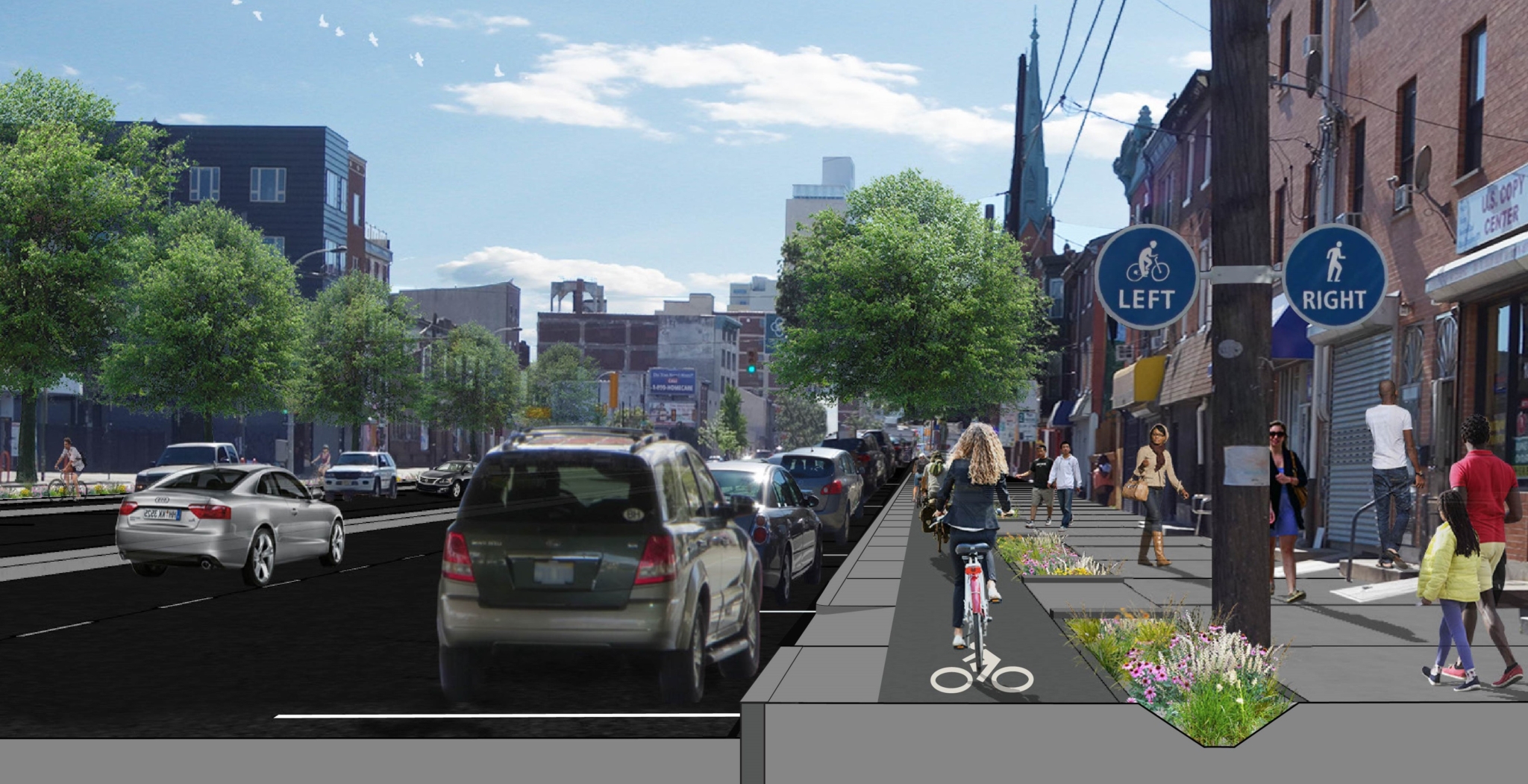 Mike Carroll, deputy managing director for Philadelphia's Office of Transportation and Infrastructure Systems (OTIS), said the design incorporates improved stormwater management features. "It's going to improve safety, going to improve connectivity, and it's going to create a sustainable roadway in all aspects."
West Poplar Neighborhood Association President Rachel Collins Clarke spoke at the August 4 press conference announcing the funding, saying she has a three-year-old just learning to ride a bike. "The thought of her riding down today's Spring Garden Street is horrifying," she said. "We can't wait for this to be a safe place to use."
The newly designed Spring Garden promises to connect neighborhoods that the roadway currently separates. "There are six neighborhoods along this corridor. Spring Garden has been a chasm and now it can be a connector," said Patrick Starr, executive vice president of the Pennsylvania Environmental Council.
John Chin, executive director of the Philadelphia Chinatown Development Corporation, emphasized the thorough community planning process, initiated more than 10 years ago, and is encouraged by a continued focus on what the communities around Spring Garden want and need. "I'm really happy to know that equity planning is part of this next phase."