On Saturdays the 12-by-20-foot shed on Old York Road in Elkins Park, known as "The Sugar Shack," buzzes with activity.
The evaporator is fired up and gallons upon gallons of tree sap are boiling. Much like a cider press model, community members bring their own sap to the shack to have it turned into syrup, some of which they'll get back as a shareholder, and some of which will go toward program funding.
"That decentralized community model will grow over time," says Jethro Heiko, a longtime community developer who started Oak Lane Maple as a pandemic project.
People think of [maple syrup] as a luxury item," he says. "But it's not. It's a sweetener. And it's a sustainable food source that renews once a year."
When Heiko discovered that he could tap his own backyard sugar maple in East Oak Lane in North Philadelphia in early 2020, he couldn't keep his exciting discovery to himself.
"We have this wonderful resource," he says, referring to how the Oak Lane neighborhood is rife with sugar maples, "and my work has always been about connecting people to resources."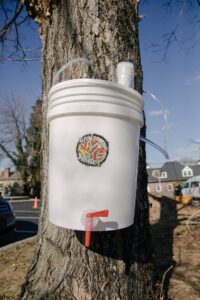 Now, with 11 community hubs, sharing sap has been one of the ways he's bringing the people together and connecting them to their environment through a single resource, he says. He is working to develop maple syrup for the region as a commodity.
"People think of [maple syrup] as a luxury item," he says. "But it's not. It's a sweetener. And it's a sustainable food source that renews once a year."
The thing about tapping, he says, especially in an urban sugarbush, is that it requires community members—not only to give permission to tap their backyard and sidewalk trees, but also to do the legwork of collecting sap buckets and hauling them to the boiler.
"You learn very quickly, if you want to turn sap into syrup, that it takes a lot of work," he says.
Heiko's first DIY experience was "disastrous," he says, as he didn't realize exactly how much energy it takes to evaporate the water. Sap is mostly water—only 2% sugar—and it takes 40 gallons of sap to make one gallon of syrup, he says.
That's why, to make any substantial amount of maple syrup, Heiko knew he'd need to turn to his neighbors, which is what he does best.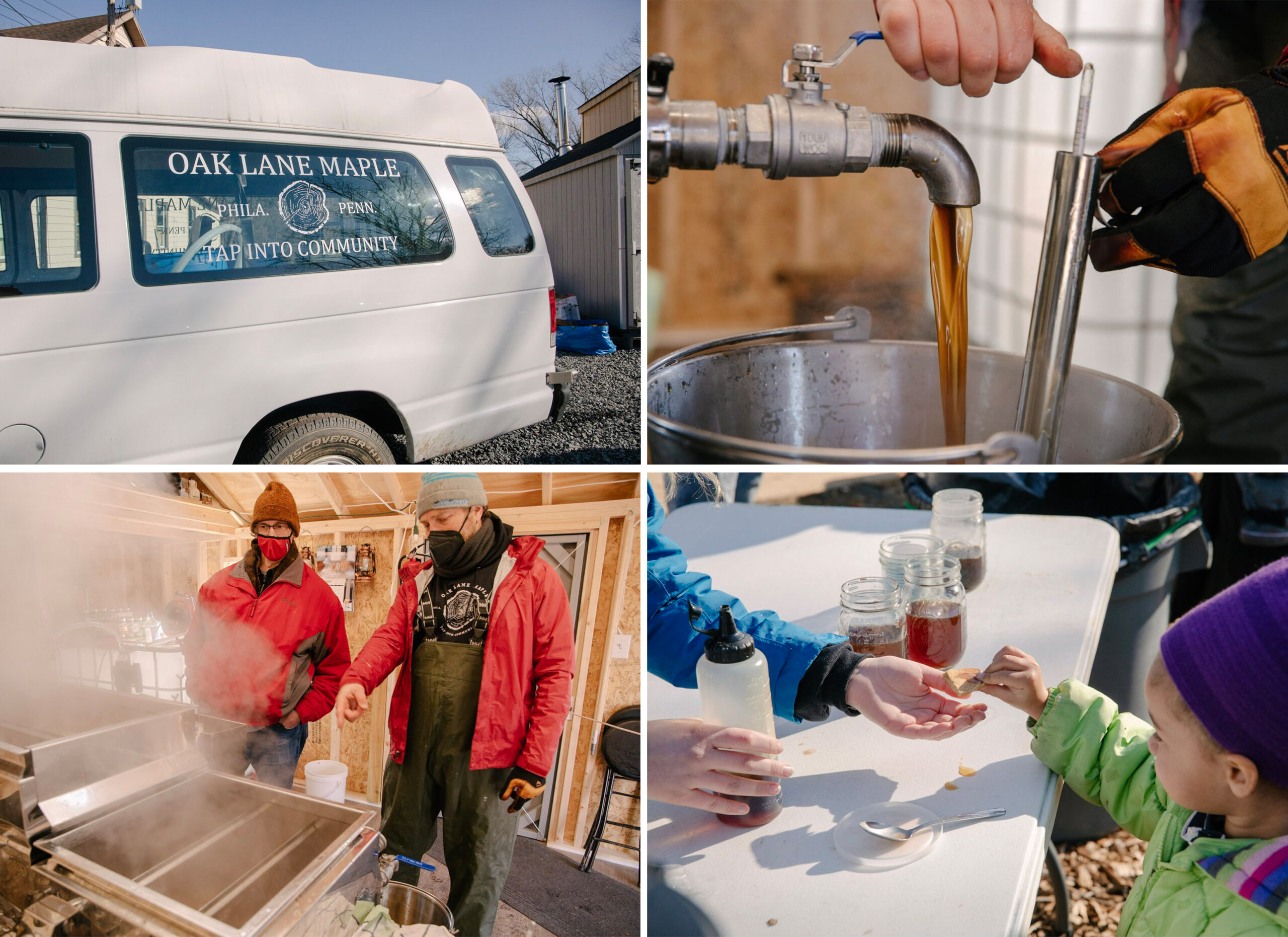 "It's my background," he says. "It's not useful unless you're doing it as a community."
To meet tapping criteria the tree has to be at least 30 years old, with a diameter of about 10 to 12 inches. There were more than 100 viable trees in his neighborhood, each able to be tapped once or twice a season.
Kirsten Mertus was one of the first neighbors to respond to his nextdoor.com request for sap harvesters.
"During the pandemic, my kids had nothing to do. We have an enormous maple tree in our yard," so, she thought, "Why not?"
Mertus, one of 40 maple tree owners in the community, is in her second year of harvesting sap, and has her own route through the neighborhood where she empties sap-filled buckets into sterilized buckets in her van.
The idea for the Sugar Shack emerged when Mark Linkins, head of Wyncote Academy, an alternative school for students with diverse learning differences, needed "a maple guy" to assess two sugar maples on a school property, he says.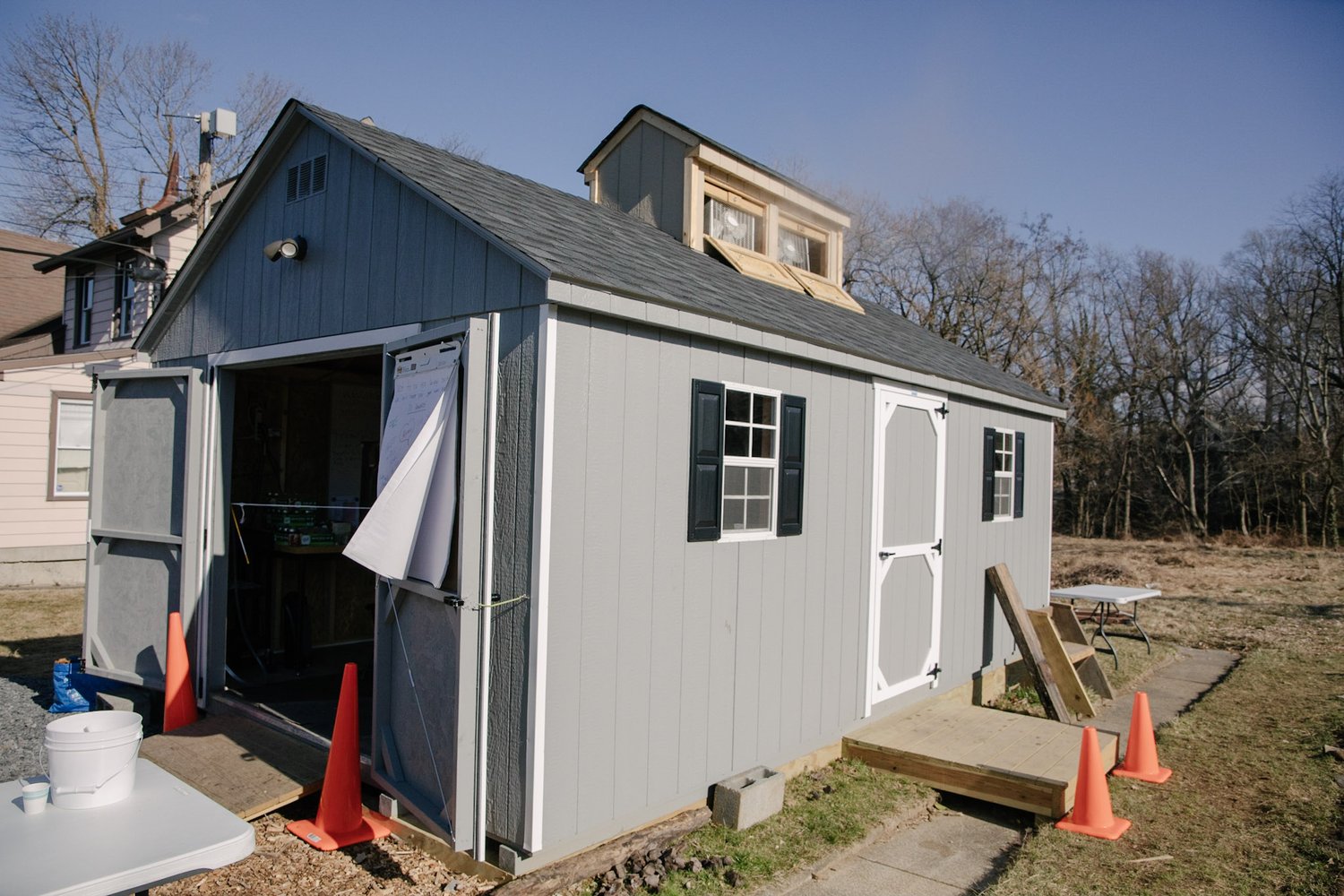 He was in the midst of developing a program to provide more experiential opportunities for the students, and the school had access to a plot of land, allowing them to endeavor a "Plants to Products" program, where students are able to cultivate and harvest edible and non-edible plants for products such as basket weaving and bright pink pokeberry ink.
Heiko's vision for a community-based tapping initiative fit perfectly in line with the school's pilot program. So the academy decided to fund the shack and develop a maple apprenticeship.
Now Wyncote Academy students are involved in all aspects of tapping, harvesting and processing sap.
Around the same time, Heiko was selected for a U.S. Department of Agriculture grant through Stockton University in Galloway, NJ, where he works part-time as a community engagement coordinator, allowing him to spread hubs to South Jersey and the Philadelphia region, and also purchase an industrial-scale evaporator for the shack.
While Oak Lane Maple's first year was neighbor-based, the project is now more partnership-based, says Heiko. Still, it is very local and very small. Oak Lane Maple will always be a "big backyard operation," he says.
Its smallness has allowed Heiko to connect with the community and learn more about the history of food and syrup in the area.
This year he learned about Philadelphia's Free Produce Society, part of the 19th century Quaker-led movement to boycott products made by the labor of enslaved people, led by local abolitionists including Lucretia Mott.
During that time maple syrup was processed into sugar as a substitute for Caribbean-grown, slave labor cane.
"This season is much more tied into this interesting, local and national significance," he says.
For Mertus, the meaning is just as much in the memories she's making with her family.
They just got their first mason jar-full of syrup. It tastes different than store-bought maple syrup, which often has some bitterness due to preservatives, she says. It's so fresh and just very sweet.
"I'm doing it because I have kids," she says, "We're living in the city, but still the earth can provide. The tree in my yard can provide for me."