In 2018 the Triangle Roasters workshop was minimally furnished. It had a sleek black coffee roaster, two cacao grinders, a couple of tables and a handful of green stools ready to be pulled up for an impromptu coffee cupping.
Fast forward to 2021, and the space is almost unrecognizable.
On a warm spring day the stools are hiding amidst cartons of brightly colored bags of coffee beans; one table is filled with freshly wrapped chocolate bars and another covered with bagged samples of cacao (aka cocoa) beans. Over in a corner, a cooling tower rack is standing tall.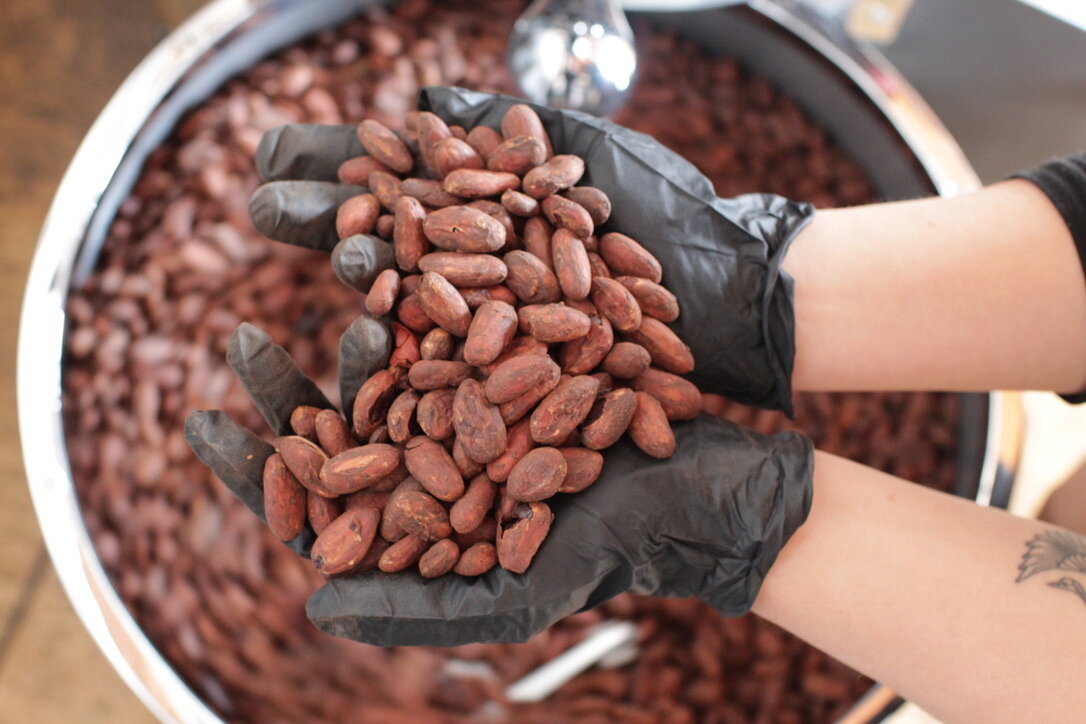 "We're bursting at the seams," cofounder Joy Zernhelt comments. She's finished roasting a fresh batch of coffee beans and is heading out to deliver products to retailers such as Di Bruno Brothers, Vault + Vine, Franny Lou's Porch and Riverwards Produce Market.
The brainchild of two couples with backgrounds in coffee and nonprofits, Triangle Roasters is a small-batch coffee roaster and chocolate maker operating out of Globe Dye Works in Frankford.
Cofounders Michael and Jeana Master have a lot of shared experience. After Michael's three-year stint at Philabundance, they pursued graduate work in international development together, while working at coffee shops. They also spent two years working for an NGO in Indonesia, where they saw the limits of the NGO funding model.
"You have a set amount of money for a set amount of time and then it's over," explains Michael. "We were inspired to see business as a force for social good." In 2013 the couple returned to Philadelphia with the goal of starting a business.
That year, Joy and her husband, Joseph, were roasting coffee as hobbyists in their home. Joe had worked two years as a store manager at a now-closed location of Burlap and Bean Coffee in Media.
"We had considered opening a coffee shop in Philadelphia with socially conscious hiring practices," says Joy, "and he wanted to get some experience … to see if this was a good fit for us."
The Zernhelts and Masters ultimately joined forces to launch Triangle Roasters in 2016.
The company's name is an homage to "the relationship between grower, roaster and consumer … where all three pathways are transparent and healthy." The shape informs and inspires their sourcing decision, prompting them to source coffee beans from women-run co-ops.
Jeana, Triangle's graphic designer, green coffee buyer and head roaster, is passionate about the topic.
"When you invest in women," she explains, referencing Melinda Gates' work, "the money is invested back into communities."
She works with Café Femenino, a gender-focused program supporting social justice and empowerment for women coffee producers worldwide, and offers four coffees grown by women.
"We want[ed] to do it right from the beginning," adds Joy. "Every single decision has to be thoughtful."
In addition to conscious sourcing, this means using earth-conscious packaging for their coffee and compostable wrappers for their chocolate.
They are also part of the growing bean-to-bar, or craft, chocolate movement.
"The bean-to-bar movement refers to the process of making chocolate from cacao beans with a focus on quality, flavor and ethics," explains Megan Giller, author of "Bean-to-Bar Chocolate, America's Craft Chocolate Revolution." "Industrial chocolate is interested in consistency and craft chocolate in quality, and quality means focusing on the best ingredients [makers] can find, namely cacao fermented and dried with care, as well as cane sugar."
At Triangle, quality starts with specialty cacao beans from several countries, including Nicaragua, Uganda and Haiti, and sourced transparently by reputable brokers like Uncommon Cacao and Enliven Cacao.
In the Philadelphia workshop, Jeana starts the chocolate-making process by roasting beans to coax their flavor. Over the next few days, the beans will be winnowed and ground with cane sugar before being transformed into shiny chocolate bars.
Triangle has gained a few fans of their chocolate since opening. Melissa Crandley, co-owner of MECHA Chocolate, a shop in Haddonfield, NJ, is among them. She raves about the company's dark chocolate bars.
"We love the interesting and nuanced flavors they have," she says, "and the mouthfeel is very smooth and not gritty. We've tried other vegan bars and the [texture] is often chalky."
Triangle makes more playful bars, such as Nib & Salt and Whiskey, as well as slightly sweeter ones. Described as "divine" by chocolate sommelier Sophia Contreras Rea of Nashville, the Latte bar is a not-too-sweet white chocolate with house-roasted Ethiopian coffee. As for the Pretzel bar, it combines a creamy, 58% dark milk chocolate with crunchy pretzel pieces that happen to be gluten-free.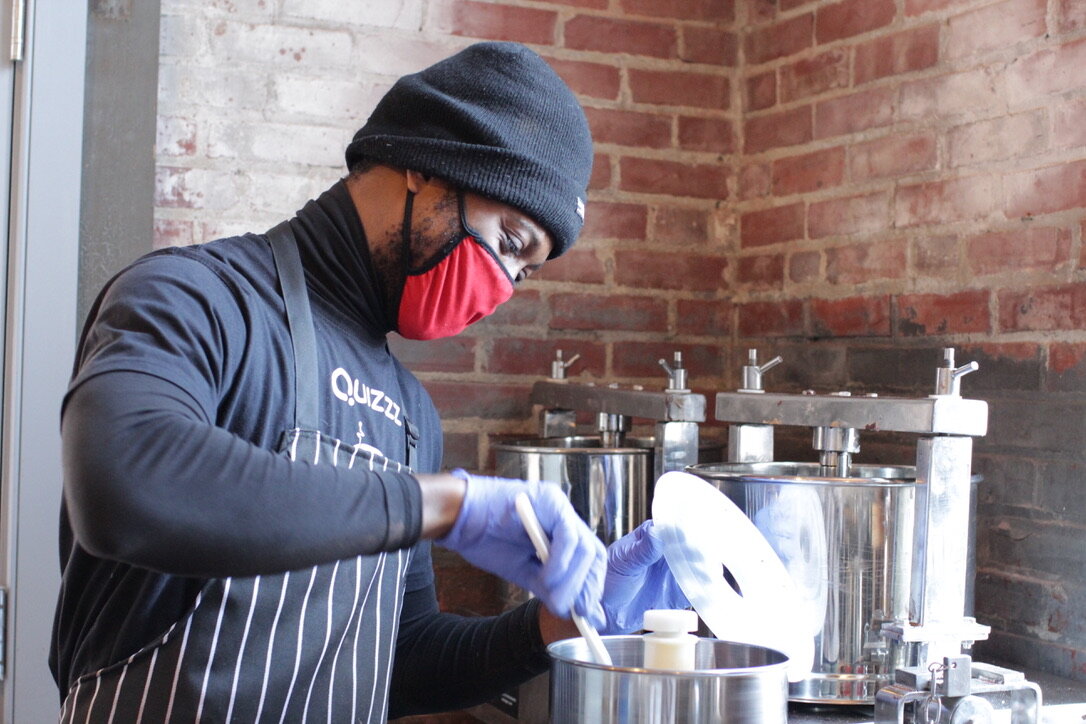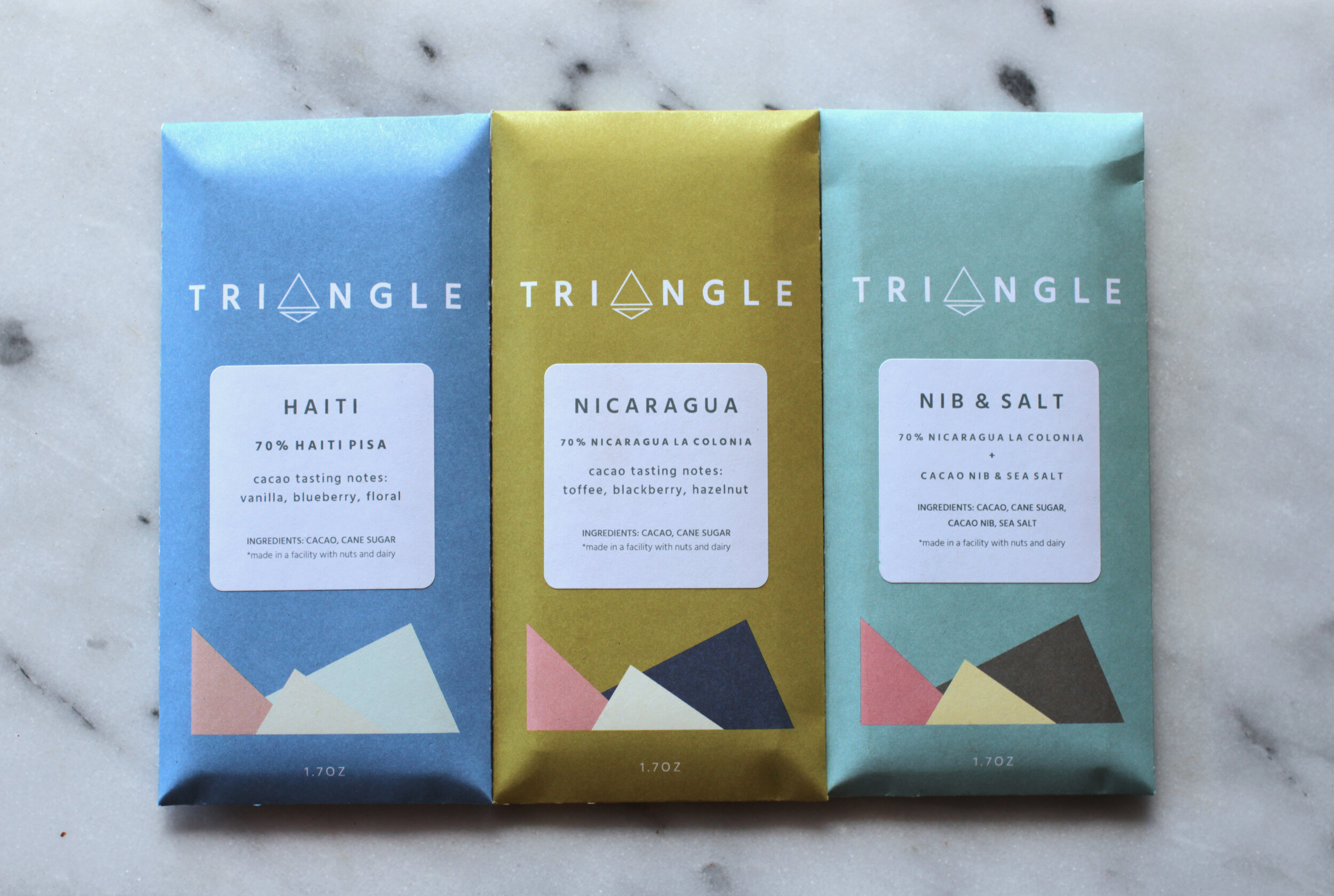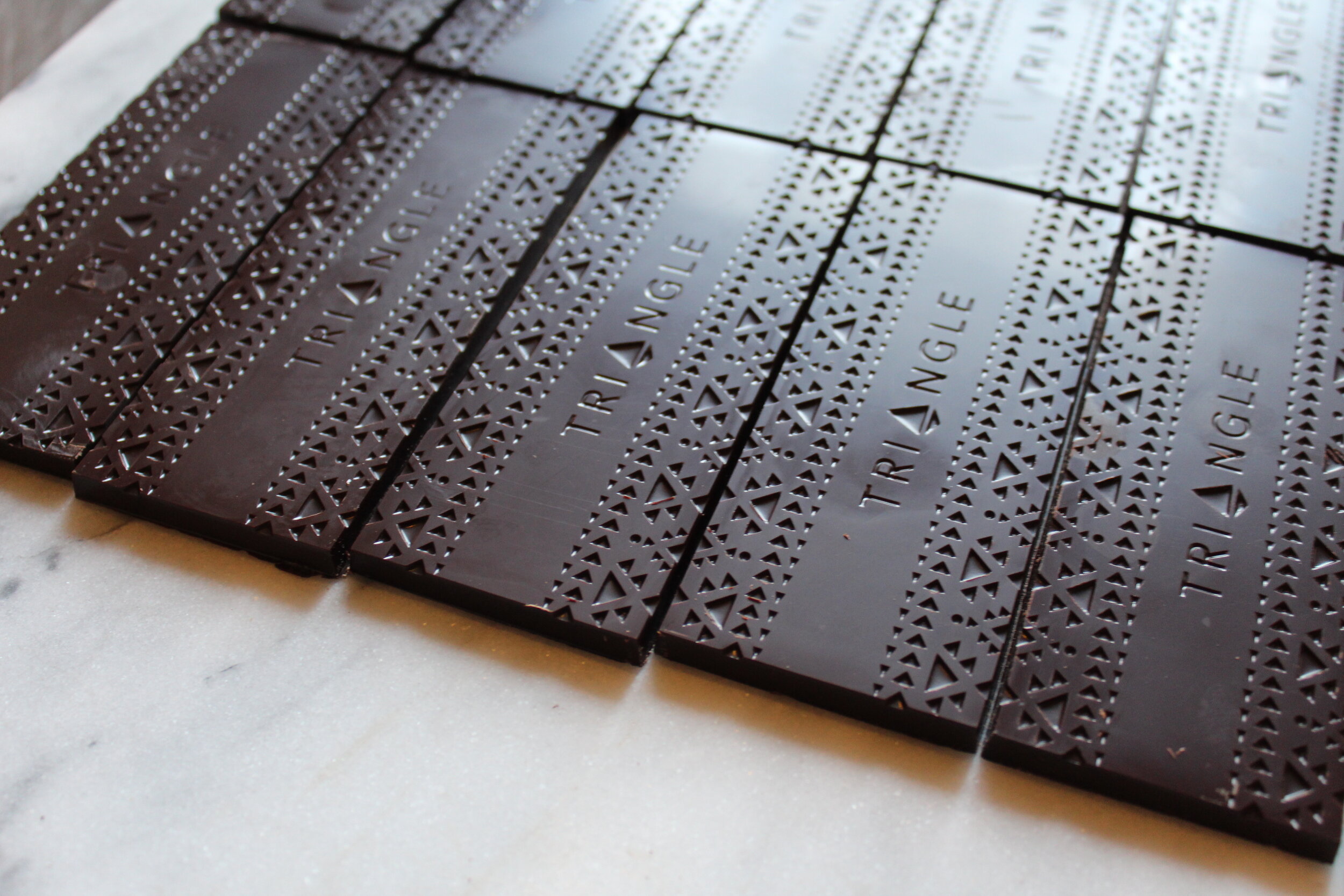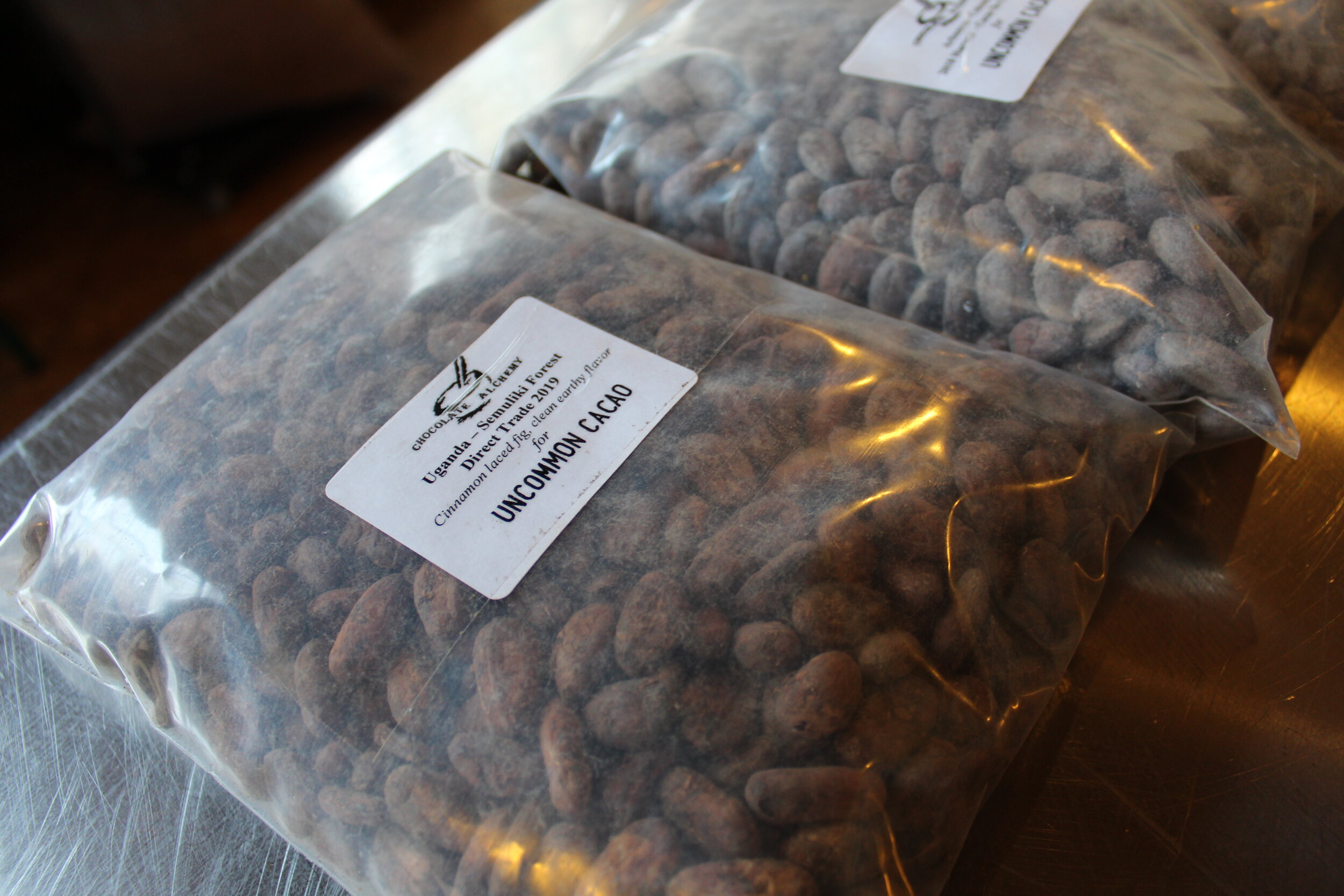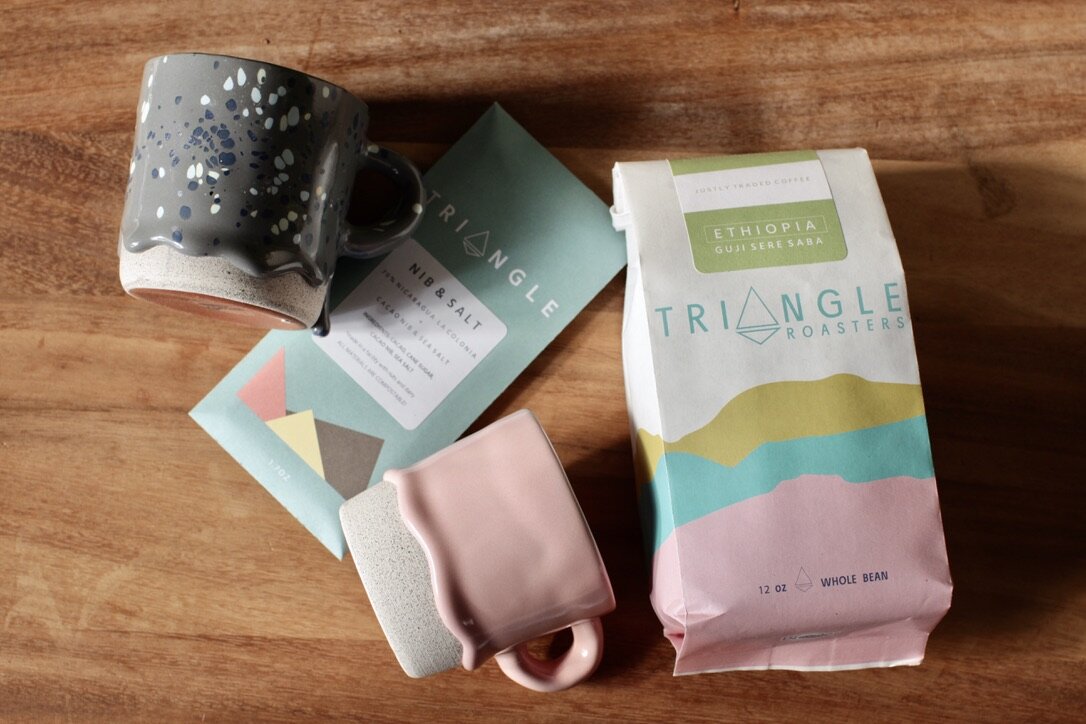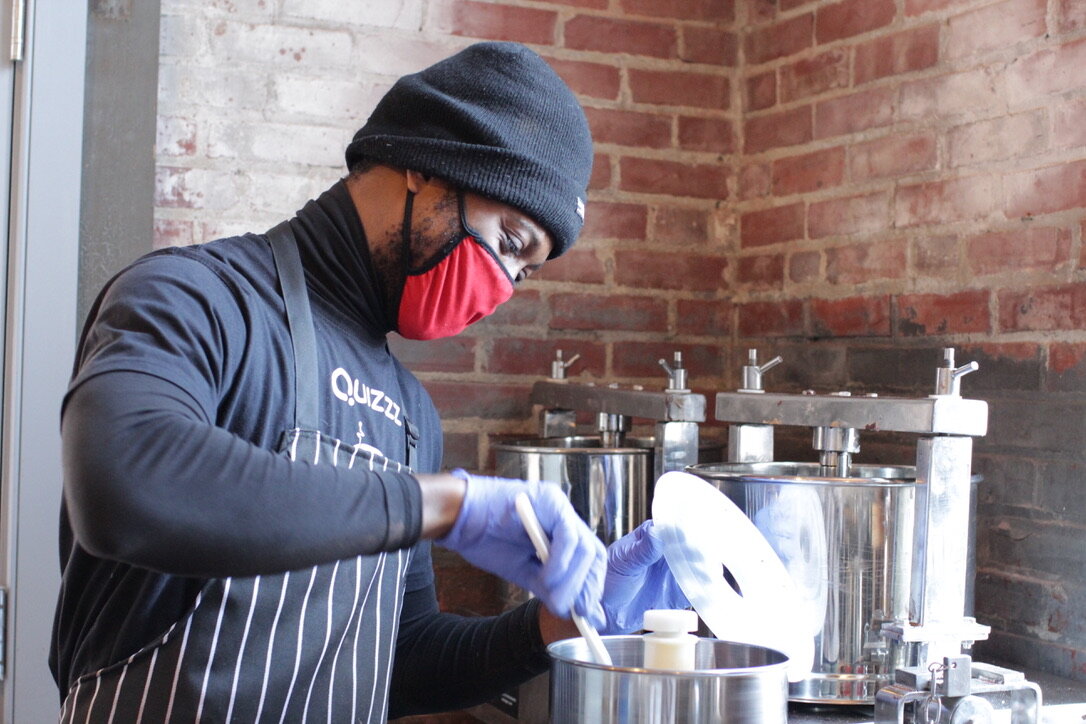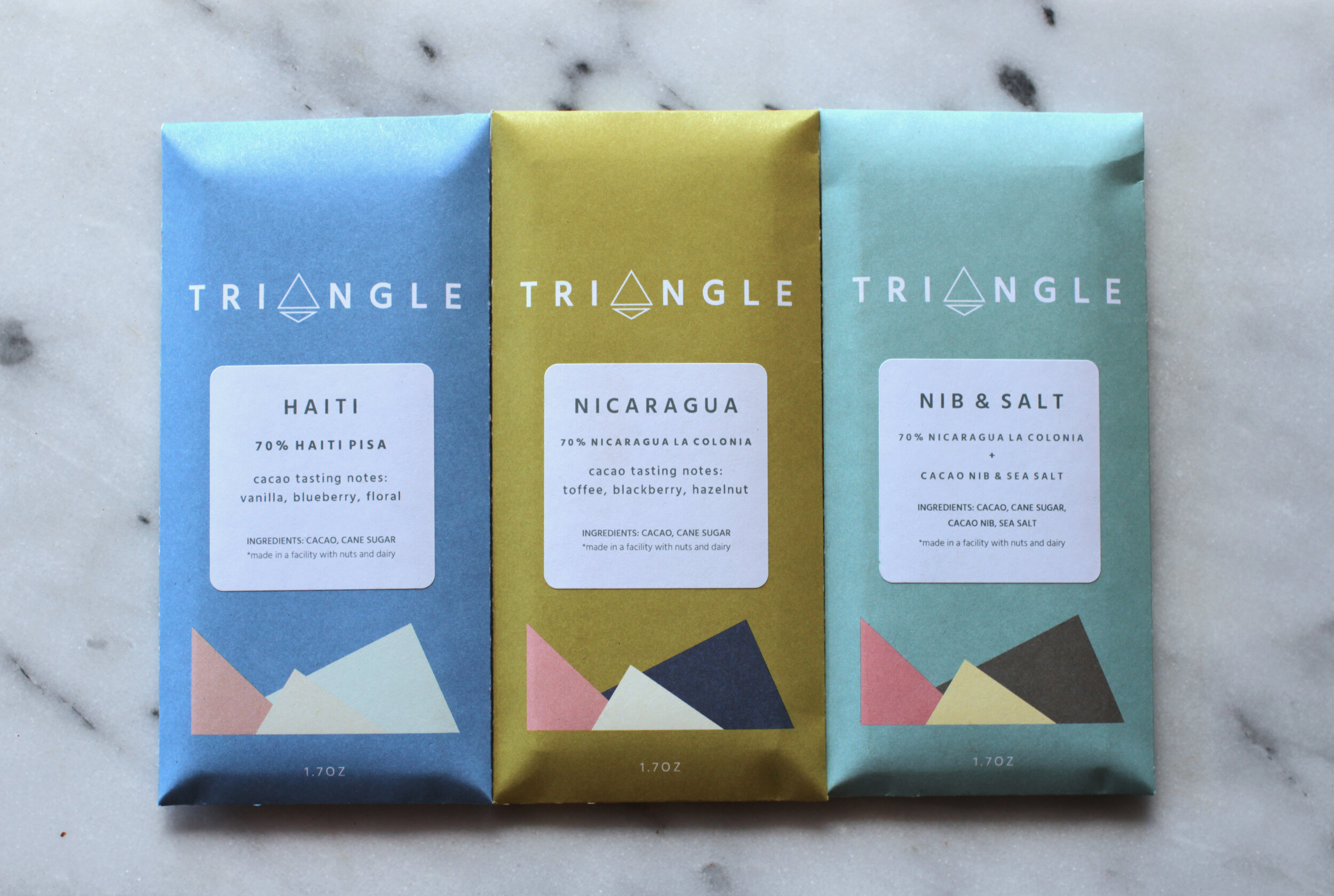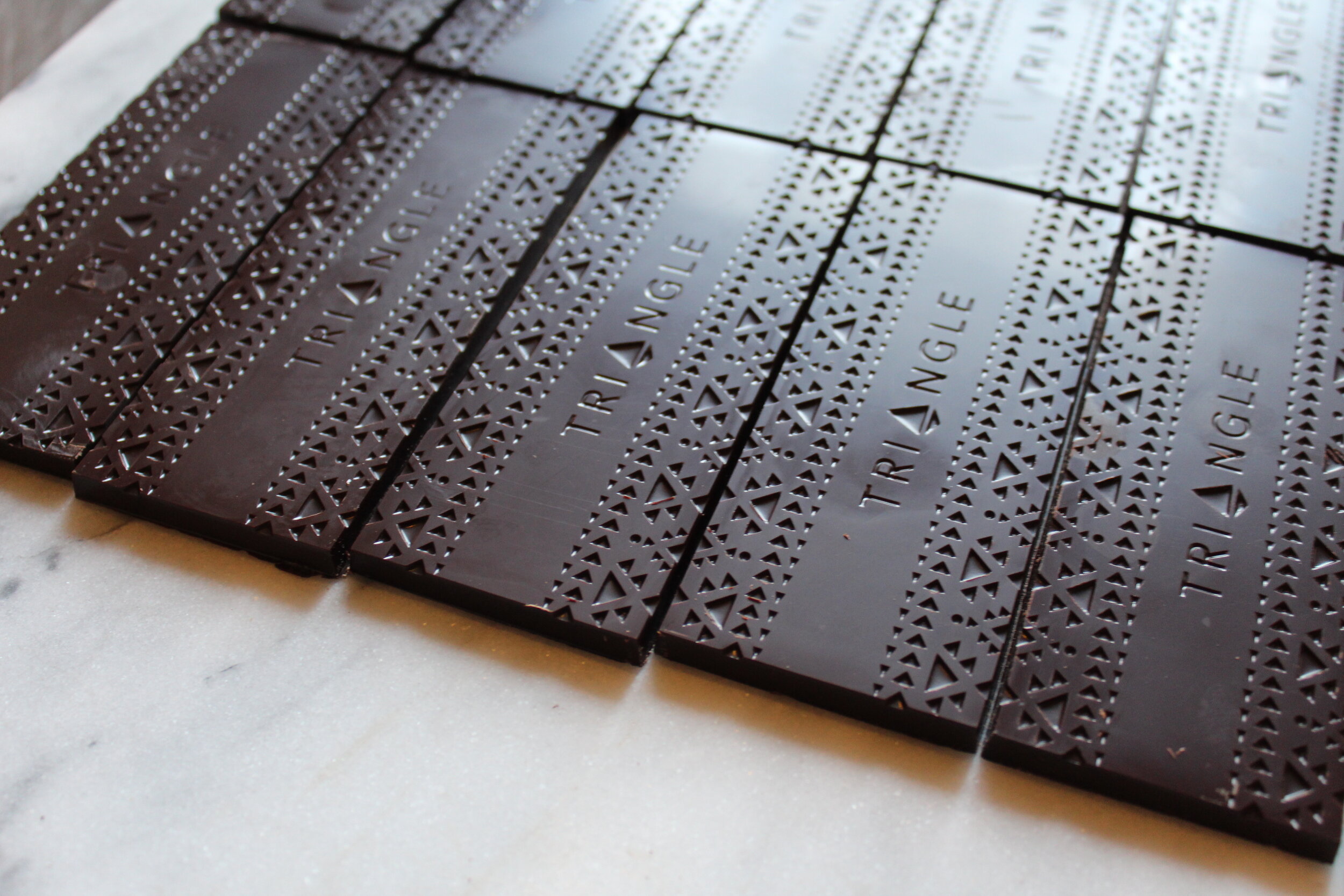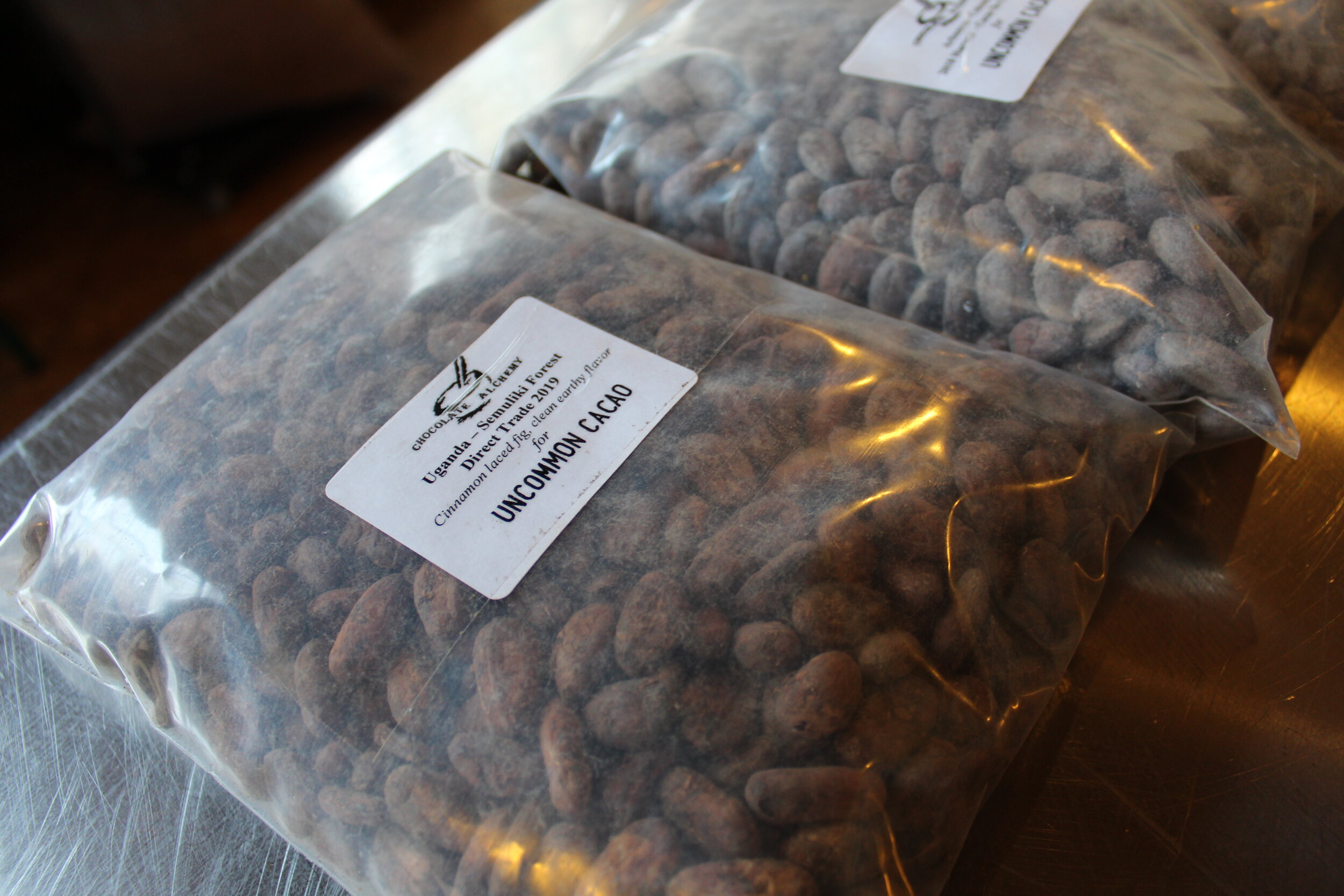 Each 1.7 oz bar retails for $8 to $8.50 at one of 20 retailers in Philadelphia and online. An early retailer, Vincent Finazzo, owner of Riverwards Produce, speaks highly of their chocolate, saying the bars stand out among their selection of 50 to 60 from around the world.
"I like them a lot because of packaging and quality," he says. "The price is higher end but not out of reach, and the aesthetic is gorgeous."
The product diversification has allowed Triangle to weather the pandemic.
"Pre-COVID, coffee represented 70% of our sales," Michael says, "but chocolate [sales are] growing over time." This prompted the owners to upgrade chocolate-making equipment and hire their first employee.
In January the company collaborated with the Nationalities Service Center to bring on Souleyman Ngae, a refugee from Cameroon, as a part-time chocolate-maker.
"We've started this company to be a good employer," says Joy, "and we want to be intentional about who we hire and give our employees opportunity for growth."
The four friends have a lot of dreams about the future, ranging from sourcing cacao beans from Puerto Rico, hiring more employees, opening a storefront and getting B Corp Certification.
"I like the feeling of being a trusted brand," says Jeana. "I want us to be that for people."