Antoine Mapp used to approach drug-dealing teens near his West Philly home and ask if they wanted to learn to play drums to earn a few dollars.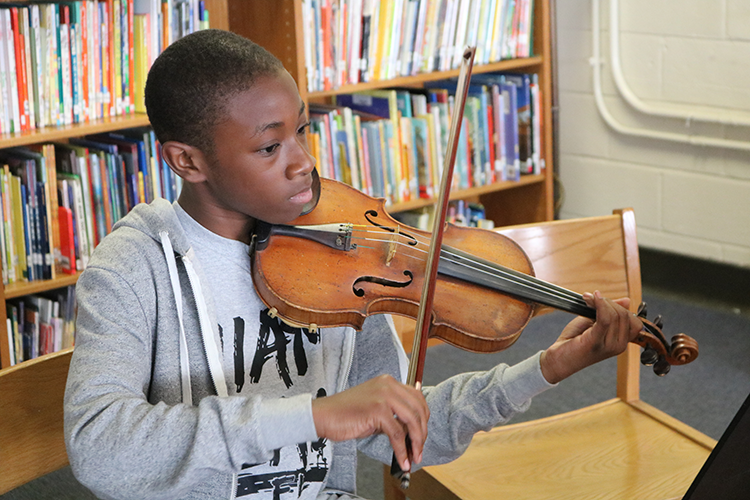 "Sometimes they'd say, 'Get the [hell] out of here,' then … they'd try it," says Mapp, 41, whose grandmother started a community drumline, the West Powelton Steppers & Drum Squad, 30 years ago. "At eleven, I was one of my grandmom's first drummers. It saved my life. I want to return the favor."
Now head of the nonprofit Musicopia's after-school percussion program, Musicopia Drumlines, Mapp reaches far more young people. The award-winning program serves children ages nine to 18 at eight public schools.
"Kids learn discipline and self-confidence," Mapps says. "Drumming opens up their lives."
Musicopia stands on that life-changing platform.
"We reach underserved students often cut off from the region's rich culture," says executive director and pianist Catherine Charlton, 47. "We want to give children, regardless of circumstances, the opportunity to have their lives transformed through music."
That goal often translates into attracting Black and Brown children from low-income homes.
"As of 2016, we found that 24% of Black students [more than 15,000 students] and 18% of Latino students attended schools without a single itinerant instrumental music teacher, while only 4% of white students [just 473] attended schools without an itinerant instrumental music teacher," reports Eric Schulz, director of communications for City Councilmember Helen Gym.
The school district distributes music education resources more equitably now, says Frank Machos, executive director of the Office of The Arts & Creative Learning for the School District of Philadelphia. However, much work remains to build a strong instrumental music program.
For low-income students, a good music education is more than a curricular frill, notes Ellie D. Brown, professor of psychology at West Chester University. Brown's research on preschoolers shows that high-quality music programming can "get under the skin" and alleviate poverty's physiological and emotional toll. Good music programs " … relate to reduced levels of the stress hormone cortisol," Brown says.
Dennie Palmer Wolf trained as a researcher at Project Zero at The Harvard Graduate School of Education. She notes that preschoolers in strong music and movement programs often gain key life skills.
 "From an early age, they learn to cooperate with their peers and … listen to each other …," says Wolf, now chief researcher at WolfBrown. "For example, it allows them to calculate whether something is too risky."
Musicopia delivers these life-changing possibilities through assemblies, after-school programs, workshops, residencies or year-round small-group vocal or instrumental coaching via their FAME [Fostering Artistry and Musical Excellence] programs, Charlton notes.
"Since 1974, we've helped about 360,000 children experience the benefits of first-hand exposure to the arts," she says. "That's the population of a mid-size city."
Divine Epps, 17, a student at the Philadelphia High School for Creative and Performing Arts, receives after-school instruction through Musicopia.
"I love the cello," says Epps. "It's low, mellow, and evens out the rest of the orchestra. And there's a lot happening in the city, like gun violence. Playing in the orchestra helps keep me away from those things."
Epps got a cello through Musicopia. It can cost upwards of $60 a month to rent an instrument and far more to buy one, says Musicopia Program Director Leslie Malmed Macedo, who books more than 100 teaching artists annually. "Many households can't
afford it." She notes that anyone can donate instruments or contribute to the group's instrument repair fund.
In 2012, Dancing Classrooms Philly (DCP), a social and emotional development program that changes children's lives through dance, partnered with Musicopia.
"The alliance adds efficiency of operation," says Charlton. "For instance, we can share staff."
Begun in 2007, DCP works its alchemy on third to 12th graders.
"At that age, they're developing higher level thinking skills, but they're still open to new experiences in an innocent way," Charlton says. "DCP builds students' confidence by breaking down social barriers and inspiring respect. You go from that first uncomfortable moment when you look your classmate in the eye and take their hand to performing an elegant dance together."
DCP instructors know that touch may trigger unpleasant associations for some students. Teaching artists are trauma-informed and ultra-observant about what students may bring into the classroom, Charlton explains. DCP uses the method created by dance teacher Pierre Dulaine to ensure respect and safety for everyone.
The scintillating colors of program director Swati Chaturvedi's costumes from her native India nudge students toward another DCP goal.
"We want to work with students, especially those from low-income households and broaden their exposure to world cultures," says Chaturvedi, 44. "My costumes pique their curiosity."
Dance has always been an outlet for Chaturvedi.
"It lets me express things for which I have no words," Chaturvedi says. "Movement also helps our students in that way."
She notes that DCP works with students with visual impairment or special needs and that staff members adjust movements for students with mobility issues.
Going forward, DCP and Musicopia will be taking a hard look at themselves.
"We formed a DEI [Diversity, Equity and Inclusion] committee last year," says Taia Harlos, 52, who is responsible for three Musicopia orchestras and scheduling auditions. "Our mission has always been to bring music to children who otherwise wouldn't have it in their lives, but implicit bias can creep in."
Musicopia also aims to deepen ties with communities it serves. One frozen day last winter, Harlos, a pianist, violinist and violist, packed tools in her car and criss-crossed Greater Philadelphia to repair students' instruments—in-person help needed due to the orchestras' virtual rehearsals.
"I would work on the front porch of the home, replacing strings and straightening bridges," she says. "Parents and grandparents would stand there while I worked. I glimpsed the complexity of students' lives. A young Vietnamese girl whose mom didn't speak English asked questions while her daughter acted as interpreter. I imagine that girl shoulders other responsibilities. That day was the best, exhilarating and exhausting. It brought me closer to my students."