A 16-ounce mason jar filled with trash feels like a trophy to Emily Gallagher and Austin Elston, cofounders of Fishtown Films.
It was the designated place for all waste produced during the creation of their first feature-length film, "Citywide." Partners in life and in business, Gallagher, cinematographer and editor, and Elston, writer and director, have been committed to zero-waste filmmaking since 2016. Their queer romantic thriller about a wild night in Fishtown is set to be released in January 2022.
Janice Amaya, lead actor in the film, plays a New Yorker who visits Philadelphia with a friend.
Amaya describes the film as "a bit of every genre … [It captures] the possibility and potential of a good night out, the hope you have for a good night."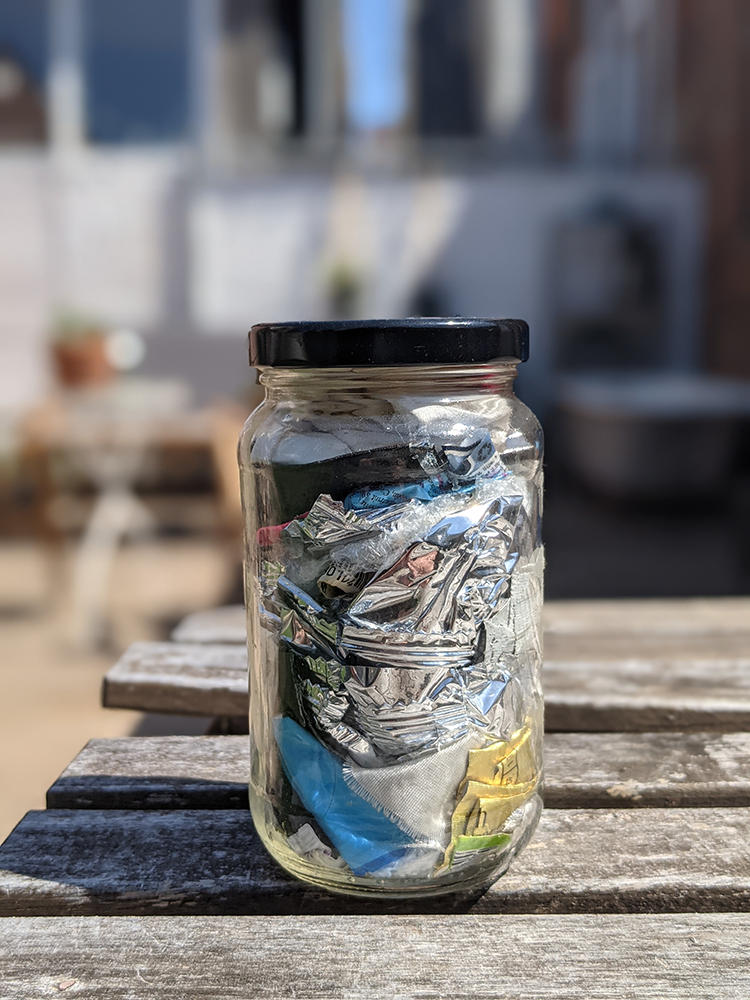 Gallagher and Elston hope to spread the word about reducing waste on set and share the strategies that they employed to create a sustainable movie.
For those unfamiliar with the film industry, it can be hard to imagine just how much waste is produced on the typical Hollywood set. Between plastic-wrapped food, utensils, props and constructed sets, waste can pile very high.
Certain items that are essential to filmmaking, such as gaffer tape, cannot be recycled or composted. Gallagher and Elston have learned to plan for the waste they cannot avoid and to accept some trash that comes from community-building activities on set.
"The average movie set creates about 500 tons of garbage."

—Emily Gallagher, cofounder of Fishtown Films
"We have foil from Polaroids because everyone loved taking Polaroids on set," Gallagher says. "That is a waste, but there was so much energy and community from it. It's worth putting in the jar."
Actor Alice Kremelberg immediately noticed Fishtown Films' commitment to sustainable filmmaking and how they often avoided using anything they didn't absolutely need for the film.
"They were really conscious of [using] tape for marks on the ground. We hardly used tape at all. Usually you're pulling up tape and putting down more. That was a huge change," Kremelberg says of the tape often used to make dolly marks or mark where actors should stand.
Though viewers don't see tape on screen, they do see the largest source of trash: the sets. The buildings and rooms that we admire in TV and movies often become refuse once shooting ends.
"The average movie set creates about 500 tons of garbage," Gallagher says. "That's primarily [due to] set construction."
Gallagher points to the famous house in the 1998 film "Practical Magic" as an example of a set that created excess waste. The architectural shell, built on San Juan Island in Washington state, was torn down after filming ended.
"Imagine the debris of deconstructing a three-story Victorian home," Gallagher says.
To avoid waste and save money that would have been spent building sets, Elston and Gallagher filmed in existing businesses, like the dive bar The Monkey Club and the bookstore The Head & The Hand, both in Kensington.
Filmmakers often rely on constructed sets because they can achieve a level of control that would be impossible inside existing buildings. Walls can be removed for different shots, lights can be moved easily without a ceiling, and background noise can be eliminated.
Gallagher and Elston have had to think more creatively when filming.
"You find a new way. If we limit ourselves to just what we know, we're not going to explore anything new," Elston says. "Everything will be carbon copies of what somebody else accomplished."
Their decision to film in local businesses strengthened the pair's connections with the surrounding community, which helped them capture more of the feel of the neighborhood.
"We allowed Philadelphia to be itself in the film," Gallagher says.
The actors featured in "Citywide" stayed in Airbnbs in the neighborhood, which created an immersive experience. They also talked with business owners and employees between shooting scenes.
"I was shooting at the bookstore. My character worked there," says Sonia Mena, who played a supporting role. She got to know an employee of The Head & The Hand, which helped her embody her character and give an authentic performance. "I said, 'Hi, I am you. Let's talk.' For a movie about that neighborhood, it felt right to be shooting in those spaces."
Fishtown Films turned to local businesses for more than just sets.
All the catered food came from restaurants and bakeries that provided zero-waste meals for the cast, including Crust Vegan Bakery and Miss Rachel's Pantry, and ReAnimator Coffee filled up a thermos each day. Elston and Gallagher used reusable cups, plates, silverware and cloth napkins to eliminate traditional plastic and paper waste found on many sets. This required planning ahead and extra cleaning.
"There were many nights when we were up late doing dishes and getting prepped for the next day," Elston says.
Over the years, they have learned how to manage their time efficiently and become more detail-oriented, which has made it easier to commit to zero-waste choices.
"You're not running out to the store to buy disposable plates or getting rid of trash. Instead you're spending that time doing laundry or managing compost," Gallagher says.
Gallagher and Elston believe that zero-waste filmmaking will get easier over time, especially as awareness grows. As more film studios begin to request zero-waste catered food, more companies will begin to provide it. Similarly, if more studios look for ways to reuse props or sets, a circular economy will crop up.
"The Resource Exchange exists here in Philly," Gallagher says. "You can take existing sets and props and they can resell it to the next film or play that needs it. If we [as an industry] start making sustainable films, every city will have props and sets that we can all rummage through."
There is already some evidence that other movie studios are starting to embrace sustainable filmmaking. Mallory Wu, a supporting actor in "Citywide," noticed a craft services department with plant-based plates and silverware while on set on a new TV show.
"That was the first set outside of [Fishtown Films] where I was like, 'Look, they're trying,'" Wu says.
Amaya believes that Elston and Gallagher's zero-waste focus helps create a community environment.
"What really stood out to me was the care that goes into making a zero-waste film. With Austin and Emily, you're eating really well, with food made by locals and wrapped in sustainable fabrics. That sets the tone for how the day is going to go," Amaya says. "From the food to lighting, we're all on a team. We had such agency in creating our characters and it's all an extension of zero-waste, it extends into everything else on set."
"Citywide" will be released in January 2022. The film will be shown at The Monkey Club and will be entered into several film festivals.