Every Sunday in Manayunk, a swarm of cyclists meet in the Regal UA Main Street Theatre parking lot.
One group stands out from the rest.
More than 20 people of color pull bikes out of their vehicles and begin pumping their tires with air. Laughter and conversation fill the parking lot as the cyclists catch up with each other. They are usually dressed in blue, black and red cycling jerseys and shorts that read KRT (Kings Rule Together) for the men and QRT (Queens Rule Together) for the women.
KRT and QRT are cycling groups that pride themselves on rider education, diversity, inclusivity and, of course, the joy of cycling.
As the men and women begin their adventure, the riders feel a sense of ease.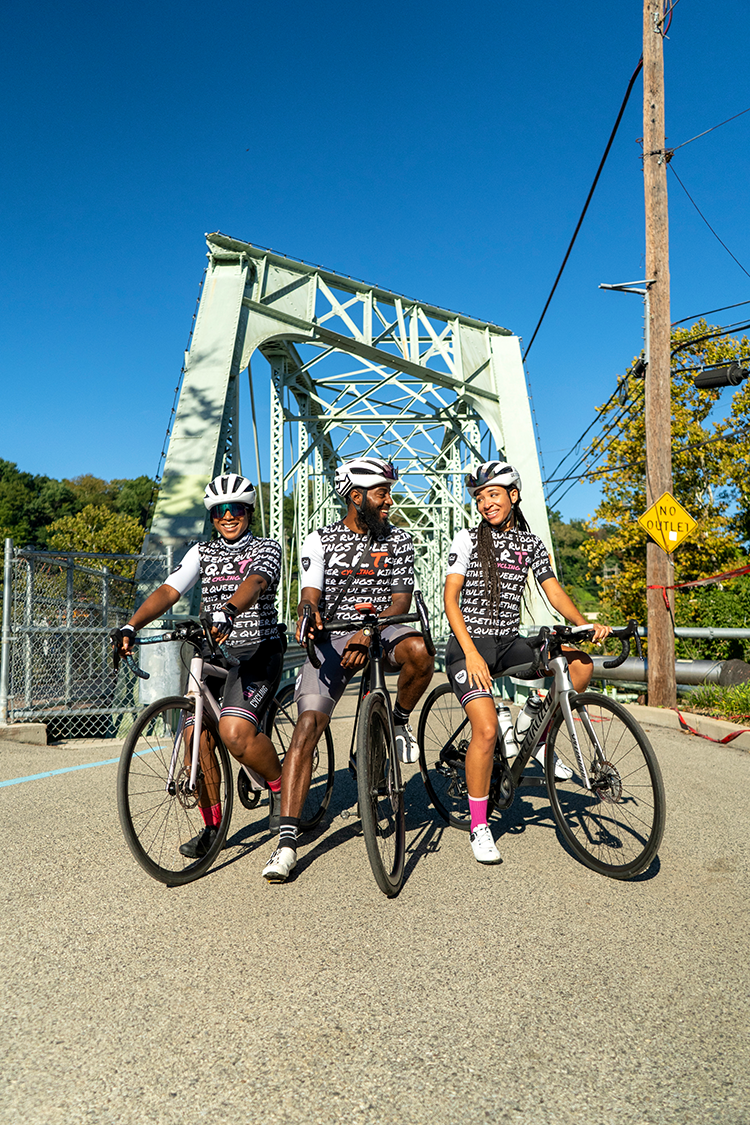 "I'm always on a ride where there's another woman, I'm always on a ride where there are Black people," member Jenna Foley says of her experience riding with the group. "It's a special thing that I honor, and I celebrate because we're creating a space for it."
KRT member Kenneth Alman says their cycling group is unique because they come together for a shared passion that makes any differences they might have secondary.
"It's a brotherhood and sisterhood that you're not going to find anywhere else," Alman explains. "We all work together for one goal. It's very rare that things happen like this—and from minority organizations."
Switching into Gear
It all started in 2017 when KRT founder Curran J went for a haircut at Wild Styles Barbershop in Germantown, and he noticed one of the barbers looked significantly different.
"I asked him, I say, 'Yo bro, you got really small. What you've been doing?'" Curran J says. "He said, 'I've been riding my bike.'"
The owner of Wild Styles, Ryan Haywood, was another barber who was riding. He was initially drawn to the sport because he thought the jerseys looked cool, and valued it as a form of exercising. He then began to learn more about the nuances of the sport and to really understand the equipment and the bicycles themselves.
"We didn't even understand what bibs were for. We said, 'Why do people wear these tight shorts and butt pads? What is that?' Haywood says with a laugh.
"I never saw cycling represented to me as a middle schooler or as an elementary student, let alone a Black woman who looked like me crushing it on a ride."

— Jenna Foley, Queens Rule Together member
Soon after his trip to the barbershop, Curran J borrowed a bike and helmet from his brother and began riding with friends from the barbershop every Sunday. His first ride began on Kelly Drive.
Though biking proved challenging, Curran J was intrigued by the sport. At the time, he was engaging in several activities aimed at self-improvement—and he was going to add cycling to the list. He began going on rides for 20 miles or more, and he purchased a new bike as he committed more seriously to the sport.
"After that, I was kind of like, 'You know what, I like this. I can do this,'" Curran J says. "I looked at it as a way of therapy."
Two years later, the group of four men had grown to nine. Things changed when they signed up for the 65-mile charity bike tour Ben to the Shore, from Philadelphia to Atlantic City. They raised money to purchase uniforms and cover racing costs, and officially became a team.
They also began to document their progress and training on social media as they prepared for the race. Basketball stars Reggie Miller and Ray Allen and sports agent Maverick Carter were among the celebrities who took notice of KRT on social media.
Media including The Philadelphia Inquirer, Bicycling Magazine and USA Cycling all eventually covered their story.
It was becoming clear to Curran J that what started as a Sunday activity with a few friends had a lot of potential. He teamed up with an old friend, Hank Wallace, to develop the KRT Cycling brand in 2019.
"I was already doing a lot of solo rides," Wallace says. "Then seeing pictures from their Ben to the Shore [trip], I was like, 'Hey, this looks cool, I can actually do something like this.' And this is what I've been doing."
Another important development happened next—the formation of Queens Rule Together. "Women became interested in riding with us," says Curran J, "but saw no representation. So once we got a bigger response from them we told them to all come out on a particular day and the rest was history."
Today, KRT and QRT is a nationwide community—including a concentration of riders in Hampton Roads, Virginia—of cyclists of all ages, genders, religious backgrounds and skill levels.
The group has a membership of more than 200 riders and its activities include designing and selling cycling apparel, team racing with USA Cycling, training, local group rides and youth cycling classes. Wallace says the cycling group began to grow into these divisions naturally.
"Everything's just continued to start organically," Wallace says. "Then based off of naturally being competitive, we ride enough to the point where it's saying to one another, 'Me and my friends used to race down the block. Why can't we try and compete in some of these events?'"
"I needed an outlet as an adult to engage with other people, build friendships and also refocus on my wellness."

— Kimberly Huggins, Queens Rule Together member
Wheels of Inspiration
The inspiration the group has provided to others is one of the most significant markers of its success. Cycling is historically and overwhelmingly a white and male sport. QRT member Foley says Philadelphia youth tend to be inspired when the group rides by because they see cyclists who are people of color.
"Their eyes just get so big, and they just look at me like I was a superhero," Foley says. "And I just had this moment, and I smiled back at them, and I just saw their shoulders get a little bit higher."
Because the group has a deep, diverse membership, they say Philadelphians often stop them and become interested in riding.
"It's awesome to be something that I never saw," Foley says. "I never saw cycling represented to me as a middle schooler or as an elementary student, let alone a Black woman who looked like me crushing it on a ride."
Inspiration can also reach beyond the young and the local. Last year Leo Quinsing traveled from California to Philadelphia to visit his brother, who told him about a cyclist group he had joined: they were diverse, inclusive and most importantly, family.
"My brother said it doesn't matter what level you are; they're so welcoming and inviting," Quinsing says. "So I was like, 'Okay, let's see what I can do with the cycling thing.'"
The West Coast visitor met with the group for his first ride, leaving Manayunk and traveling to the Benjamin Franklin Bridge.
Though he remembers the ride as challenging, as he pedaled along with the group of Black and Brown men across the city and back to finish their journey in Manayunk, Quinsing realized he was hooked. He moved to Philadelphia in less than a month, became an avid rider with KRT and lost more than 40 pounds in the process.
"When I got out here, it's just a different vibe," Quinsing says. "I really missed that cycling community. So I just picked up everything and moved, and I've been riding with them ever since."
All are Welcome
Kings and Queens members pride themselves on welcoming all riders, new and old alike. When the group meets up in Manayunk, founder Curran J instructs all new riders on how to change gears, and which bike chain you should be on. He also goes over the trail with them, asks about their well-being, and passes out snacks and water.
KRT and QRT membership grew during the pandemic as many people were looking for COVID-safe activities when gyms were closed and socializing inside was a no-go.
Kimberly Huggins says she joined QRT last summer after realizing she needed social interaction and fitness for her overall health.
"I needed an outlet as an adult to engage with other people, build friendships and also refocus on my wellness," Huggins says. "And that's what cycling did for me."
Off the bike, the group comes together for game nights and dinners. Mikaela Martin has biked for seven years and belongs to several groups in the city, but Queens is her favorite. "I've never spent so much time not riding with a riding group," Martin says. "They're the ones that I want to spend my weekends with. I want to travel with them. It's a family."
Wallace says the family dynamic naturally happened with KRT and QRT, but was unexpected.
"You can't force people to be friends, you can't force your family, but this is like an extended family," Wallace says. "It's forming organically, and it's forming into something a lot greater than I think we initially set out."
To learn more or join, visit krtcycling.com