The winter slump had set in for ice cream sales in late January, and Kianu Walker, the force behind  Vannah Banana, was dreaming of the summer—picturing himself not on a beach, as many people do, but instead in an ice cream truck.
After starting the city's first Black-owned, vegan ice cream business in 2020, Walker found himself hustling between tasks day in and day out: Whipping up batches. Managing supplies. Taking orders. Delivering his product to restaurants. All while promoting the brand on social media and in the local news.
"I didn't even have time to think in the summer," he remembers. "It was just: make ice cream, deliver, go and repeat."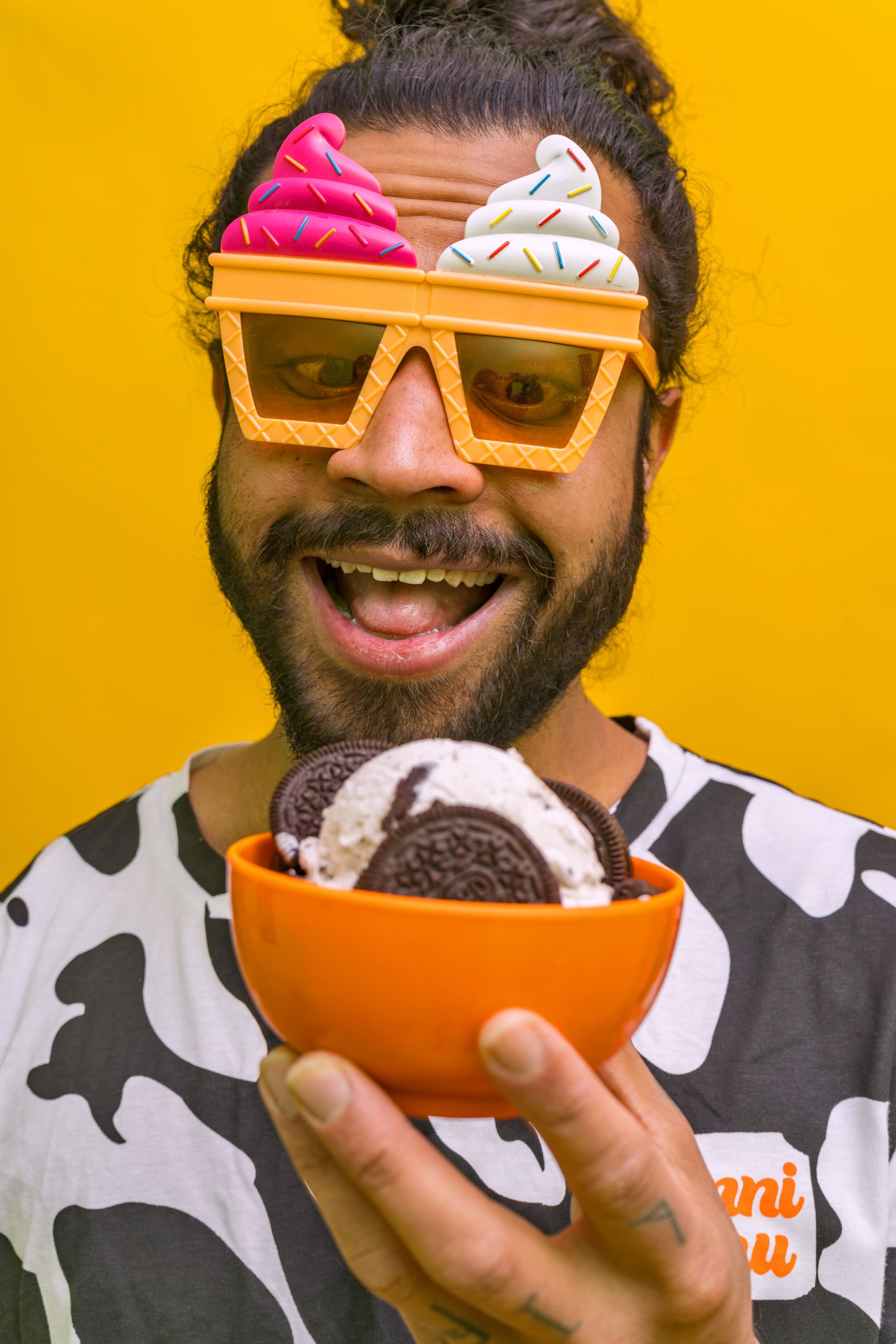 While he started the business with a few small-batch ice cream makers in his home, in late June he moved to working out of Vegan Commissary in South Philly. He's been based there ever since. The space has allowed him to increase the amount of ice cream he makes. He estimates he's sold around 1,000 units of ice cream during his first year.
This coming summer, in addition to bringing a few new flavors and frozen treats into the mix, he hopes to buy a cart or a food truck so he can push sales further.
With this in mind, the North Philly native set up a GoFundMe this winter asking the community to invest.
"I was able to do all of this with a strong work ethic, a good product, a few hundred dollars and a dream," he wrote in the fundraiser bio. "If given the opportunity to access more funds/capital, I believe I can take my ideas much farther."
He set a goal of $25,000, of which he'd raised $1,100 by late February. Depending on how much capital he's able to raise, he'll decide whether to start looking for a cart or a truck.
"Whichever one ends up coming my way," he says, as Vannah Banana's lone full-time employee, "I think I'm gonna be there 24/7."
Walker started up his business during the first few months of the pandemic. The then 25-year-old holed up in his house, laying the groundwork for Vannah's signature coconut-based ice cream recipe one batch at a time.
"This pandemic has helped me a lot," he told Grid in late June, four months into his journey. "It's given me a lot of time to focus on personal development and making things I haven't had time for. I've just been doing what I can do rather than focus on things that I can't do."
At the time, he was coming off tour as a rapper. Walker liked poetry and music as a kid, the latter of which he dropped out of high school to pursue. Eventually this led him to joining the Harrisburg-based electrofunk band Exmag as their lead vocalist for four years, from 2016 to 2020.
"We traveled around performing in major cities and small towns," he says. "It was an incredibly pleasant experience in which I also got to try really cool plant-based food all over the country, which gave me a palate for vegan food and vegan desserts." He also credits his time on tour with giving him both the personal confidence and culinary experience to pursue his ice cream business.
"I think plant-based eating is one way you can help take care of your future self and influence the people around you to eat healthier."

— Kianu Walker, Vannah Banana founder
"Being on the road, sometimes I didn't want to eat out. I would cook a lot," he says. "I just ended up experimenting with vegan food."
He's developed nine flavors, including Cookies N Cream, Salted Caramel and Green Tea Matcha, that he hopes will "show people that they don't need to have ice cream made from dairy for it to taste delicious and creamy and sweet."
Sarah Scandone, of the South Philly plant-based café and juice bar Nourish, says another flavor, Rose Gold, sealed the deal for her and her team.
"Once we sampled the product, we all fell in love with the Rose Gold flavor—it was such a unique approach to ice cream and really set his line apart from all the others," Scandone says. He puts edible flakes of gold in the ice cream. She noted that her café doesn't sell soy-based products, so the coconut base was a plus, alongside Walker's "dedicated and driven" character.
"We were so excited to be able to support him," she says.
By the time he brought Vannah Banana to fruition, Walker had been thinking about starting a vegan ice cream company for "roughly four or five years," since he became a vegan.
He says he started eating a plant-based diet in pursuit of good health after seeing family members fall ill due to conditions like high blood pressure.
"Things that I think could have been curable or preventable by eating healthier," he says. "I just decided to take that journey and start learning how to eat healthier. I want to be able to move around when I'm older and think clearly and do the small things like walk to the store, petting my dog, making my own tea in the morning."
"I think plant-based eating is one way you can help take care of your future self and influence all the people around you to eat healthier," he continues.
Named after his sister Savannah, he says the big idea behind Vannah Banana is to create a family legacy.
"I'm very family-oriented," Walker says, explaining that family values have shaped his business—from its name to the motivation behind it. "Most of the things I do are for my family, or in the grand scheme of things, something that will bring more resources [and] opportunities to my family."
(He has another sister named Nevada and says he is currently kicking around ideas for businesses that use her name, too.)
"I want to represent them and inspire and motivate them and be able to pass something down to the people in my family who come after me," he says. "You know, create some form of generational wealth."
Walker's family supports him right back. When he started the business, Savannah's boyfriend Zhair Nixon, who runs Thee Blvck Sheep, a graphic and clothing design firm, created his logo. His "wifey," Tiffany Teich, who works as a professional photographer and owns Blue Honey Studios, shot his ice cream and promotional photos.
His father, George, owns the catering company Kole Mari, that features vegan baked goods which Walker uses for ice cream sandwiches. His father and mother also ran a cleaning business that Walker worked for while growing up.
Although Walker wasn't particularly fond of the job, according to his father, it ingrained "a certain hustle in him."
"I wanted to try and instill in him that you don't get something from nothing," says George.
Walker credits his father's example with wanting to be an entrepreneur himself.
"He taught me I could work for myself and pay myself when I need to and make my own hours and things of that nature," he says. "I don't have to work for some company. I can create something."
He also looks up to his mother, Donna Lee Etnoyer. "She's an extremely hard worker and she also helped my father create that business in the first place," says Walker.
His father says creating a close-knit family was always a goal.
"I tried to drill into him to always look out for his sisters," George says. "We've got a dysfunctional family, just like everybody else, but I wanted him and his sisters to be close."
Before he started the cleaning business two decades ago, George worked in restaurants for nearly 30 years—including an eight-year stint as a waiter at Tattooed Mom, where Walker currently sells his ice cream. He also used to cook for caterers and restaurants.
He fell into catering, starting up Kole Mari about a year ago when cleaning clients fell off due to COVID-19.
"I started cooking for one of the places where I had a cleaning contract—there was a bunch of nurses there—and I cooked a meal for them, and they wanted me to cook all the time," George explains.
The idea for Kole Mari's vegan baking line was spontaneous. George was doing a cleaning job on South Street when he dropped into Nourish, where his son's products are now sold. He ended up asking Scandone if she'd sell some of his vegan desserts, "which I hadn't made yet," he says. The collaboration with Walker took off from there.
When baking his vegan line, he says he tries "to make things that don't taste vegan" by avoiding flavors you wouldn't find in non-vegan baked goods.
"'I'm not a vegan, but I eat everything," George says.
Walker says he's been grateful for his family's support in his venture.
"I love them so much and I want them to succeed and I know they want me to succeed," Walker says. "So that's what I'm striving to do."
He's eager to continue his entrepreneurial journey this ice cream season.
"The biggest thing I've learned this past year is it's not easy at all to create something and keep it going," Walker says. "But you can definitely make things happen. You can bring your ideas to reality. Focus your energy into something with a positive mindset and then try your best to connect with everybody and create an experience for people to enjoy."