Step into the outdoor space of Sunflower Philly, a community center at North 5th Street and Cecil B. Moore Avenue, and you are surrounded by vibrant graffiti and street art.
Christian "TameArtz" Rodriguez, art director and community manager for Sunflower Philly, explains that graffiti artists from all over the country and world came together to create these walls, himself included.
"You have over 100 years of [combined] experience," he says. "The outcome of the collaboration is incredible."
Located in North Philadelphia, Sunflower Philly is a nonprofit organization focused on building a sense of community in its neighborhood by organizing a curated series of classes and events focused on art, music, yoga, kick-boxing, Afrobeat dance and sustainability.
The final "petal" in Sunflower Philly's programming—sustainability—is marked by its Trash Club.
As you probably know, Philadelphia has a trash problem. A recent study by the EPA found that Philadelphia is the fourth dirtiest city in the country with regard to litter.
Litter destroys the beauty of the natural environment. It kills fish, birds and sea mammals, and gets into the food chain, where it can impact human health. Humans are estimated to ingest 5 grams of plastic per week. (The impact of micro-plastic on human health is not yet fully known, but it is suspected to weaken the immune system and cause cancer and reproductive problems.) What's more, as plastic breaks down, it releases methane into the atmosphere, one of the worst greenhouse gases. Litter also clogs stormwater and sewer inlets. As a result, the inlets don't allow water to flow to the rivers, causing city streets and buildings to flood, along with lots of other costly issues for the city.
In Philly, precious resources are diverted from the city budget to maintain a fleet of 32 trucks, each with two city employees on board and equipped with a special crane in the back of their bed. And what is the only job of these trucks and their crews? To drive from one stormwater inlet to the other, lift the grates and pick up the trash that has accumulated.
Trash Club, which runs every other Sunday from June through October, is a group for people who hate litter and its negative effects.  The club is building a community of people who care about cleaning up litter by providing an opportunity for them to pick it up together and socialize.
The event was collaboratively organized by Rodriguez and his colleagues Melvin Powell and ("I Love College" rapper) Asher Roth—the executive director and creative director, respectively, of Sunflower Philly.
I volunteered on a sunny day in late August after registering for the event on their website. We hung out in small groups, and the vibe was relaxed. Anyone who needed a Sunday morning jolt was welcome to coffee donated by La Colombe Coffee Roasters.
People grabbed trash pickup sticks, bags and gloves. Rodriguez gathered everybody together and then let us know which streets the club would tackle. Powell motivated us with a short speech and off we went. People fanned out to both sides of the street, picking up litter using sticks or gloved hands. Our trash bags filled up quickly. After our day of labor, the trash was picked up by the Streets Department the following day.
Roth and Powell came up with the idea of Trash Club in 2018, pre-dating the creation of Sunflower Philly. Initially, they participated in a few local cleanups organized by neighborhood Registered Community Organizations to get some idea of how to run the club. Then they came up with the Trash Club logo and began promoting the club on social media.
By the end of 2019, with Roth and Powell working with Rodriquez at Sunflower Philly, which had recently moved into its own space, the two entities decided to merge and make Trash Club the core of Sunflower Philly's sustainability programming.
During the early days of the pandemic, the three were pondering what events they could organize safely. That is when they realized that, at a time when a lot of people are feeling isolated, organizing Trash Club could bring people together. They held Sunflower Philly's first Trash Club cleanup in June 2020.
The organizers expected that eight to 10 people would show up, but the first event had 75 attendees. Over the ensuing months, attendance was consistently between 50 and 70 people.
Trash Club volunteers Alan and Will moved to Philadelphia from small towns in the Midwest and West, respectively.
"What I noticed the most … trash was everywhere," Alan says.
He found the hands-on nature of Trash Club appealing. "There are a lot of problems in the world that are not easily changed. They are long-term things that take tons of processes, to master and to fix, whereas trash pickup is immediate, you pick it up. It's a direct and instant gratification."
"Each volunteer is only responsible for one bag. If you pick up two bags, you feel like a superstar."

— Christian Rodriguez, Sunflower Philly Community Manager
For student volunteers Anthony, Kevin and Chris, picking up trash is about not wanting to live in a dirty place. "[We want] to show the next generation that community service is important in the same way that my grandma taught me," says Anthony.
Kevin adds it is also about serving the community and making a difference. "I always like to help out. …[W]hen you go to different areas of the city and [then you] come back up here, you can see a big difference in [the amount of] trash and people's interest in keeping their neighborhood clean."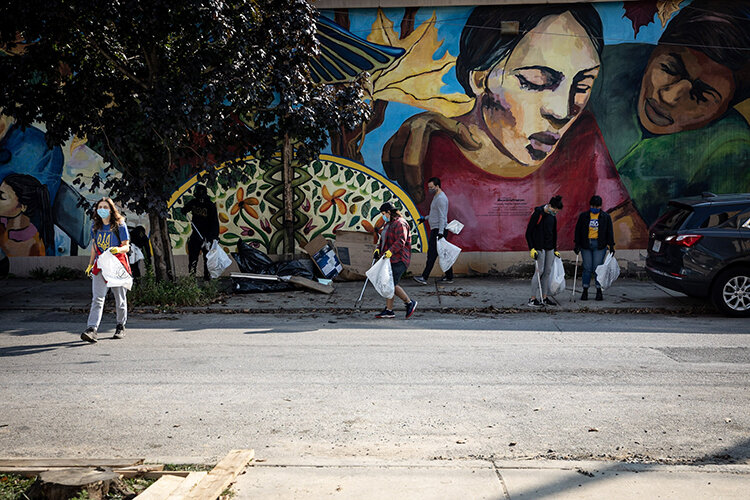 For Chris, the club holds deep meaning.
"My reasoning for being here," says Chris, "is that I just feel like this is where I'm supposed to be. When I walk up and down the streets, when I drive throughout different areas of Philly and I see a lot of impoverished people, a lot of just terrible conditions when it comes to buildings and people's situations, and I see the struggle, I see the pain in people. I want to do the best that I can to alleviate a little bit of the pain I see. I know I cannot alleviate all of it, but I can do my part and then inspire somebody else to do their part again."
The impact the club has had on volunteers is something Rodriguez is proud of—he's even prouder of those who've accomplished it with him.
"This is actually pretty dope: A Latino male, an African American male and a white kid joined forces to bring this to the community. It's beautiful," Rodriguez says.
Powell designed the Trash Club event as a stand-alone event that builds a local community of people who care about street litter. "We defined a model that can easily be replicated in other places." he says. "So that is when we first started thinking, 'Hey, we have this great space here, but if we lose this space or something happens, the ideas themselves should still be able to live.' "
Powell says focusing on the effort and not the neighborhood allows all volunteers to feel at home. Rodriguez agrees.
"The reason people come from New Jersey to pick up trash here," he says, "is because we give them a sense of belonging and of ownership. Each volunteer is only responsible for one bag. If you pick up two bags, you feel like a superstar."
For Powell, the end goal of Trash Club is creating behavior change in consumers and empowering them to solve some of the major sustainability issues we're facing.
"When I have conversations on sustainability issues," says Powell. "I ask people these simple questions: 'Who do you think controls what you buy?' 'Does the consumer control what the corporations make or do corporations make what consumers will buy?'"
Powell says he is not telling people, "You can't buy stuff." Instead he is encouraging them to ask themselves the following questions about consumption: "Do you need this?" "Where is it coming from?" "Who are you purchasing it from?" "How is it getting to you?"
Rodriguez says: "My father always used to tell me, 'Knowing is better than learning.' Because the learning process is really hard, but once you know, then you know. And then, after you learn, you get to walk awake."
When people come to Trash Club, that starts the learning process, he says.
"As they pick up trash," Rodriguez explains, "they actively do the learning. Then they come back to the Sunflower Philly space for lunch, knowing. They leave knowing. And they bring other people back to learn."