Callowhill's new outdoor dining space Gather was designed to sit opposite of current food hall trends.
"They've become expensive and hip, with well-established vendors," explains Meegan Denenberg, co-founder of Little Giant Creative, a Philadelphia-based boutique branding and events agency. "At the end of the day, food halls used to be about low barriers of entry, shared overhead, and introducing delicious food to the community."
Located on a stretch of Nectarine Street adjacent to Union Transfer and flanked with colorful murals, Gather is an open-air community food hall featuring a rotation of local food vendors, and events, until November 20. Its mission has three parts: empower local food entrepreneurs, provide affordable (even free) food options for college students and the community at large, and cultivate wellness-focused event programming.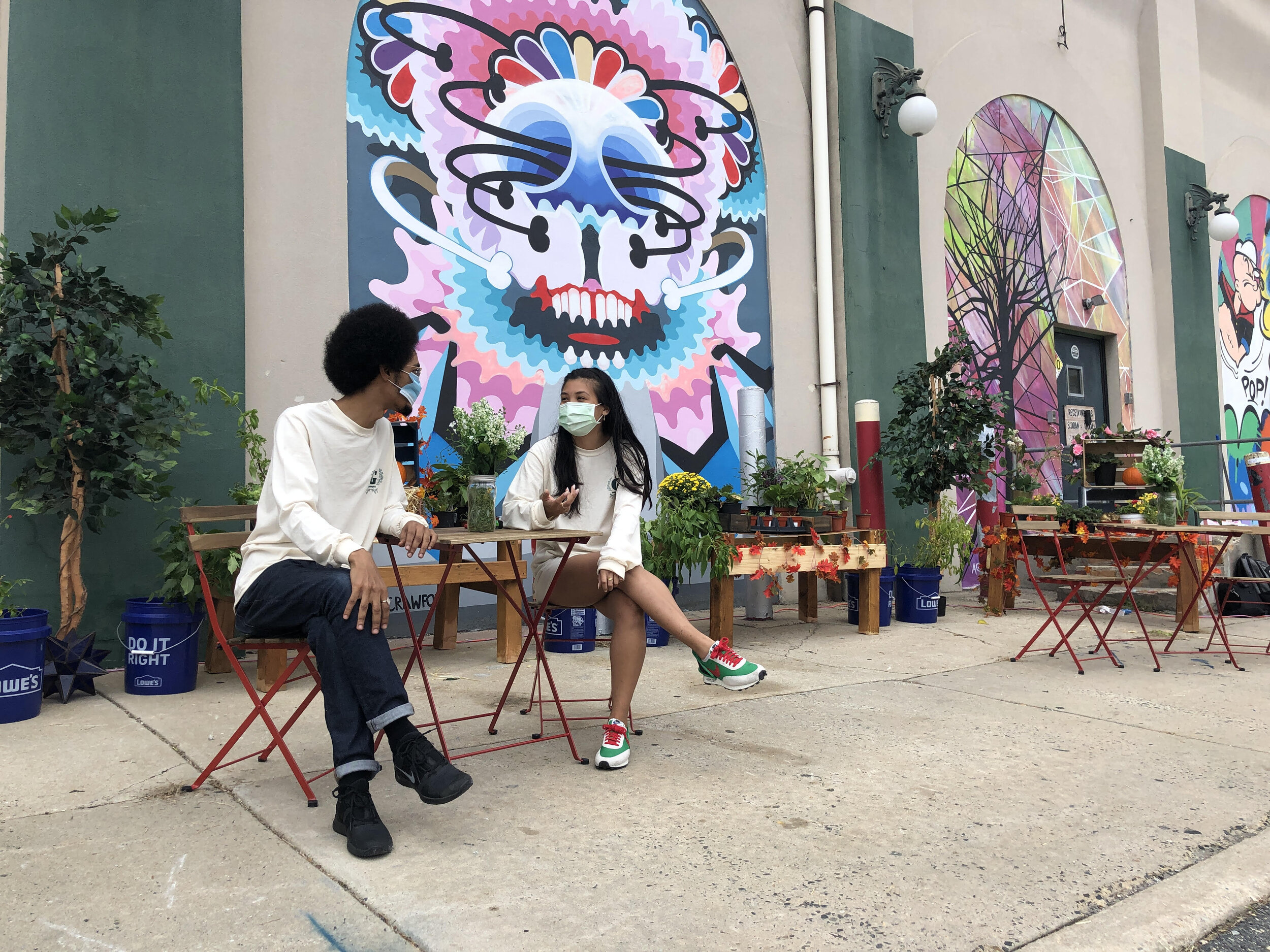 While the original vision for Gather was an indoor/outdoor model, Denenberg and her team pivoted to an outdoor-only format to accommodate social distancing.
"Despite the constraints with COVID-19, we feel that people need to be healthy and get some fresh air. We teamed up with local horticultural centers who donated a ton of plants — including herbs, flowers, and pumpkins — so our hope is that people can feel in touch with nature amongst a very urban landscape," says Denenberg.
As Denenberg and her business partner Tayyib Smith explored their food hall idea, they were shocked to learn about the rampant food insecurity among college students. According to research from the Hope Center for College, Community, and Justice at Temple University: "nearly half of college (48%) and university students (41%)" have struggled at some point to pay for food. Denenberg and Smith teamed up with Richard Binswanger of Believe in Students to bring this project to life.
Gather's pricing model is part of what makes it a unique experience.
"Every vendor has a $5 tier," says Denenberg. "If you have money and you want to pay, you can get a full meal for $5, $7, or $10. For those who are unable to afford a meal, they can enjoy a meal absolutely free."
One of the challenges Denenberg and her team hoped to address with Gather is a point of sale system that's 'shame-free.' To eliminate the awkwardness of who can-and-can't pay, patrons pay up front, selecting one of the payment tiers, or they select the free option. Once they get their ticket, they order from a vendor and there are no questions asked.
"Instead of students relying on food pantries, we thought the food hall idea could be a more long-term way of addressing this issue," says Denenberg. "Our vision is that this is a pay-what-you-can format, but students should be able to eat for free."
With the pop-up framework, Gather is essentially a pilot program. Denenberg explains that they are collecting data and experimenting to see what works and what doesn't during this month-long pop-up. "This test-run was funded by a philanthropist who doesn't want to be named. He gave us a certain amount of funding, and we're also getting donations," says Denenberg. "We're closely watching to understand: can this be sustainable? Can this be something that we can afford to continue outside of philanthropic gifts? The rest is funded by the pay-what-you can model."
While a core mission for Gather is to offer affordable food options, community engagement is also key.
"At LGC, we focus on Black and Brown entrepreneurship and are always wondering: what does restorative justice look like? So our programming is focused on Black and Brown wellness," says Denenberg. "We had all these ideas, but we are only open for a short time. So we are working with a couple of local folks who have amazing projects such as Sudan Green with Spirits Up! and Morgan Burrell with Get Mo Phit."
Local food vendors currently setting up shop at Gather include Modern Taiwanese from Baology, Authentic Ethnic Cuisine, Chiwaffles, Wood Street Pizza, Crunchik'n, GELAT'OH, Rock n' Rolls, and Aksum Cafe.
Denenberg emphasizes that all are welcome to enjoy the event programming and local food offerings. Anyone who wants to donate, she adds, is encouraged to do so.
"Every dollar donated goes directly to a student's meal," says Denenberg. "We want to feed students, but we also want to cultivate community. We have this beautiful photo frame so people can take fun photos. We have a community board that's covered in chalkboard paint, so people can draw and doodle and write messages. At the end of the day, we want Gather to feel like an urban respite."
Visit gatherfoodhall.com for more information on vendor schedules, event programming or donation.