Sponsored Content
In 2009, Troy Hannigan needed a job. He had just graduated from Philadelphia University (now Thomas Jefferson University) with a degree in architecture, but, in the midst of the Great Recession, there was little work to be found. But the Central Pennsylvania native was determined to stay in Philadelphia. He found a position at Habitat for Humanity Philadelphia through AmeriCorps. That job would alter the trajectory of his career and sow the seeds for his leadership of Jefferson's Master of Science in Real Estate Development.
Hannigan recalls that that job and subsequent positions he held during his near five-year run at Habitat exposed him to the complexities of providing housing—especially affordable housing. "[The work] involved project planning, working with architects on designing the houses, doing all the permit work and acquiring houses. I learned the whole process of acquisition of land, design, construction and affordable housing finance."
As he was learning the intricacies of building, he began to ask some bigger questions.
"How [can we] transform communities through development and do development in partnership with neighborhoods? And not just focus on the financial bottom line, but really work with communities to build affordable housing, build commercial space, build green space."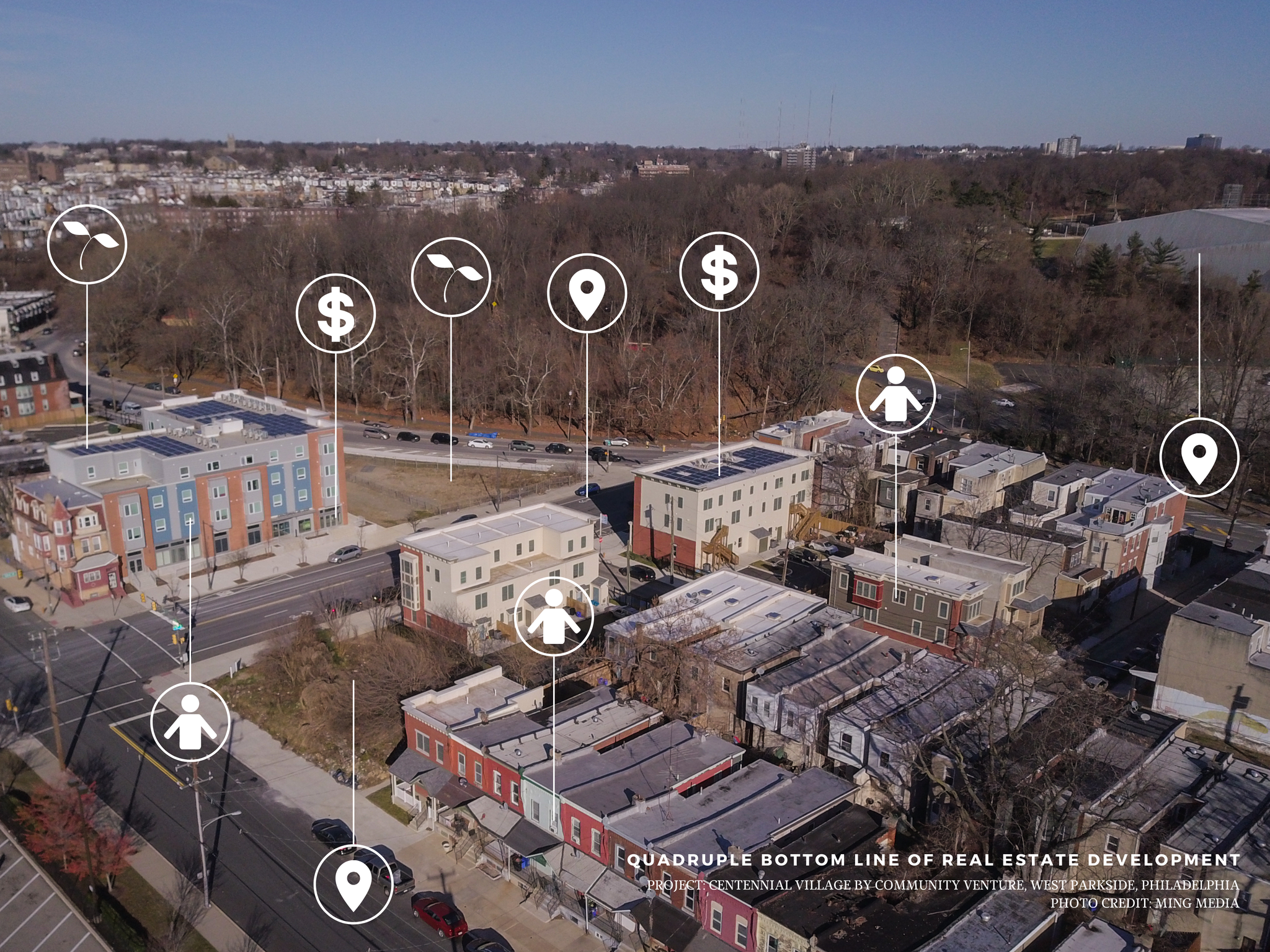 The answer he came to in 2014 was to begin working as the Program Director for Community Ventures, a nonprofit real estate developer with a focus on affordable housing and mixed-use neighborhood revitalization projects in partnership with communities. A few years later, he became an adjunct instructor at Jefferson, as the University launched the MS in Real Estate Development.
If you think of real estate development as something that often tends to be mercenary, this program presents a different view. The triple bottom line—the socially conscious philosophy of businesses meeting the needs of people, planet and profit—is given a fourth dimension with this program: placemaking.
That philosophy attracted Sharmaine Belton, who holds a bachelor's degree in Real Estate Finance and Business Management, to the program.
"I was looking for a program that stepped outside of the finance-only type of teaching," Belton says. "Every program that I had looked into was mostly in investment, brokerage and finance. But I wanted to know: Is there a program that could teach me how to develop and construct, how to design sustainably, and not only just teach me about finance?"
Belton has had two remarkable, and remarkably different, internships. The first with Amtrak, dealing with widely varied contracts regarding rail usage, and the second with Five Below, a corporation hitting on all cylinders and growing rapidly. But ultimately, her heart lies elsewhere.
"I would like to get into affordable housing one day," Belton says. "There's a lot of mansions and upscale houses, but then there's still a lot of people that don't have a roof over their head. I'd like to get into that field as well as redevelopment, because many people are really quick to destroy an old factory or knock down an old building when it can be saved [and] reused."
This fits in perfectly with the approach of the Real Estate Development program. When students begin an assignment, Hannigan asks them some key questions about their projects.
"How is it not just another building? What are you trying to solve here?" Hannigan asks. The answer involves helping humanity.
The mission of  Jefferson's College of Architecture and the Built Environment is to educate the next generation of design and construction professionals to create an equitable and sustainable future. Learn more at Jefferson.edu/Grid.