In a room crowded with dusty reference books and bugs—some dead and pinned neatly in glass-topped boxes, others, like the stag beetle grub, alive and growing slowly on a diet of rotting tulip tree wood—assistant entomology curator Isa Betancourt, of the Academy of Natural Sciences of Drexel University, adjusts her iPhone stand, brushes back her hair and taps a button that connects her to 1,300 of her Periscope app followers.
It's 2:30 p.m. on a Tuesday, and they've all tuned in to her weekly BugScope to watch her talk about entomology.
This week the topic is the ornate bella moth. It protects itself from predators by using the toxins from plants that it fed on as a caterpillar and then selects its mates based on their toxicity. The more toxic the mate, the better.
Betancourt, known on social media as @IsaBetaBug, illustrates the topic with pinned moths from the academy's collection, while fielding questions tapped in by viewers.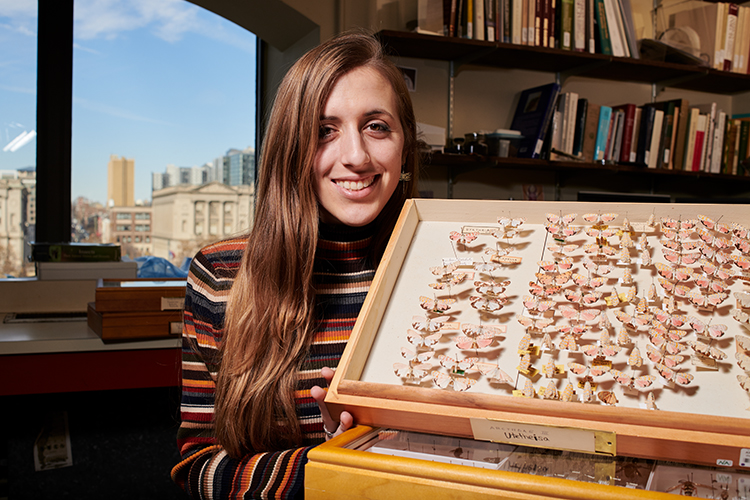 The rest of the week Betancourt cedes the limelight to the bugs. She takes high-resolution photographs of moths and butterflies for LepNet, a digitization project that aims to publish a collective 2.7 million records from 26 institutions across North America online.
Although the entomology department at the academy works closely with the public side of the museum through outreach programs such as the annual Bug Fest, Jon Gelhaus, the museum's chair of entomology, credits Betancourt with leading it into social media as another educational platform.
"She loves teaching people about insects, working with them to develop … an appreciation for the beauty and wonder of insects," Gelhaus says. "She's always exploring new venues to do that."
Betancourt credits a red admiral butterfly she encountered on her family's back porch as a child for her love of bugs.
"It would come and land on our fingers … and then later we realized how it was defending its territory and trying to scare us away by landing on us," she says, noting that red admiral males show off for females in sunny spots and defend their stages from rivals. "I wanted to be an astronaut or entomologist. I went with entomologist because I like how you can find a bug wherever you are—I like that accessibility."
Betancourt also rescues drowned bugs for science. To be clear, it's too late for the bugs, but she wades in the Swann Fountain in the middle of Logan Circle outside the academy and fishes out the waterlogged critters in order to learn about urban insect biodiversity. It's something she came up with in 2013 while she was having lunch near the fountain.
"I was walking by the fountain, and I saw an insect float by," she says. "That gave me the idea."
Betancourt estimates she now has 350 samples, with anywhere from 50 to 200 insects floating in vials of ethanol, and is sorting through them as she prepares to publish results from the study.
She has also ventured into traditional media with a book: Backyard Bugs of Philadelphia. It's full of her photographs of local critters, featuring more than 100 species of insects. "It's something I would have loved to have as a kid … We have some really cool organisms here, and people ought to know about them."
Foremost among those cool organisms is the golden tortoise beetle.
About the size of a split pea, it can be easy to miss these insects as they munch away under the leaves of morning glory or sweet potato vines. But if you flip over the right leaf, you'll find a beetle that can change color—from red to shimmery gold—in a matter of seconds.
"It's one of those things you think you'd find in Malaysia or the deep, deep Amazon, but you can find them right here," Betancourt says. "I want to make them the city insect of Philadelphia."
Since December 2016, when she started on Periscope, Betancourt has made 250 episodes.
While the academy's auditorium seats just under 400, Betancourt can reach anywhere from 1,000 to 5,000 people per scope (read: video), and her viewership spikes when Periscope features BugScope on its front page, as it did for a 2017 Halloween-themed cast with more than 22,000 watching her talk about tarantulas, scorpions and venom.
Mehran Khademi from Dubai stumbled onto the BugScope two years ago and credits it for changing his view of bugs.
"What I've learned by watching her scopes is that bugs are really important for our world and our survival, even bugs like wasps," he says. Despite the nine-hour time difference, Khademi makes sure to watch every Tuesday.
R.D. Bacre, a regular viewer from the Boston area enjoys tuning in because Betancourt is personable and interacts with the online community as she would if she were with them in person.
"Simply put," the viewer explains, "we are her students, and she is our bug ambassador."