Just past midnight on Friday, April 26, a common greenbottle fly sleeping on a leaf was immortalized by Navin Sasikumar in iNaturalist as Philadelphia's first observation for the City Nature Challenge 2019.
Over the next four days, naturalists throughout the Philadelphia area took photos or audio recordings of plants, animals, fungi and slime molds in an effort to beat 158 other cities around the globe in three categories: people participating, observations and species observed. We had from April 26-29 to make observations and from April 30-May 5 to identify what we'd found.
The City Nature Challenge began in 2016 as a citizen science contest between the California Academy of Sciences in San Francisco and the Natural History Museum of Los Angeles. They used iNaturalist, an online platform for citizen science that allows users to upload observations that are then viewed and vetted by other users. In 2017, the competition expanded to include other cities in the United States, and in 2018, it went international.
In Philadelphia, where I served on the CNC organizing committee with Sasikumar, Robin Irizarry and Tony Croasdale, we used the competition to encourage our neighbors to connect with the nature all around us, whether in parks or on our blocks. We also wanted to crush Tokyo. (Why go after a traditional rival like New York City when we could take on the biggest city in the world?)
We worked with partner groups across the region to reach out to their audiences and to organize more than 30 nature walks, BioBlitzes (where participants identify as many species as possible) and other events. Anyone could take part in the CNC on their own, but these events offered a
guided introduction.
When the sun rose that Friday in Philadelphia, it did so behind wet, heavy clouds.
Three of our eight scheduled events were cancelled or postponed due to the weather, and the others saw poor attendance. Thunder and pouring rain marked the noon start time of a birding walk I had organized in Independence National Historical Park. My fellow walk leader, George Armistead (president of the Delaware Valley Ornithological Club), and I logged 26 species of birds such as chipping sparrows and yellow-bellied sapsuckers, but no other humans showed up. The day was not a total washout, however, because in iNaturalist, 122 Philly observers made 2,043 observations of 577 species.
Saturday the weather cleared. We started the morning in 29th position for observations (1,821), 33rd for people (113) and 27th for species (462). We were trailing 16 other U.S. cities, but at least we were ahead of Tokyo in all three categories. With 14 events scheduled and the start of the weekend, we expected a strong turnout.
At Bartram's Garden's BioBlitz, seven of us snapped pics of living creatures throughout the park, everything from chocolate tube slime (a species of slime mold) to yellow-rumped warblers.
"We ended up having naturalists with a variety of specialties," says BioBlitzer Amanda Chan, "so it was really awesome to learn and observe nature at multiple levels."
iNaturalist's AI offers identifications based on the uploaded photographs.
"It's really convenient to have a 'nature Pokédex' at hand to document and help identify what you come across," Chan continues.
By the end of the day, we, along with 225 other Philadelphians, had logged 4,012 observations of 804 species.
On Sunday morning at Fort Mifflin, seven birders and native-plant enthusiasts gathered in light rain to walk through the grounds and document its natural history.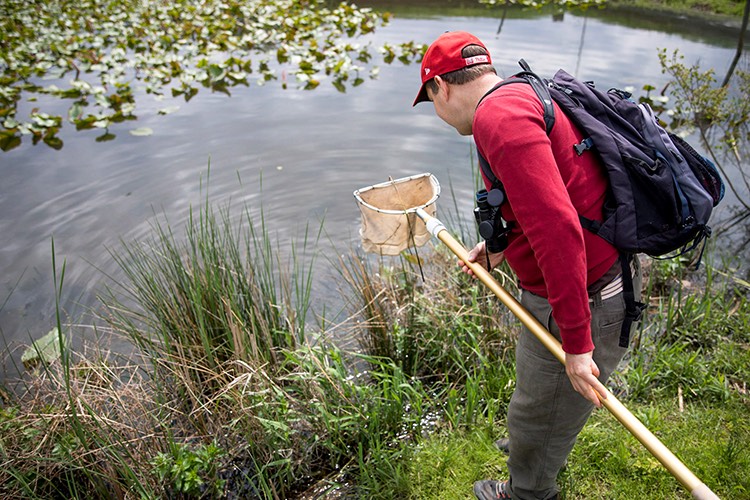 Bald eagles soared overhead and tree swallows zipped and glided over the water to catch flying insects out of the air. Five turtle species, including the adorably ugly stinkpot, swam and crawled through the fort's marshy moat.
"I learned a couple new plants," says attendee Kim Sheridan, noting deer tongue grass, sheep sorrel and water horehound. "This is the most I've used iNaturalist in one day, that's for sure."
Awbury Arboretum in Philadelphia's Germantown neighborhood hosted another of the 11 CNC events, a BioBlitz, that Sunday.
"It went really well," says Beth Miner, grants manager for Awbury.  "We had a wide range of skill levels, from people who wanted to get their kids involved in observing nature to master ornithologists with all the birding equipment."
She estimated that 25 people attended, netting more than 400 observations.
We expected little progress on Monday, with only three scheduled public events, and as most Philadelphians resumed the work week, however, participation actually increased. That day 247 people made 2,628 observations of 703 species, capped by the final critter of Philly's CNC: a house centipede that Doug Sponsler logged at 11:19 p.m.
The observation period was over, but the standings continued to shift as people loaded offline observations into iNaturalist and identified what other people had found. When the dust settled on April 6, Cape Town, South Africa, had the most observations and species, and San Francisco held the trophy for most people taking part.
Philadelphia sat at No. 23 for observations (13,693), No. 24 for species (1,584) and No. 16 for observers (565), but Tokyo ended up at No. 56,  No. 65 and No. 58, respectively.
Not even close.