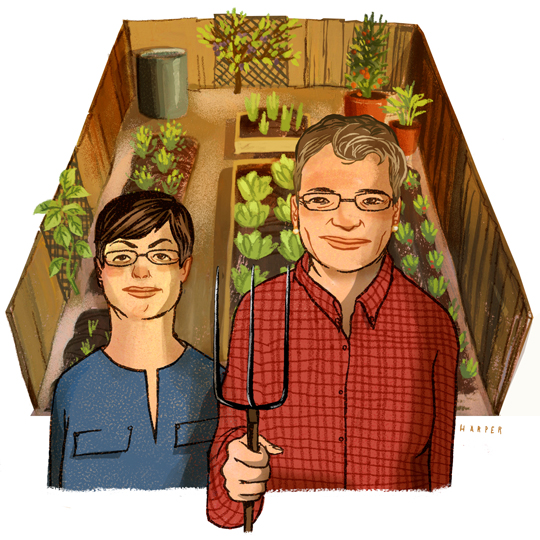 Illustration by Kirsten Harper
When I got serious about growing our own food four years ago, I had no idea how much it would affect how my wife and I lived and managed our lives and our home. We had already made a conscious decision to shop, cook, and eat as locally and seasonally as possible. So, it made sense that one of the ways to accomplish this would be growing at least some of our own food, and to work on becoming urban homesteaders.
The principles of urban homesteading, a term coined in 2001 by California urban farmer Jules Dervaes, are fairly straightforward, although they represent considerable challenges. The first principle is to grow your own food on your own city lot, with many urban homesteaders setting a goal to produce about 50 percent of what is eaten, frozen and canned.
In previous years, we maintained a garden dotted with assorted pots, many annuals and an array of perennials, in addition to a few herbs. Encouraged by the increasing number of people in Philadelphia who were growing their own food, I began to look differently at our outside space, realizing that our 20-foot-by-30-foot plot was plenty to work with. The process started via conversations with friends and informative books and websites. It continued with events and classes offered though the Food Trust, Greensgrow Farms, Fair Food and other like-minded organizations. We learned what plantings would do best in our area and space, the basics of soil management and natural ways to combat garden pests. At last, it seemed that we had some guidelines for what we were seeking: greater self-sufficiency and a greater level of consciousness about our effect on the earth. We craved a life focused on a stronger dependence on ourselves in growing and cooking, as well as in maintaining our home in a healthy, environmentally friendly and community-connected way.
While we haven't reached the 50 percent mark yet, each subsequent growing season brings us closer. Since we started, we've installed a large composter, started collecting rainwater for our garden and built a cold frame to continue to grow produce over the winter. Today, our growing area consists of three large standing planters, potato bins, a built-in herb garden and in-ground planting beds on the sides and back of the garden. It's just enough space for growing, dining and relaxing.
But we didn't want to stop there. Some other principles guiding urban homesteading include: using alternative energy sources and alternative fuels and transportation; understanding the immediate environment (where does water runoff go?; where does the garbage go?; what is the soil composed of?); reducing waste; collecting rainwater; living simply; doing the work yourself; and being a good neighbor by helping to build community in your urban neighborhood.
The urban homesteading principle of promoting community is very important to us. We now share seeds and tools and plantings with our neighbors and find ourselves talking regularly about what is going well, what pests we are battling, asking whether anyone wants to share a shipment of ladybugs and sharing the bounty from our growing efforts. At least three other homes on our small block are active in gardening and growing food. And we've also been able to share our compost mulch with our neighbors for their gardens. All summer long, we often answer our front door to see a neighbor standing there with a big bag of compostable material to be dumped into our composter—a free-standing 150-pound bin compost container installed in our side alley. A few times a year, we open the bottom lid and shovel out the beautiful black compost for use in our garden and for our neighbors.
And so we continue to evolve as urban homesteaders. The practices of urban homesteading provide those of us who choose to live in cities with the benefits of living a more self-sufficient, community-involved and sustainable life. It has certainly demanded adjustments in how we use our time, what we buy, and how we approach repairs and projects at our home. But we keep learning. We keep trying. And we continue to learn from and love the challenges.
Kate Donegan is a Behavioral Health Consultant, a blogger at thephillyfoodist.blogspot.com, and a dedicated student of urban homesteading. She lives in Queen Village with her wife, three dogs and two cats.