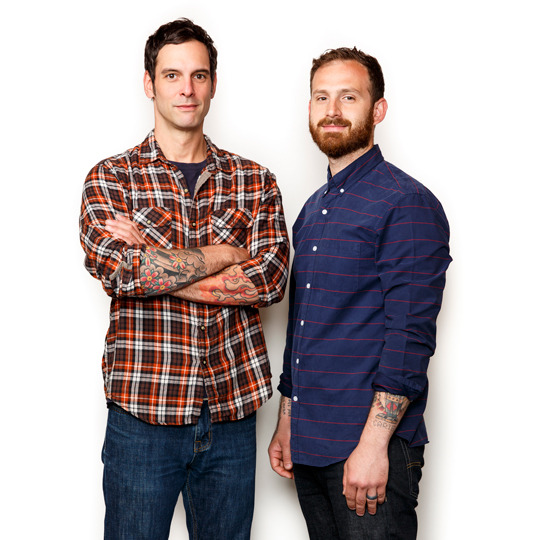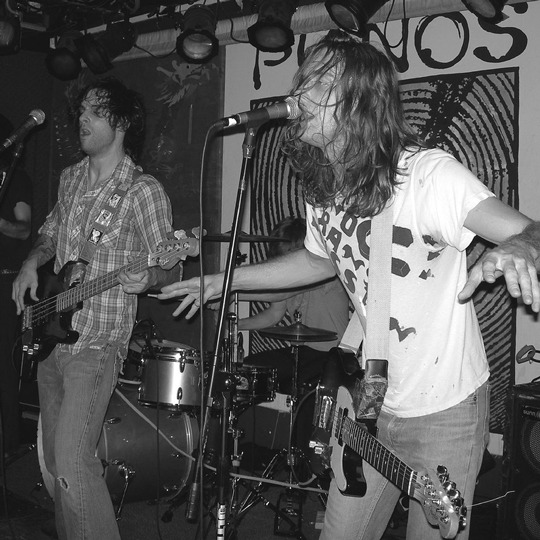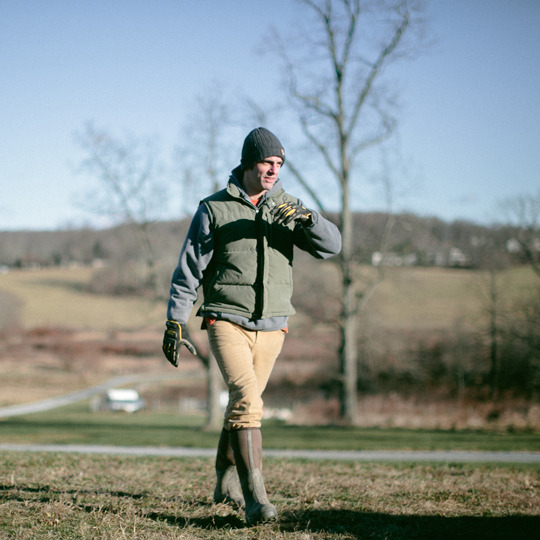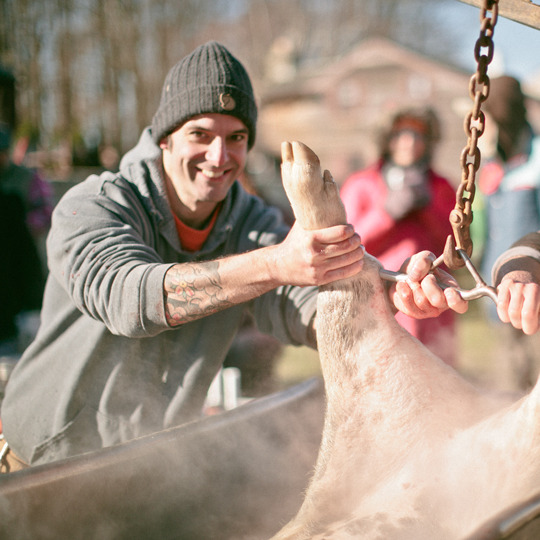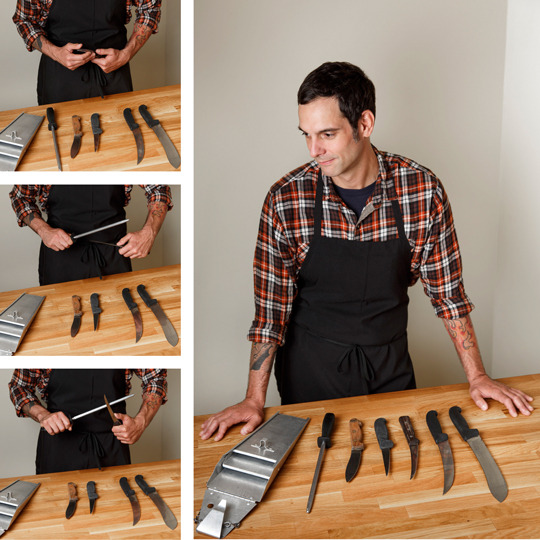 It looks like the wait for Kensington Quarters (1310 Frankford Ave.), an ambitious combination of butcher shop, restaurant and classroom, is about to end. The restaurant is a partnership of Michael and Jeniphur Pasquarello (the owners of Cafe Lift, Prohibition Tap Room and Bufad), and a newcomer to Philadelphia, butcher Bryan Mayer.
Mayer will operate a butcher shop on the premises, while the restaurant, featuring chef Damon Menapace, will present a menu that uses all parts of the animal. Unsold cuts from the butcher shop will be featured on the menu at Kensington Quarters, or other restaurants belonging to the Pasquarellos. And there are specific protocols in place to ensure that all animals have been raised humanely and sustainably. It's a farm-to-table restaurant, with a nose-to-tail butcher.
But Michael Pasquarello says that Kensington Quarters isn't solely about meat. "The produce, the grains, everything else we are doing is thought about in the same way," he says. "It's not a steakhouse. It's not a burger joint. It's a restaurant."
Fleisher's Grass-fed and Organic Meats in Kingston, N.Y. | photo by Amy KubikIt's also a place to learn. Mayer's last gig was at the legendary Fleisher's Grass-fed and Organic Meats in Kingston, N.Y., where he was the Head Butcher, and one of two teachers responsible for training butchers who have opened up their own shops around the country, and a few beyond that. At Kensington Quarters, there will be classes about meat and butchery—Mayer's specialty—as well as classes on fermentation, breadmaking—anything that will educate and empower the home cook.
The restaurant's opening has been delayed because of work that needed to be completed with the roof, plumbing and the electricity. They expect to open in July, but there is still no firm date.
Mayer has used this downtime getting connected to Philadelphia's burgeoning local meat scene. His first call was to Jessica Moore, founder of the Philly CowShare, which sells shares of cow and pigs, packaged as frozen meat, to consumers. Due to the commitment required to buy such a quantity of meat, Philly CowShare customers tend to be experienced home cooks. "Bryan likes to say that his shop and Dean's [Carlson of Wyebrook Farm] shop is an introductory level to meat, and mine is for the graduate students," Moore says. The two forged a friendship and spent hours discussing the best way to utilize the animals they sell.
"In conversation, he can go from common consumer language you would find in a grocery store, down to intricate biological terms. He can talk that entire continuum and understands it in that way," Moore says. "You can tell when you work with him he has definitely learned not just from an art standpoint, but a scientific standpoint."
Carlson, owner of Wyebrook Farm in Honey Brook, Pa., hired Mayer for a six-month period. During that time, Mayer performed "yield tests," which calculate exactly what an animal is worth. "Now I can look at a pig that is 250 pounds and I know that it translates into this many dollars, and if it's not, then there is a problem somewhere," Carlson says.
Mayer also solved a problem that had vexed Carlson since Wyebrook's inception: a meat case that had oxidation issues. The meat in the case would turn brown, and even though it was edible, consumers found it unappetizing. The result was meat that had to be trimmed or thrown away.
"Bryan helped us solve it, but it was 10 little different things [that needed fixing] instead of one big thing," Carlson says. "And it made a huge difference."
While there, Mayer also mentored Alexi Alejandro, who according to Carlson, has become an excellent butcher in his own right. "When Bryan left, Alexi was totally capable."
Carlson sums up Mayer's contributions by saying he "upped their game" across the board: the cutting, the presentation and the accounting, and that his energy and passion are infectious.
"He brought a whole other level of professionalism, especially his love for what he does," Carlson says. "This guy really believes in everything that he does, everything about him is genuine."
Mayer is equally enamored with the people he has worked with here in Philadelphia. He cites Moore's ability to make something technical—buying a share of a cow—into something approachable to a consumer, a major achievement. And she's done it in a business that has typically been dominated by men.
Mayer says, "I hope that other women in the business look at her and think she is as inspiring as I think she is. She is a fountain of knowledge." He adds that he hopes he was able to offer an equal amount of information to her as he gleaned from working with her and her staff.
Mayer likens what Carlson is doing at Wyebrook Farm to Dan Barber's work at the highly regarded Blue Hill Farm in New York.
"Wyebrook is a magical place—it's beautiful," Mayer says. "Dean welcomes you onto his land and he wants you to take part in the process he totally believes in and practices everyday. There are no curtains to pull back or anything like that, it's all exposed. It's a really amazing place."
A Devoted Student
Mayer is an enthusiast, or as he puts it, "I get very obsessed with things, then dive in like a lunatic." At 12, he was learning the saxophone and bass guitar, and a friend played him Metallica's Ride the Lightning album. "My head exploded," Mayer says. Suddenly he was consuming all genres of music—just as Metallica's bass player Cliff Burton had— and after a dozen or so bass guitar lessons, decided he would prefer to teach himself. He joined a metal band, which started practicing in the Mayers' basement.
But then one day, his father Rick Mayer recalls, his bandmates had a verbal confrontation with some African-American kids. "He didn't like what the bandmates were saying about them. He came home, he was upset," Rick says. "[H]e said, 'I'm burning all my black T-shirts, I'm not playing heavy metal anymore.' "
The very next day, Mayer asked whether he could accompany his father, an athlete and fitness enthusiast, to the gym. Just as suddenly, and completely, Mayer immersed himself in weightlifting. He bulked himself up enough to play on the offensive line for his high school football team, and then while attending Iona College in New Rochelle, N.Y., earned a spot on their Division 1 team. At the height of his athletic career, "He was close to 300 pounds," his father says, adding, "That's hard to believe."
Though Mayer's interest in metal may have been derailed, his passion for music remained. While in college studying economics and finance, he played in an indie rock band called J. Bender. (They were signed to Columbia Records, but the album they recorded was shelved.) Upon graduation in 1995, he worked for six months as an accountant before he committed fully to music. When J. Bender broke up in 2001, he joined Gingersol, a poppy alternative country band for a couple years, before hooking up with his most successful act, post-punk indie rockers Detachment Kit in 2003.
According to the band's lead singer, Ian Menard, they hired Mayer just to play a few bass parts in the studio, but before long he was helping with the songwriting, acting as the band's manager, and urging them to get involved with social media. "Once you are over being taken by the guy, you are in capable hands," Menard says laughing. "You are going to have a hard time finding someone more genuine and unassuming that really cares about what they are doing."
An Abrupt Career Change
After Detachment Kit broke up in 2008, Mayer was ready for a new challenge. He dabbled in advertising and music journalism, but his interest in cooking and food developed and he applied for a position at a specialty grocer, Greene Grape Provisions, which was opening in Fort Greene, Brooklyn. He submitted a résumé that had no food experience, telling the owner, "I'm a really hard worker."
Mayer was hired, and at first he trained on the fish counter, and later in cheese and prepared foods. When a vacationing co-worker left an open spot at the meat counter, his boss assigned him the task.
Most of their meat at the time was prepackaged for retail sale, but Mayer was still nervous. "I put Post-it notes on all the different cuts of meats in the walk-in so I would know what they were," he says. After that, by employing the same ravenously studious approach he had with music and weightlifting, Mayer began reading books about the subject, beginning with Bill Buford's Heat, a memoir where the author describes apprenticing in chef Mario Batali's New York restaurant, Babbo, and in Italy with butcher Dario Cecchini.
"I'm reading it and loving it. … [Buford] learning about sausage and opera and cutting up animals, and then back in New York and hauling a pig up the stairs to his walk-up," he says. This, for Mayer, crystallized the connection of whole animal butchery to the meat we eat. He recalls, "The way that he wrote about it, there was a level of romance … [that] made it feel like this has always been done. … I redoubled my efforts to learn everything I could about cutting meat."
From Apprentice to Master
Kate Kavanaugh, left, and Josh Curtiss of Western Daughters Butcher Shoppe in Denver. | photo by Ben TremperArmed with enthusiasm and a thirst to learn more, the self-taught butcher with a passion for sustainability had only one logical place to go: Fleisher's Grass-fed and Organic Meats.
Fleisher's was arguably the epicenter of the sustainable meat world, a breeding ground for idealists ready to learn the trade. Located in the lush beauty of New York's Hudson Valley, Fleisher's was founded by Josh and Jessica Applestone, former vegetarians who, when they couldn't find ethically produced meat, opened up their own shop.
Mayer called, but there were no openings. He called again. Still nothing. After a few more attempts and rebuffs, and with the help of his then-employers Greene Grape Provisions, he applied for, and was awarded, a grant that would pay for his position. Mayer finally got the job.
He was able to spend three days per week (commuting via 5 a.m. bus from Port Authority) through the summer of 2009 working and learning at Fleisher's. "It was awesome," he says. "I was dead tired, but it was that exact thing that I needed to make me feel like this is what I should be doing."
At the time, Mayer was still a novice, but his Post-it note system and independent study paid off once he was in the company of experienced butchers, including Tom Schneller, author of a book he referred to as "a bible." (See sidebar.) Employed as an associate professor at the nearby Culinary Institute of America—what Bill Buford describes as the "Harvard and Yale" of food preparation education—Schneller was a regular visitor to, and informal teacher at, Fleisher's.
"It was great to see a person that knew very little about meat cutting become so interested in it," Schneller says. "I had him come to [my butcher class] on one occasion to demo the cutting of a half hog. Students were blown away. … They had an image of some chubby old guy that sliced bologna as what a butcher is, and to see Bryan come in as more of a peer to them, made a real impact and allowed them to see butchery as a viable culinary alternative to the kitchen."
Mayer's diligence was recognized. He went from apprentice to Head Butcher, and his journey in some ways compelled Fleisher's to formalize their teaching program. Once it was established, Mayer acted as one of the program's two primary teachers.
Though he hadn't had more than passing notions about becoming a teacher, he realized that he enjoyed it. "I think it's wonderful when you see the expression on someone's face when they get something, that 'aha!' moment," Mayer says. "Experiencing that with somebody is amazing."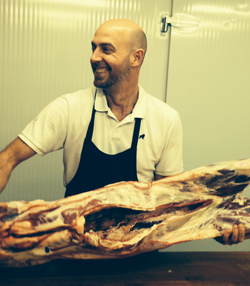 Marc Teeft, head butcher at Boucherie Lawrence in Montreal "He is an excellent teacher," says Emily Bonilla, the Chief Operating Officer of Fleisher's. "He wrote the curriculum … with Josh [Applestone] that we still use… in our training program."
One of the things that Mayer is most proud of is how many of his students have gone on to open up their own shops, including Western Daughters Butcher Shoppe in Denver; Hudson & Charles in New York; Saugatuck Craft Butchery in Westport, Conn.; and Osso Carnicería and Salumeria in Lima, Peru.
"I think that Bryan is an incredible teacher because he is an incredible student," says former student Kate Kavanaugh of Western Daughters. "He is constantly learning and looking for more information and different ways of doing things. I think he instills that in all of his students."
Another former student, Marc Teeft, a butcher at Boucherie Lawrence in Montreal, says of Mayer's teaching. "I was coming from Canada and we have different terminology. He would do the research that night and come back with an answer. He was continuously learning."
An Intriguing Collaboration
Long before he met Mayer, chef and entrepreneur Michael Pasquarello had a whole animal restaurant in the works. Pasquarello had done some pig butchering at Prohibition Taproom, but he "didn't feel comfortable doing beef." His plan was to educate himself, so he called Fleisher's to sign up for some classes. Mayer answered the phone and said Fleisher's wasn't taking any students at the time, but "Bryan, he likes to talk, so we talked for a good 20 minutes," Pasquarello says.
Mayer came down to Philadelphia. The two had drinks, bonding over beers, tattoos and a passion for sustainable food. Pasquarello described the restaurant he wanted to open, Mayer the butcher shop he imagined.
"I took him under my wing," Pasquarello says, "trying to show him around for space, and I was dying to have him in Fishtown because I thought this would be another great business."
The two hit it off, and while Pasquarello was showing him the space where he was planning to build his restaurant, a thought occurred to him. "I was like, 'I don't need this area over here, we can put the bar on that side of the wall, why don't we put the butcher shop over here and why don't we do this thing together?' We both just had one of those weird moments, where we kind of looked at each other kind of awkwardly and strangely. Does this make sense?"
Once the leap of faith that a partnership requires was made, the details began to fall into place. Pasquarello decided that his idea to master the craft of butchery was pure folly.
"It's stupid of cooks to think that they can learn how to butcher, it really, really is," he says. "But to do what he does … it's not [something] I could have done or picked up in a month. It's something that, you know, it's crafted and it takes a lot of time."
The respect is mutual. Of his partner, Mayer says, "His hands get dirty. He's on the table with me, he's at the farm with me, he's on the line cooking, recipe testing. And he made it possible for this idea to be elevated beyond what I had originally thought it could be. At the end of the day, it's the reason why this story exists, because of him, and why I think the scope of [Kensington Quarters] is so exciting."
Story by Alex Mulcahy