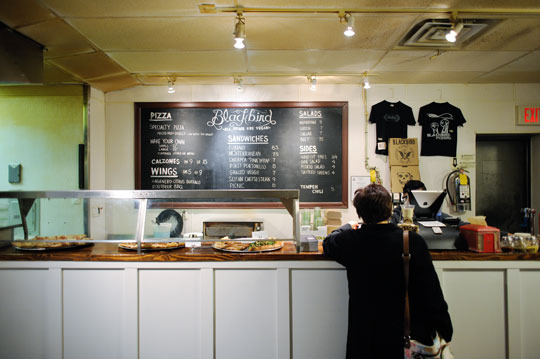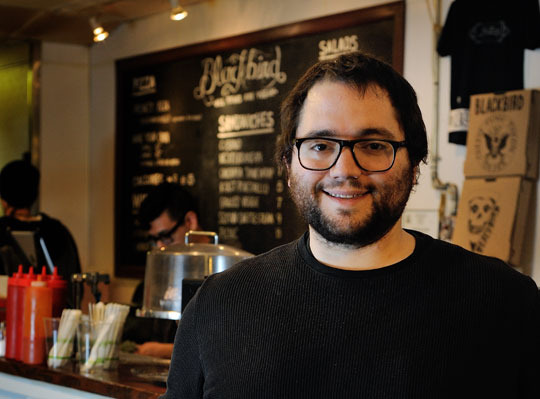 There once was a time in Philadelphia when being vegan meant scanning menus for animal-free options and, all too often, settling for a salad. But times have changed. Blackbird Pizzeria, a small shop at 6th and Lombard, serves a 100 percent vegan menu of sandwiches, wings, salads and pizzas.
Co-owner Mark Mebus, who went vegan at 18, once worried that foregoing animal products would limit his opportunities in the culinary world. Now, at 33, he's not worried. He completed a culinary arts intensive study through the Natural Gourmet Institute in New York, and learned to be a professional cook without butter, cream or cheese. After an internship, he returned to Philadelphia as part of the opening team of Vedge restaurant owners Rich Landeau and Kate Jacoby's now-shuttered restaurant, Horizons. Still a kitchen novice, Mebus, "started out just doing salads and desserts, and then just worked all the way up." In 2008, he was offered the chance to return to New York, this time as the head chef at Blossom, a vegan restaurant in Chelsea.
At Blossom, Mebus found himself missing the open kitchen of Horizons' Willow Grove location, where cooking in front of customers offered the opportunity see their reactions and to build relationships. So when Mike Barone, the owner of vegan coffee shop Grindcore House, alerted Mebus to an ad for a pizzeria, he and business partner, Ryan Moylan, jumped at the chance.
Named for Mebus' favorite Beatles song to sing to his six-year-old daughter, Adele, Blackbird opened in 2010 and quickly gained the support of the hardcore and punk music devotees, as well as Bella Vista neighbors.
While some of Blackbird's pizzas feature vegan alternatives to meat and cheese, (the most popular pie, the Haymaker, has seitan sausage, red onions, tapioca cheese, tomato sauce, and fresh oregano), others, such as the Popeye (wilted spinach, olives, crispy shiitake mushrooms, pumpkin seed pesto and cloves of roasted garlic), omit them entirely, using creamy textures and rich flavors from nuts, vegetables, mushrooms and olives instead.
Owning a casual place has allowed Mebus to bridge the normally firm divide between the kitchen and the dining room. "It's great to be able to come over and say hi to customers," Mebus says, adding that pizza has proved a great equalizer. "It's such a regular part of so many people's lives, and it's great … to be able to give people a [vegan] alternative."
Local tomatoes all year round
Local tomato season is fleeting, but pizzerias such as Blackbird count on having access to sweet, tangy tomato sauce year-round. While some Italian purists insist on San Marzano tomatoes from the motherland, in Philadelphia you don't have to go further than New Jersey to find tomatoes that are just as good.
Next time you're planning to make a pizza, keep your eyes peeled for the crushed, canned tomatoes bearing the label "Jersey Fresh," because in this case the label isn't just marketing.
"Jersey Fresh" is a branding program of the New Jersey Department of Agriculture, and in order for a product to bear the red, white and green logo the product's processor (in Blackbird's case, the Williamstown, New Jersey-based B&G Foods) must apply for and be inspected through the Jersey Fresh Quality Grading Program. The program ensures that all of the tomatoes in the finished product are sourced from local farms. So, even with tomato season months away, we can still crush on something sweet.
Story by Emily Teel. Photos by Albert Yee.